Citizenship
Humbled and excited: Blogging the biggest show of the year
A behind the scenes blog from Global Citizen's live blog contributor Garth Moore from ONE.
This article was written by Global Citizen live blog contributor Garth Moore, US Digital Director for ONE.
---
I'm still a bit dreamy about the whole thing. I keep thinking back to the sights and sounds of the concert, the announcements, and the people who all played a role in last Saturday's fantastic Global Citizen Festival. Little memories pop up here and there and I pinch myself to think that I played a small part in a truly historic week.
Global Citizen invited me to live blog their annual concert. But, this year's show would have a truly unique feel with the Global Goals for Sustainable Development coming out.
World leaders—truly, the really big world leaders—all gathered in New York City for the weekend to discuss the issues that matter most: How can we alleviate extreme poverty, injustice, and climate change in our world in the next fifteen years? 
There were events all around the United Nations and spread throughout Manhattan. And the Global Citizen festival was one of the big culminating points. So, to be immersed in all of this was exciting and humbling.
My most lingering memories?
My fellow bloggers: Joe and Nicki from Global Citizen, Tom Murphy from Humanosphere, and Joan Hanawi from Nova Narratives. Smart, funny, and insightful people who knew the issues, loved the artists, and hung on every announcement and pledge made to fight poverty and climate change during the show. These weren't ordinary bloggers; they truly understood the sense of purpose around the show.
The audience: What a great audience and a great vibe! People were happy, courteous, and laid-back. Eddie Vedder said he was honored for Pearl Jam to play to an audience made up of do-gooders. Beyoncé called the audience, "all my global citizens." If you were there in Central Park or you were watching at home, signing petitions and taking action, then that is you—congratulations! You are part of a really great movement. 
The big statements: Whether it was First Lady Michelle Obama, Vice President Joe Biden, UN Chief Ban Ki-Moon, or even Luxembourg Prime Minister Xavier Bettel, the commitments, promises, and pledges made onstage were stunning. How Global Citizen assembled such a powerful and diverse group of people is mind-numbing.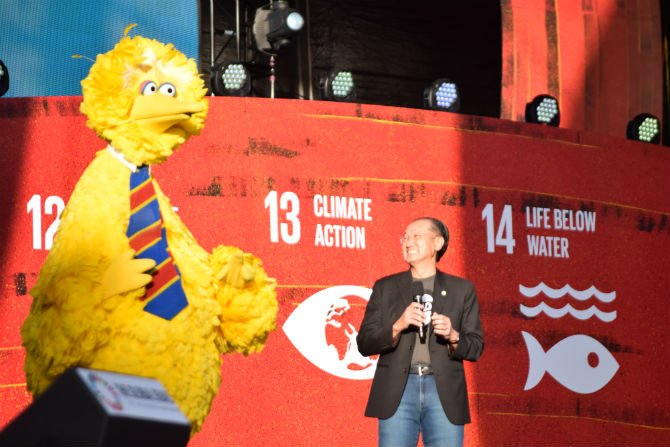 For me, and my organization, the ONE Campaign, the biggest moment came when Beyoncé introduced First Lady Michelle Obama to launch the #62MillionGirls campaign and share in our Poverty is Sexist campaign. Then she introduced ONE co-founder Bono, who took the stage to talk about Poverty is Sexist and introduce Malala Yousafzai and four other girls, who launched a call for all the world's children to receive 12 years of free quality education. Beyoncé, Michelle Obama, Bono, and Malala…. whoa.
Finally, there was the music. I have always believed in music as a force that can bring people together to celebrate, commemorate, and really fulfill promises that we make to ourselves as people. The main acts were astounding and I admit as a hardcore Pearl Jam fan…that Beyoncé kinda blew everyone away. But Pearl Jam was also phenomenal, as were Ed Sheeran and Coldplay. Ed Sheeran filled the stage with just his voice and guitar—who else can do that? The ultimate musical moment is when Eddie Vedder and Beyoncé sang Bob Marley's "Redemption Song" together. "Won't you help to sing/These songs of freedom?" Everyone in the audience sang along.
So now what? Now we get to work. This was a not the culmination point. This was the kick-off to everything we need to do to end poverty, injustice, and climate change in the next fifteen years. We have 17 Global Goals and million of voices to light the way. Let's get started.
Go to TAKE ACTION NOW and EMAIL to call on leaders to invest in life-changing aid to achieve the Global Goals.