Education
Human Dignity Project Helps Students Confront Discrimination and Injustice
Stand up against discrimination and injustice.
Language. Avoidance. Discrimination. Violence. Elimination.
At the Wassmuth Center for Human Rights in Boise, Idaho, these words describe the "Spiral of Injustice," a downward process that oftentimes starts with words and imagery and ends in violence against those that are perceived as being different or "not belonging."
To break this cycle, HP and the Wassmuth Center are partnering on an educational project that promotes respect and dignity for all people in classrooms and communities across the state and beyond.
Called the Human Dignity Project, the program promotes the idea that our lives are inextricably linked to others. It allows students to explore contemporary events and how inequality and discrimination escalate through behaviors and actions. It then helps students identify ways they can challenge discrimination and confront injustice whenever and wherever it occurs.
A centerpiece of the project is a set of five posters that were printed on an HP Indigo 10000 press. Four of the posters, which feature a graphic of a hand that represents taking action, encourage students to be "upstanders" rather than bystanders when faced with discrimination. A fifth poster features the Spiral of Injustice image and explains this devolution.
Image courtesy of HP.

"Central to the Center's mission is the promotion of dignity for all people and encouraging people to become upstanders in their own communities," said Dan Prinzing, Executive Director of the Wassmuth Center. "But, in order to dismantle discrimination, we must first understand that it exists and identify what forces work in conjunction to keep people marginalized. Through education, we can promote a level of engagement that creates change in our own community. How we think determines the ways that we live, interact, and understand discrimination and equality."
---
Language. Avoidance. Discrimination. Violence, Elimination.
---
To launch the project, HP and the Wassmuth Center presented the first 25 sets of posters to Boise High School's Humanitarian Club, a student-led group committed to giving back to the community and helping others. These students then distributed these materials to classrooms throughout the school.
The Wassmuth Center has begun distribution to more than 650 schools statewide. And word has already begun to spread, with schools in North Carolina, Iowa, and Ohio, and local businesses and non-profits requesting posters.
In addition, a set of all-weather vinyl banner versions of the four upstander posters currently hang in the City of Boise at the Idaho Anne Frank Human Rights Memorial.
The Human Dignity Project is part of HP's ongoing legacy of advocating for human rights locally and globally.
"Inclusion and respect of diversity are a wellspring for thriving communities and businesses alike," said Lesley Slaton Brown, HP's Chief Diversity Officer. "Since our founding, HP has recognized that the more points of view we can draw on, the better our products and company as a whole will be. The same is true for the communities in which we live and work where diversity and inclusion foster creativity and innovation, helping to attract and retain the best employees and the best companies."
To learn more about the Wassmuth Center, the Human Dignity Project, and other educational and community initiatives, visit the Wassmuth Center. Posters can be views and ordered online.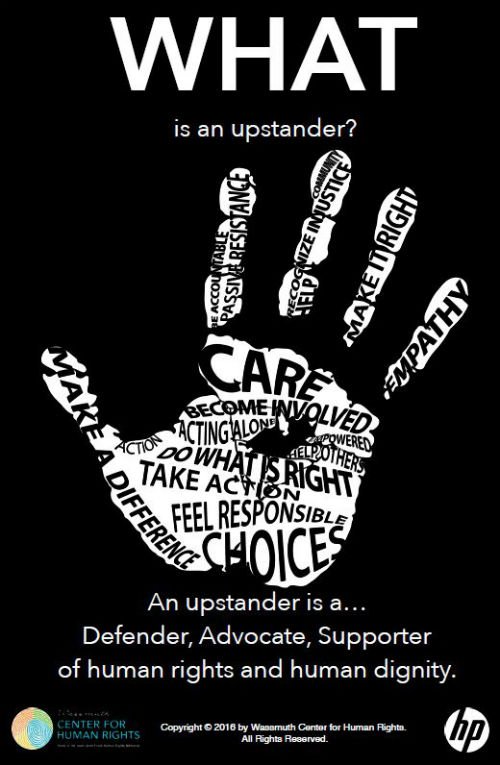 Image courtesy of HP.

What's Trending In Education