Citizenship
How to turn your photo into social change
Can donating a photo really help change a life? With this app, maybe.
Today, I did what no New Yorker ever wants to do… I went to Times Square.
Let me explain.
Normally, I do my best to avoid the selfie sticks and slow walkers, but today Johnson & Johnson was hosting an event to raise awareness for their Donate a Photo campaign.
The campaign centers around an app called Donate a Photo. It's a really easy way for people who want to get involved in charity work but don't know where to start. Participants download the Donate a Photo app, choose which cause they'd like to help, and snap a picture. For every photo uploaded, Johnson & Johnson donates a dollar to the participant's cause of choice. Pretty simple.
And what better time to do it than on Giving Tuesday coming up in just a few days?
The campaign is run through partnerships with nonprofits such as Save the Children, Girl Up, Operation Smile and the USO. The causes range from helping girls in Guatemala stay in school, to healing a child's cleft palate.
When I got to Times Square, I wasn't really sure what I should be looking for, so I was glad to pop out of the subway directly in front of a large white tent adorned with Johnson & Johnson flags. Smiling employees surrounded the fenced in area, and quickly ushered myself and my colleague, John, into the event.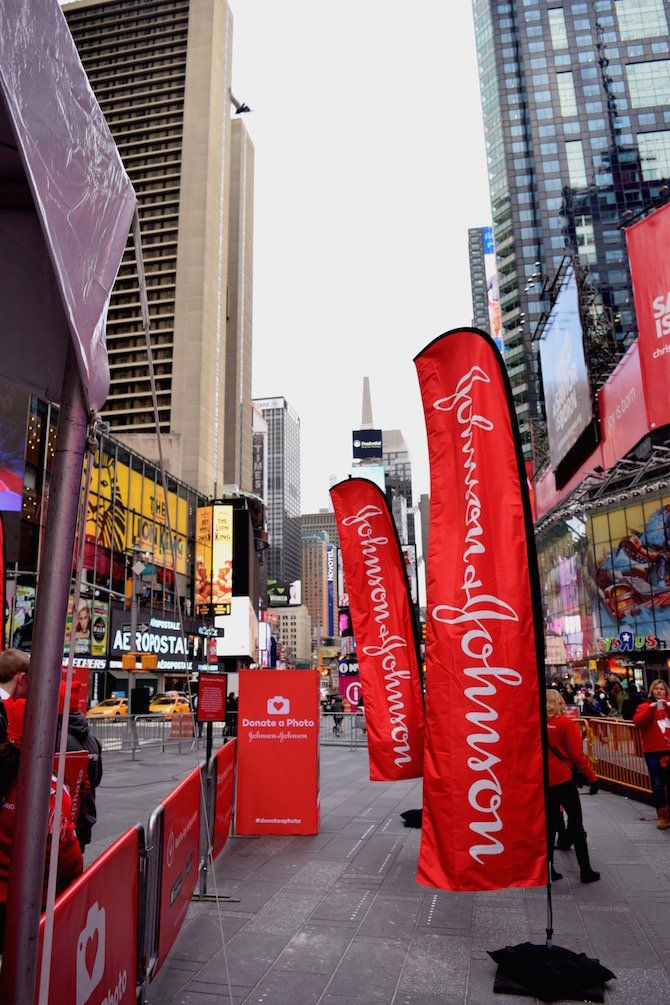 Basically what greeted me at the pedestrian plaza
Image: Gus Stahl
In each corner there was a different NGO who had partnered with Donate a Photo, and milling about were countless workers clad in the classic Johnson & Johnson red. The booths each had different activities to do, and each related to taking a photo and getting the word out about the NGOs cause.
After a few minutes, Vice President of Global Corporate Affairs for Johnson & Johnson Michael Sneed took the stage to welcome everyone, and to highlight some of the aspects of the campaign. "It really has been something that has just kind of grown and grown and grown," he said. "For less than three years now, in that period as we start[ed] to scale up, we've had over 800,000 photos donated to the gallery." And it shows. These uploads have gone on to help 63 causes so far, with over 50 nonprofits.
Michael Sneed giving his presentation.
Image: Gus Stahl
The partnerships between Johnson & Johnson and NGOs like Save the Children are mutually beneficial. I spoke briefly with Mr. Sneed after his speech, and asked him about the app and working with nonprofit partners.
"It's a good model," he said, "Clearly the partners are doing all the work on the ground, [but with] a company like Johnson & Johnson, we can bring expertise in terms... of promoting their causes using our channels, our digital channels, and using our relationships with media companies. So we have the opportunity to promote all the work that they do, in a way that they can never do it."
The app has been gaining traction as more and more people access it. Over 80,000 people have downloaded it so far, and it's generated over 4 million tweets, shares and likes. It really illustrates the viability of social activism in the internet age.
After speaking with Mr. Sneed, I got to talk to the Susan Can, Senior Director of Corporate Equity for Johnson & Johnson, who set up the event. "These are all NGOs that we have longstanding relationships with," said Can. "The important thing about these photos is really the social amplification. Our NGO partners know that our channels--our consumer reach, our marketing channels, can help spread the word and engage more people in their work."
Image: Gus Stahl
Being there really highlighted the empathy Johnson & Johnson's employees have for these causes. Most of the people working the stands were from out of state, and one employee traveled all the way from Texas to be there. Everyone was smiling and enthusiastic, excited to spread the word.
When our time was up, John and I were whisked away to a hotel where the press and celebrity spokespersons were mingling.
Stars such as Emma Roberts, Katherine McNamara, Nigel Barker and Zachary Levi were scheduled to visit the tent throughout the day to show their support for the app and the causes it supports. And each of the celebrities showed their backing on social media channels.
Katherine McNamara, Nigel Barker and Zachary Levi
Image: Gus Stahl
"It's such a simple act," said Sneed. "You take a photo, you download it to the app, and every time you do that it triggers a one dollar donation to any of these charities. It's simple, really as simple as can be."
Michael Sneed and Katherine McNamara
Image: Gus Stahl
You can join the cause by downloading the app Donate a Photo and uploading a picture today. Though it may seem like a minor thing to do, every little bit counts. From helping a family in need buy a crib for their child, to helping deployed service members call home, your support is just one photo away.
And your support is crucial to supporting these causes and ending extreme poverty.