Environment
The Really Good Reason These Giant Jellyfish Invaded London
It's mega-oil company versus giant jellyfish — but this showdown actually happened.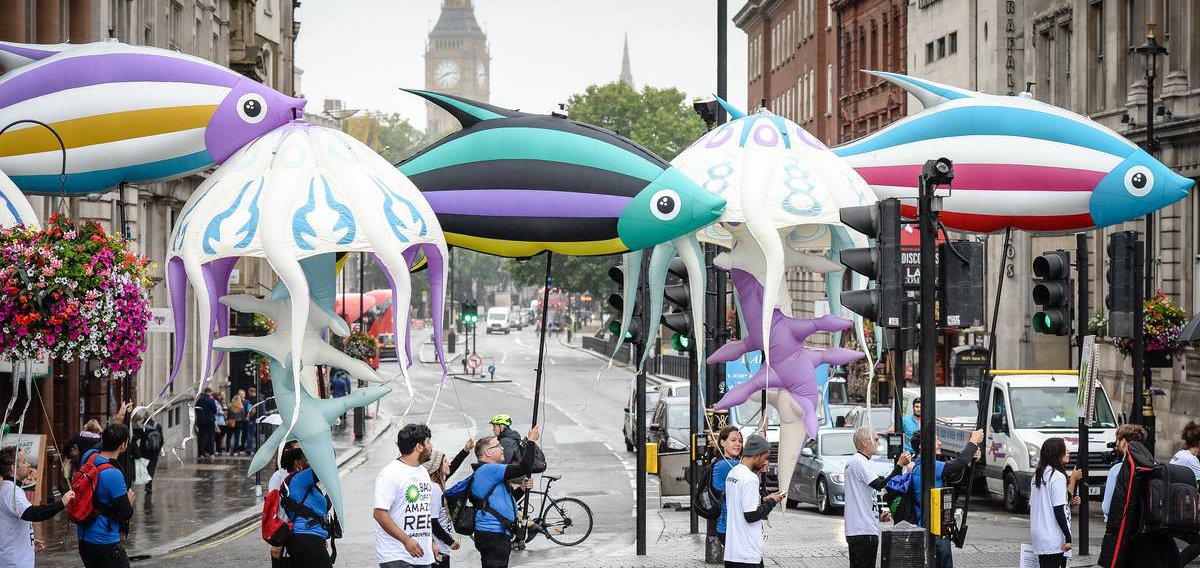 Enormous inflatable fish aren't your standard London tourists.
But those who were out and about in the UK capital on Monday might have spotted this unusual procession, as Greenpeace activists took to the streets to protect the Amazon Reef.
The activists descended on oil giant BP's London headquarters, to protest a planned drilling project around the reef, just off the coast of Brazil.
The reef is believed to be a thousand miles long, and Greenpeace have warned that exploratory drilling risks an oil spill that could obliterate local sea life.
National Geographic described the reef, which was only discovered last year, as "one of the most surprising finds in modern sea research." It's in an ecosystem that's home to hundreds of species, including the "vulnerable" Amazon dolphin and Amazonian manatee. But the protesters believe the ecosystem is under threat.
Global Citizen campaigns on the sustainable development goals, including Global Goal 14, to protect the oceans and all its marine life. You can take action with us here.
BP plans to drill in the area in exactly one year's time — if they can get permission from Brazil's environmental agency. The activists' route first took them through Trafalgar Square to present the Brazilian embassy with a note of support from nearly 1.4 million people, asking them to refuse BP access to the reef. They reached the BP head offices at 8 a.m., inflatable sea creatures in tow, and remained there for several hours.
Our activists are carrying giant coloured tropical fish and jellyfish inflatables through Central London right now #AmazonReefpic.twitter.com/iUDUw64q5F

— Greenpeace UK (@GreenpeaceUK) August 21, 2017
BP and fellow "Big Oil" competitor Total commissioned an Environmental Impact Assessment (EIA), and found there's a 30% chance that an oil spill could reach the coral reef. There's also a high chance that such a spill would pollute other countries, too, including a 72% probability that it could reach as far as Trinidad and Tobago.
At the same time, a Greenpeace investigation revealed that in the event of a spill, BP plans to clean it up using chemical agent Corexit 9500. It's the same chemical used to counteract what was described as the "worst environmental disaster in US history," when a BP oil well exploded in the Gulf of Mexico in 2010, killing 11 workers. Millions of gallons of oil leaked into the ocean, and in 2013 the counteracting agent was found to be harmful to nearby coral reefs.
The activists' message even reached UK Foreign Secretary Boris Johnson, who said the protest was the "first time anybody has called my attention to this problem."
Thanks for dropping by @BorisJohnson#AmazonReefpic.twitter.com/pBFmuxEgcm

— Greenpeace UK (@GreenpeaceUK) August 21, 2017
According to Greenpeace, a federal prosecutor in Amapá, Brazil, has recommended that the project be suspended until the environmental impact can be further studied. Otherwise, drilling could cause "irreparable damage" to the ecosystem.
But despite pressure from campaigners, BP quickly released a statement that insisted the project would start as soon as a licence is approved, and that they have a "commitment to begin drilling operations." Greenpeace rejected the announcement, arguing that BP could "still do the [right] thing and stay away from the Amazon Reef!"
Somehow @BP_plc overlooked this giant reef when doing their environmental impact assessment... it's 3 times the size of London #amazonreef 😐 pic.twitter.com/V0FqeCaazv

— Emily Buchanan (@_emilybuchanan) August 21, 2017
Want to help Greenpeace protect the Amazon Reef against drilling from BP? A petition is available to sign here