Environment
It's International Tiger Day. Here's How You Can Help Save Them
There are as few as 3,000 tigers left in the wild.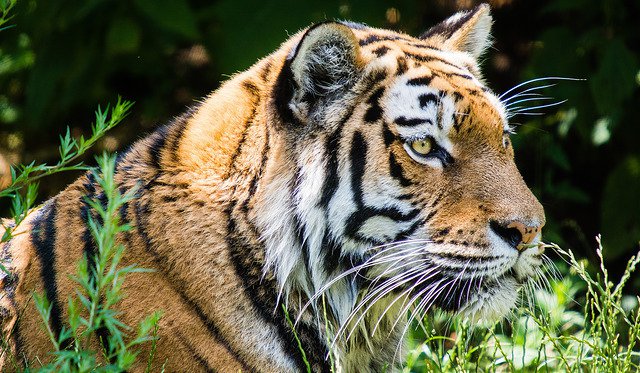 International Tiger Day is a day dedicated to celebrating the life of and raise awareness for the endangered felines.
This year, the UN Environment Programme (UNEP) Regional Office for Asia and the Pacific is calling for urgent action to protect tigers and fight back against illegal trade and poaching in wildlife. With only a few thousand tigers remaining in the wild, the UN is emphasizing a call for a zero tolerance of wildlife crime in the 2016 Wild for Life campaign, aiming to inspire people around the world to take action against illegal trade of animals.
Read More: Top Poached Animals You Can Help Protect
"The UN is calling on everyone to stop wildlife trafficking," said Isabelle Louis, Acting Regional Director and Regional Representative for Asia and the Pacific. "Everyone has a role to play in stopping the shameful illegal trade in wildlife. Decisive action against the illegal trade in wildlife is needed to support the 2030 Agenda for Sustainable Development."
Currently, there are only 3,200 tigers left in the wild — a drastic drop from the 100,000 that roamed Asia's land a century ago.
"People don't realize how dire the situation is for tigers because we see them all the time," said Sharon Guynup, co-author of Tigers Forever: Saving the World's Most Endangered Big Cat. "We see them in zoos, we see them in circuses, so we think they're doing all right."
So why should you care? Aside from just caring about the well-being of the majestic animal, there are a few people-focused reasons, too.
Tigers play a key role in maintaining healthy ecosystems that supply nature and people with fresh water, food, and health. Tigers are at the top of the food chain and therefore maintain the population of certain herbivore species, such as deer, which affect tree regeneration and seed dispersal. So by saving tigers, we help people, too.
Read More: World Tiger Population Increases by 20 Percent
Tigers also help the world's poorest communities by drawing in tourism. Where tourists go, money can be made. Tigers can provide alternative sources of income for these communities through conservation projects. This not only makes the communities more sustainable, but can increase income levels as well.
Saving tigers requires action, though.
The World Wildlife Fund and other organizations are working hard to save the lives of tigers by protecting tiger habitats, monitoring their prey, raising awareness through campaigns, and eliminating tiger trade around the world.
We need to protect the forest habitats that serve as homes to these animals. Tigers live in some of the most biologically diverse areas, which in turn can save other endangered species that live there.
Generating awareness about poaching and illegal wildlife trade can help save tigers, too. The more we know about the problem and see how our decisions impact wildlife, the easier it will be to find a solution. Supporting governments and local communities with conservation initiatives, reporting crimes, and making better choices, such as not buying products made from animal parts or supporting companies with environmentally responsible policies, are all steps in the right direction.
---
By taking action on Global Citizen, you will have a chance to win tickets to this year's Global Citizen Festival in New York City on Sept. 24, 2016.