Citizenship
Global Citizen's guide to March Madness
The 68 team NCAA Tournament field is set, follow Global Citizen's guide to a perfect bracket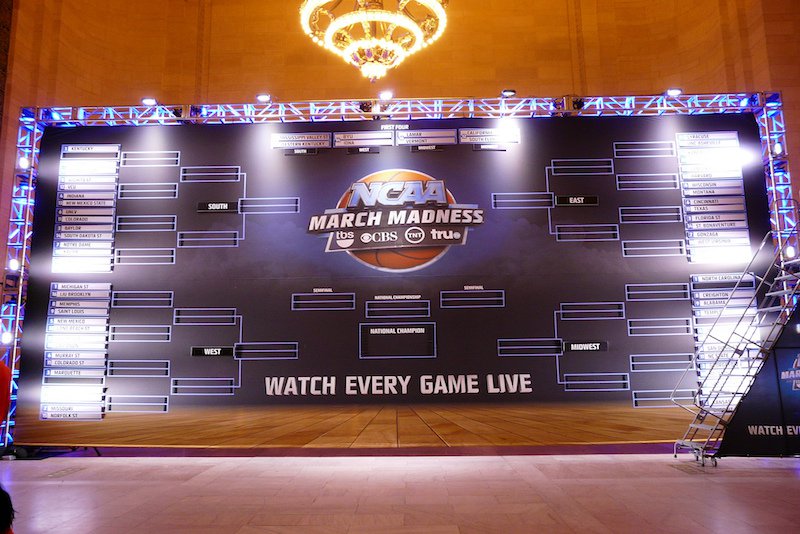 On Sunday, the NCAA unveiled the 68-team field for the 2016 Men's College Basketball tournament, leaving college basketball fanatics and passive tournament pool entrants filled with doubt and optimism.
As March Madness begins to spread through offices and across campuses, e-mail inboxes have invariably begun to fill up with "Join my Tournament Pool" requests and the possibility of unexpected, unwarranted glory. Not the world's biggest college basketball fan? No problem. The secret to picking that perfect bracket lies just as much within your heart as it does your head.
According to famed statistician and odds wizard Nate Silver, the chances of guessing the winner of all 63 tournament games correctly for a perfect March Madness bracket was about 1 in 1,610,543,269 in last year's tournament. While these numbers aren't working in your favor, the simple strategy of choosnig teams with small nods to global action might just lead to success. Plus, you'll basically have the same chance as all your peers who are obsessively studying player stats and team histories. So there's nothing to lose. 
Don't throw in the towel just yet If NGO, WHO, and WFP are more comfortable acronyms for you than PPG, TO, and 3PT - global knowledge might be the secret ingredient to unlocking the complexities of the tournament and triumphing over the improbable odds of March Madness. While some base their bracket selections on teams' jersey colors, college football match-ups, and the college basketball knowledge of President Obama, Global Citizen's bracket strategy champions ethics, animal conservation, and foreign aid.
If you're looking for a March Madness strategy that aligns your values with your tournament picks, put your money on the following teams making it all the way to the final four:
---
Maryland Terrapins
Hey @RobertKlemko, Testudo the Terrapin says congratulations ... pic.twitter.com/iYzmMejQ0a

— Jay Cohen (@jcohenap) March 14, 2015
According to the World Wildlife Fund's (WWF) list of endangered species, there are 5 species of turtles that are either critically endangered or endangered. And if you had no idea what a terrapin was before reading this article, it's a freshwater turtle that lives in the coastal marshes of the eastern United States. What better way to voice your passion for the environment and wildlife conversation than by picking the Terrapin to go all the way to the Final Four?
Bracket: South (5th Seed)
Mascot: Testudo, the anthropomorphic turtle
---
Wichita State Shockers
Wichita State's WuShock. #huhpic.twitter.com/N9RnDIv17c

— KRenner (@KRenner2) March 26, 2015
There may be no food staple in the international food aid basket that's more important than wheat. Wheat is an integral part of US Food Aid to the Middle East, North Africa, and Asia, and an extremely important part of USAID's food relief program to drought-stricken Ethiopia. It's rich in fiber and complex carbohydrates and contains more protein, minerals, and vitamins B3 and B6 than other food aid staples like rice and corn. How does this all relate to a university in the middle of Kansas? Well, let me introduce you to WuShock, Wichita State's self-proclaimed "big, bad, muscle-bound bundle of Wheat" mascot. In 2016, root for wheat and you can't go wrong.
Bracket Region: South (11th Seed)
Mascot: WuShock, The big, bad bundle of Wheat
---
Weber State Wildcats
The call em' the Weber St Wildcats but it looks like a prehistoric ice creature,Waldo is his name pic.twitter.com/HUPAo2LCQl

— Jeff Eberle (@jeffeberle) March 15, 2013
Fact: There are four teams in this year's tournament that proudly call themselves the Wildcats (Kentucky, Arizona, Weber State, Villanova). However, out of all four teams bringing awareness to the pervasive challenges that threaten extinction for beautiful and rare feline species, your best bet is to get behind the Weber State Wildcats. Why? The Weber St. Wildcat looks a lot like the critically endangered Iberian Lynx (scientific name Lynx Pardinus), a species in need of human protection and support. Let's go out and defend the only known living Iberian Lynx (photographed above) in the continental United States by, yes, you guessed it, banking on Weber State to make a big run in this year's tournament.
Bracket Region: East (15th Seed)
Mascot: The Weber St. Wildcat (species - Lynx Pardinus)
---
Purdue Boilermakers
#PurduePete stretched out & ready for duty. #B1GTourneypic.twitter.com/q6SlCVVpxg

— Rich Nye (@NyeSportsGuy) March 12, 2016
If you're wondering what a "boilermaker" is, a good place to start your research is with the history of Purdue University and its significance to late 1800s Northwestern Indiana. In the fall of 1891, Purdue University was one of the first universities to contribute essential research to the newly established locomotive industry. Through their contributions to the advancement of the locomotive industry, Purdue was lauded as a leading institution for engineering education. At the risk of writing promotional copy for Purdue University, let's shift back to why this matters and why you should feel confident backing Purdue in this year's tournament. Innovation in the public transportation sector matters. Increased proliferation of public transport leads to a substantial decrease of carbon emissions at the state and national level. And it helps people live more independent and prosperous lives. Support the spirit of innovation and novel research - Support Purdue!
Oh, and also, their mascot, Purdue Pete, just looks like such a champion!
Bracket Region: Midwest (5th Seed)
Mascot: Purdue Pete, a tried and true innovator
---
If you've never watched a game of college basketball, don't sweat it. Think past your reluctance and let your inner advocate shine through in your picks. If you are a college basketball fan, don't rely on statistical analysis and expert commentary - you'll be surprised by how the most moral or ethical pick might just be the right one.
The connections here may seem tenuous and a bit obscure, but the logic is clear: the most auspicious March Madness bracket strategy is rooted in good will and global activism.
Warning: By implementing the following strategy you'll be optimizing your karmic chances to win your tournament pool, while simultaneously turning your friends and colleagues into haters.