Global Citizens of Canada is a series that highlights Canadians who dedicate their lives to helping people outside Canadian borders. At a time when some world leaders are encouraging people to look inward, Global Citizen knows that only if we look outward, beyond ourselves, can we make the world a better place.
---
Winnipeg-born Darcy Ataman started his career as a music producer, but quickly found that his interests were both broader and deeper than he imagined.
Now 43 years old, Ataman became interested in human rights and development projects early in his music career; he produced documentaries in Kenya, Rwanda and South Sudan, worked in fundraising, helped build clinics and schools, and even started a scholarship program.
But it wasn't until a fateful trip to Rwanda that he really found a way to use his musical talent to help in a big way.
"At one point, I got very down on myself thinking, 'Well I'm not a doctor or a politician, what am I really going to do to make a sustainable difference in the community?'" Ataman told Global Citizen.
It was 2009 and he was in Rwanda for five weeks filming a documentary and recording an album. He had built a studio in Kigali where he paired Canadian musicians with Rwandan musicians to record for fun.
Read More: Meet the Global Citizen of Canada Who Wants to Transform Teaching in Nigeria
During that trip, Ataman and his colleagues decided to take some equipment to a rural school to provide the students with a day of recording. When they arrived after travelling three hours through the hills, they found the whole community had been awaiting their arrival since morning.
"Literally the whole village was sitting there outside the school, the room was packed," Ataman recalled. "Children were trying to crawl through the windows to get in. It was an amazing sight."
Ataman and his colleague David Bottrill spent nine hours recording the students that day, but what impressed him most were the lyrics of the songs the children had written.
The lyrics dove into heavy topics: HIV and its devastating effects on their communities, the rights to one's own body, their hopes for future education.
"There was not one frivolous throwaway song in there — and these were young kids," he said. "It was really powerful and we quickly realized music was an acceptable way to talk about taboo subject matter."
Read More: Congo's 'Hidden' Hunger Crisis Leaves Millions In Need of Food Aid
And so, the idea behind Make Music Matter's Healing in Harmony music therapy program was born. Ataman decided to try and bring recording equipment to vulnerable populations to help them tell their stories, and to help them heal.
LISTEN: 3rd album fr artists at @uyisengamanzi, empowering children of child-headed households in rural #Rwandahttps://t.co/4wUiP3cSbD

— Make Music Matter (@mmm_org) June 19, 2017

Ataman spent the next three years working with universities and various partners to assess the different needs in communities in Rwanda and test results. He feels strongly that it's important to understand how to best serve the area you're working in — and that you ought to be able to prove yourself scientifically.
"As much as music is a very enticing front end to something; our backend is very serious in tracking our results. We're not here to waste anyone's time," he said. "Doing anything is not necessarily better than doing nothing."
The program received support from a variety of sources including the University of Winnipeg's Global College, where Ataman is a guest lecturer. But what was most important to Ataman was ensuring that all operational staff would be locals. Ataman said that that took time to coordinate as they needed to build trust in the community before getting started.
The music program launched in Rwanda in 2012 and has since expanded to the Democratic Republic of the Congo (DRC) and Turkey.
Read More: Meet the Female Rangers Fighting to Save DRC's Last Mountain Gorillas
The program aims to help trauma survivors deal with what they've experienced by writing, singing, and recording songs. It also brings people together to create a community that lets them know they are not alone.
Participants are survivors of trauma including sexual violence and abandonment, as well as other vulnerable populations, all of whom are treated as recording artists, working in studio with a producer, as well as a psychologist.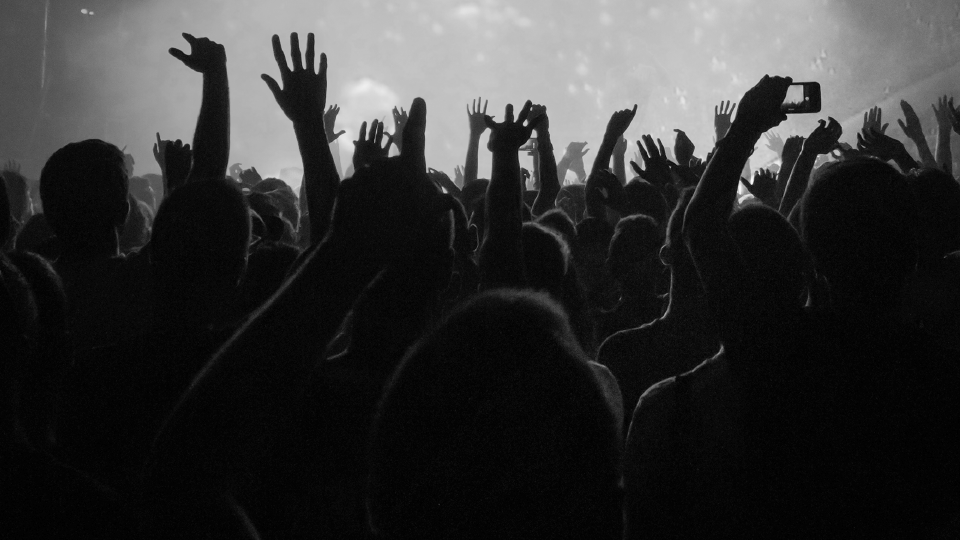 Ataman has heard and witnessed many traumatic stories over the years.
"Where we suffer is geography, how we heal is universal," he said.
One artist Ataman and his team worked with named Sandra was raped, became pregnant, lost her child, and contracted HIV. She spent two years in the Panzi Hospital in the DRC rebuilding herself physically.
Read More: After Failing to Respond to Sexual Abuse by Peacekeepers, the UN Has a New Plan to End the Abuse
To help her recover emotionally, psychologically, and spiritually, she was introduced to Ataman's music program. She ended up writing one of their now-signature songs called "My Body is Not a Weapon."
Just this past April, the song was performed by Billy Talent's Ian D'Sa during a presentation about Make Music Matter in Canada's Upper Chamber.
"She wrote something that's being performed at the highest chamber of our land. That's amazing," he said.
The program tracks reduction of post-traumatic stress disorder (PTSD), including anxiety and depression. On average, 80% of the artists see a significant reduction in PTSD, according to Ataman.
"Through dissemination of the music they create, they all become advocates," Ataman added.
#HealinginHarmony artists fr #Panzi took to the road this week for a 1st ever tour performance in Katana #DRC#MakeMusicMatter#musictherapypic.twitter.com/RynTsE3jbx

— Make Music Matter (@mmm_org) June 23, 2017
Read More: Uganda 'Desperately' Needs Humanitarian Aid as South Sudan Refugees Flood In, UN Says
Currently in the DRC, Healing in Harmony works primarily with survivors of sexual violence. About 1,700 women have already gone through the program.
Because the recorded songs play on the radio, survivors' voices can reach massive audiences, including 5 million listeners in the DRC alone, according to Ataman.
"The military has been calling in to the radio station when the songs are played to complain," Ataman said, adding that they are claiming to be the "good guys."
"To think that someone with the guns is afraid of someone with the songs, it's amazing. It's incredible. I love that," he said.
Ataman laughed when asked where he currently calls home. His mailing address is in Winnipeg, but he's truly become a global citizen. Right now, for instance, he's in the DRC helping with the program's expansion there.
Make Music Matter has received support through various funders. It is currently working in the DRC thanks to funding through the Humanitarian Innovation Fund, support from the Accelerating the Journey to Scale Innovation Initiative of the Humanitarian Innovation Fund (HIF), and the Netherlands Ministry of Foreign Affairs. The Manitoba Council for International Cooperation (MCIC) supports the program's sites in Rwanda and Turkey.