Luminaries like musician Annie Lennox stood alongside world leaders like Norwegian Prime Minister Erna Solberg and radical artists like Tom Morello and Michael Moore for a powerful night of advocacy and music in New York University's Skirball Center on Monday night.
They were gathered for Global CItizen Live and they spoke passionately about how the most pressing issues around the world have common roots and common solutions.
This was expressed most poetically by Annie Lennox, who received the George Harrison Global Citizen award at the end of the evening and called for "unconditional love."
Read More: Annie Lennox Awarded the George Harrison Global Citizen Award
"We are used to thinking that we don't count individually," she said. "That is why it is so important to identify and engage with whichever piece of action you want to support, because, believe me, collectively, everyone can make a difference, but you need to choose hope over despair, responsibility over indifference, feminism over misogyny, and respect, love and kindness over bigotry, division and hatred."
These words were beautifully punctuated by her cover of George Harrison's "Isn't It a Pity," as Harrison's son Dhani Harrison accompanied her on guitar.
The idea of individual actions building toward something world-changing echoed throughout the evening, whether it was when rapper French Montana recalled his eye-opening trip to Uganda and how he believes "health care is a right, not a privilege" or when Afghan activist Razia Jan said "each drop of water makes a river" to talk about educating girls or when Global Citizen's CEO and co-founder Hugh Evans spoke about the origins of Global CItizen.   
"I always believed that healthcare should be a right, not a privilege." - @FrencHMonTanA at #GCLive. #GCWeekpic.twitter.com/gvBPrsrQU6

— Global Citizen (@GlblCtzn) September 19, 2017
Read More: Inspired by French Montana, The Weeknd Just Donated $100,000 for Maternal & Children's Health in Uganda
"We have worked with leaders from all around the world, and from all sides of the political spectrum," said Evans.
"Tireless advocates who balance leading powerful global economies with a passion for social good," he said. "They hear the calls from Global Citizens around the world to champion the issues that will, ultimately help us reach our goal of ending extreme poverty. And for the most part, they respond."
Two major ways in which people did respond to the calls of Global Citizens were around committments made by leaders from the stage. In response to 73,900 Global Citizen actions including a tweet by CHIME FOR CHANGE co-founder Salma Hayek-Pinault, H.E. Dr Thani Ahmey Al Zeyoudi, the minister of climate change and environment for the UAE, announced a $50 million commitment in renewable energy aid and another $10 million in humanitarian assistance to the Caribbean in the wake of Hurricane Irma.
Also, Johnson & Johnson committed on the stage to accelerate the development of a Zika vaccine to cessate the rapid spread of this virus that is now reported in 84 countries and territories across the world. Read more about the impact of Global Citizen Live here.
A Night of Action
Dozens of blocks north in Manhattan, the 72nd United Nations General Assembly had commenced earlier in the day, with leaders from around the world gathering for a week of negotiations and global development agenda setting. One of the hosts of Global Citizen Live, Nikolaj Coster-Waldau, better known as Jaime Lannister from HBO's "Game of Thrones," came out on stage to encourage the audience to make such a political week about the power of everyday citizens.
"It's a week when we can have our voices heard — and share with one another, showcasing our actions, seizing the attention of leaders, and demanding more from them," he said.
Global Citizen Live is just one of many events making up Global Citizen Week, a new series of programming leading up to the Global Citizen Festival on Sept. 23 in Central Park.
Read More: On Sunday, Global Citizen Turned Riverside Church into a Hub for Activism
Coster-Waldau was followed by a series of musical acts, including Rage Against the Machine's Tom Morello, folk star M. Ward, singer-songwriter Brandi Carlile, and rock legends Nancy Wilson and Liv Warfield. They were all backed by Paul Shaffer, the musical director of David Letterman's "The Tonight Show," and his band.
Carlile opened her set with "The Story" a poignant song that showcased the range of her voice, which she wrote because "love will conquer the world." She followed it up with a cover of George Harrison's "Something."
Wilson and Warfield played the feminist anthem "Even It Up" and the ultimate sing-along "What About Love?"
M. Ward played the melodic, gentle "Here Comes the Sun," which invokes the classic Beatles song.
All the musical and political momentum of the evening crescendoed in a finale that brought nearly all the performers including Valerie Simpson to the stage for a moving rendition of John Lennon's "Power to the People" that had Tom Morello bringing the crowd to its feet to shout the chorus.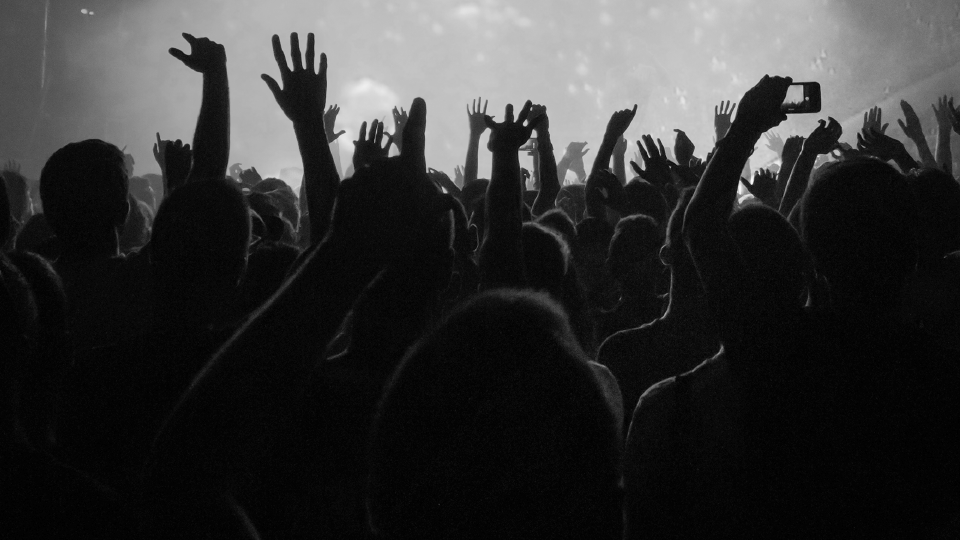 Morello initially came to the stage solo to perform as The Nightwatchman. He played a fierce, stripped-down version of "Flesh Saves the Day" and then a souped-up version of the "The Road I Must Travel" that featured surprise guest director and author Michael Moore who delivered a radical message drawn from his new Broadway play "The Terms of My Surrender."
"We gotta go out there and get rid of this economic system we have," Moore intoned. "It's unjust, it's unfair, and it's causing most of the problems we're talking about tonight."
"Everybody has to get involved, everybody has to get off the bench, everybody in the pool," he said.
Paris Jackson, daughter of Michael Jackson, then said US President Donald Trump had "the empathy of a dead flashlight battery" while announcing her decision to carry on the legacy of Elizabeth Taylor to dismantle the stigma of HIV/AIDS.
It was a night filled with tributes of all sorts and even Prime Minister Erna Solberg couldn't resist singing a few verses from Annie Lennox's "Sisters Are Doin' It For Themselves."
We invest in girls' education and health as a moral imperative. - Prime Minister @erna_solberg#GCLive#GCWeekpic.twitter.com/elRTRUiVNE

— Global Citizen (@GlblCtzn) September 18, 2017
Solberg ultimately used that musical outburst to segue into her main focus — empowering girls and women.
She talked about how Norway is promoting menstrual health in Ethiopia, Niger, Nepal, and Malawi, countries where girls are often deprived of an education because of the stigma surrounding periods.
"We invest in girls' education and health as a moral imperative," she said.
At the Global Citizen Festival in Hamburg in June, Solberg announced an $85 million commitment to girls' health and education and the Prime Minister announced on Monday that the country would contribute to sexual and reproductive health services including comprehensive sexuality education for 170 million young people.
Read More:  Global Citizen Festival Hamburg: $706M of Commitments, Set to Reach 113M Lives
Solberg wasn't the only leader supporting better health coverage around the world, especially for women.
A young advocate from India, Pravin Nikam, called on men everywhere to promote women's health.
"Why has something as natural as breathing been relegated to the status of an unmentionable taboo?" he asked.
"Maybe it is because 50% of the world's population remains unaware of the importance of menstrual hygiene," he said. "We men have remained silent for far too long, brushing the subject off as a woman's private business."
Ugandan rapper and parliamentarian Bobi Wine asserted that he would be fighting to get his country to increase health spending towards maternal and child health care by 50%, after an overall increase of 15%.
And the Prime Minister of Luxembourg, Xavier Bettel, reaffirmed his commitment to improving health services for people with HIV/AIDS, a value that, to him, is both universal and deeply personal as the first openly gay head of state in the world.
"Being gay is not a choice," he said. "Homophobia is."
As Bettel noted, containing HIV/AIDS involves fighting both a disease, and a stigma that's sustained by a web of issues primarily affecting girls and women.
"We must continue to invest in adequate and quality health for girls and women, including sexual and reproductive health services, which is critical to prevent sexual abuse, early childhood marriage, and HIV/AIDS," he said. "Together, we can achieve a world where She Decides."
She Decides is a global movement to ensure every girl and woman can decide what to do with her body, with her life, and with her future. This right affects her personal development, her participation in society, her livelihood and whether her family and community thrives.
Take Action: Sign the She Decides Manifesto
It's an idea and aspiration that animated the evening. But achieving that vision demands a sober assessment of the barriers in the way.
Olivia Harrison presenting the George Harrison Award to activist, artist, and inspiration @AnnieLennox#GCWeek ⭕️ #GCLivepic.twitter.com/52yXu3wm3j

— Hugh Evans (@Hughcevans) September 19, 2017
For example, more than 75 million children are out of school around the world because of conflicts and natural disasters, such as the civil wars in Yemen and Syria, catastrophic flooding in Southeast Asia, and widespread famines in Sub-Saharan Africa.
"Hunger is not decreasing, it is increasing," said Dutch Minister Lilliane Ploumen, before announcing an additional $6 million to the World Food Programme.
Recent hurricanes across the Caribbean were another reminder of the immense challenges ahead.  
Barbuda, in particular, was wrecked by Hurricane Irma. The Caribbean island's prime minister, Gaston Browne, spoke about how 90% of the homes on Barbuda were destroyed and he made an impassioned call for climate action.
"Climate change does not respect borders," he said. "It does not respect who you are – famous or not-so-famous, rich or poor. It is a global threat, which requires global solidarity. The only global solidarity is to recognize that we are all Global Citizens."
"Our belief in the realities of climate change is optional, but our participation in responding to the effects of climate change is mandatory," he added.
That sense of rising up to confront the biggest problems was felt on the stage all evening, among both corporate partners of Global Citizen like Procter & Gamble, which committed 200 million liters of safe drinking water to countries affected by drought and public leaders like Belgium's Deputy Prime Minister Alexander De Croo who vowed to increase his country's investments in humanitarian research to $20 million next year.
It's investments like these, De Croo insisted, that are key to achieving the Global Goals.
Nowhere was the sense of imminent achievement greater than on the topic of polio, which is set to become the second human disease ever eradicated. For that to happen, a final push has to be made to reach the last affected populations.
"The world is waiting for so many of you to get involved," said Alistair Burt, Britain's Minister of State for the Department for International Development. "And we're here to stand right beside you."