Food & Hunger
10 ways to eat fried chicken from around the world
Yes, today is actually National Fried Chicken Day.
It is National Fried Chicken Day! Well, in the USA, at least. And yes, this is a real thing. It appears on calendars despite very little agreed-upon reasoning or history to the day. But that shouldn't matter, because on National Fried Chicken Day, you have only one thing to worry about: finding the most amazing fried chicken you can and eating it (as if you needed an excuse).
While the day is in theory an event only in the USA, it should be seen as one of the truly global holidays — because basically people in every country eats fried chicken. Seriously.
From the US to South Korea to Thailand to Senegal, fried chicken is a favorite in every corner of the world. And that's not even counting variations of fried chicken like American-created General Tso's chicken or Germany's Schnitzel.
To celebrate and inspire you this NationalGlobal Fried Chicken Day, here is an international tour of this tasty food.
A note: This list excludes various chain restaurant fast food iterations as well as most of the intense debate within the USA over regional approaches. Let me know in the comments if I missed a national take that you particularly like.
1) Southern Fried Chicken, USA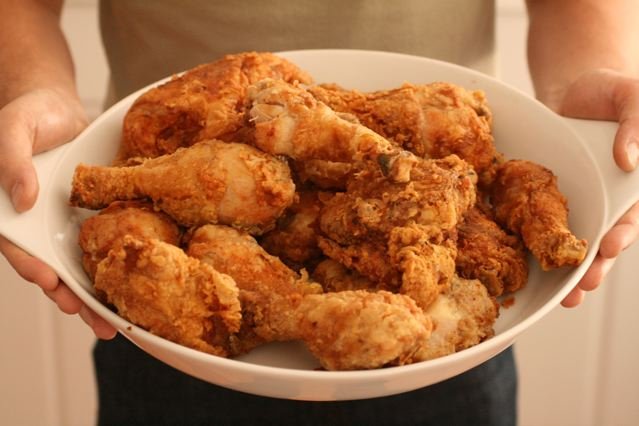 Image: Flickr: TheBittenWord.com
For most American fans of fried chicken, this is the first, the last, and the only fried chicken that matters. The problem can be nailing down the exact definition of Southern-style fried chicken. Some recipes claim that true southern style is not the deep fried and heavily battered stuff seen around the world at KFC. Instead it is pan fried (purists insist on a skillet) with a much more delicate crispy outside.  Some keys to this style are an egg and milk (some will claim it must be buttermilk) mixture that coats the chicken with a mixture of spices. This style is also cooked in a frying pan rather than a deep fryer. The USA has endless variations on fried chicken (see later in this list for a few) but the core is generally the same.
---
2) Ayam Goreng, Indonesia
Image: Wikicommons: Midori
The name sounds romantic, yet is simply the Indonesian words for "chicken rried." This style foregoes the heavy breading of many of its American cousins. Instead, the preparation includes a marinade of garlic, turmeric and lemongrass fried in coconut oil. YUM. Ayam Goreng is particularly popular in Bali where it is said that each family on the island has their own take on the dish. Presentation can include fried rice or fried vegetables. Either way, try this and say "selamat amakan!" (Translation: happy eating!).
---
3) Nashville Hot Chicken, USA
Image: Wikicommons: Sean Russell from Knoxville, TN, USA
"Hot Chicken" or, on some menus, "Fried Chicken Nashville-style," is a local variation on fried chicken. The defining aspects are its spicy flavor and its presentation. The chicken is first marinated in spices. Then it's fried and then sauced with a cayenne-based paste. The chicken is served on top of a slice of white bread with pickle chips on top.
Nashville legend says the origin of Hot Chicken came out of a woman's attempt to punish her womanizing and cheating boyfriend, A man named Thornton Prince. In the 1930s, one of his lady friends tried to make a chicken dinner so spicy it would hurt – and thus punish him for his wandering ways. Instead Thornton loved it. Soon he was sharing the spicy chicken with friends and a regional favorite was born. The woman disappears from the story there, but in some places Hot Chicken is still known as "Prince's chicken."
Believing the legend or not, the rise in popularity of "Hot Chicken" is a modern tale of integration. For decades it seems that Hot Chicken was known only in the heavily segregated African-American neighborhoods of Nashville. Integration and growth over the last decade spread this tasty delight across the city, and soon across the country and beyond. Nowadays, Nashville boasts a wide range of restaurants serving up the local favorite -- and yes, it's also at KFC. Here's a simple guide on how to make it.
---
4) Xian-Style Oven-Fried Chicken
Image: Serious Eats: J. Kenji Lopez-Alt
The creator of this chicken style admits fully and freely that this is a dish inspired by Xian rather than an actual dish from the Chinese city. That said, the recipe looks amazing — and it can be done in your home without a deep fryer. The dish is described as: "Smoky chilies, cumin, and anise combine with mouth-numbing Sichuan peppercorns, cilantro, and scallions for flavor that just won't quit on these crispy, juicy oven-fried chicken wings." Those are some delish spices that do sound like they would fit in with the great food served in Xian.
Check out the FULL RECIPE HERE at Serious Eats.
---
5) Buffalo Chicken Wings, USA/Everywhere
Image: Flickr: Jason Lam
This is either the king of chicken wings to you, or a goopy mess that turned your crisp fried chicken to soggy bread around some chicken. If this is the king, then the spicy heavy sauce is a favorite. Buffalo chicken wings and their boneless brethren are a standard in sports bars across the world.
---
6) Yangnyeom chicken (Korean Fried Chicken), Republic of South Korea
Image: Wikicommons: ayustety
The other KFC and one of the reasons fried chicken connoisseurs are now obsessed with "double-fried chicken" (or in some places even triple fried). Becoming popular in the US around 2006, this style chicken has been a mainstay snack or meal in South Korea since the end of the Korean conflict in the 1950s. Fans of this style claim the double fried approach gives the chicken the crispiest exterior. And if you're into spicy, the chili sauce variation packs a punch.
---
7) Shrimp Paste Fried Chicken, Singapore
Image: YouTube: KitchenTigress
This delicious variation starts out with some unappealing sounding ingredients. Two of the main ingredients are commonly known as shrimp paste and oyster sauce. The reality of how these are made is where some people get turned off. Shrimp paste is basically shrimp bycatch (i.e. too small to sell) left out to ferment in the sun before it's crushed up and turned into a grey goo. Oyster sauce is basically the same concept starting with oysters and ending in a brown goo. Not exactly everyone's cup of tea. But take it from the Singaporeans who crowd into their "Hawker Courts" (food courts with lots of street food), it is straight up amazing. A note for those attempting to make this, shrimp paste can be stinky! Fight through the smell while cooking and your taste buds will thank you.
---
8) Karaage, Japan
Image: Wikicommons: Adonis Chen from Taipei
This Japanese street food is generally lighter and less greasy than its international competitors. The name roughly translates to Chinese-style fried chicken. Despite political and territorial tensions between the East Asian neighbors, China and Japan have a long history of sharing (or some would say stealing) food from each other. In this case the combination is delicious. A particular favorite is a version called "nankotsu Karaage" which is made with chicken breast cartilage in soy sauce, ginger, and garlic. Check out a recipe here or watch the video below.
---
9) Gai Tod, Thailand
Image: Flickr: Alpha
There is a trend here: Asia loves fried chicken. Thailand is no exception. The Thai-style fried chicken varies from chef to chef (or street vendor to street vender) but it has some similarities to the Singapore and Indonesian approach. Like the Singaporean style, it uses oyster sauce (yes, the brown goo made from fermenting oysters) and like the Indonesian style it uses garlic in the marinade. There the similarities stop.
Key to this style of fried chicken is letting the chicken sit overnight in a marinade of oyster sauce, garlic, white pepper as well as coriander seeds and roots. The lengthy marinade protects the chicken from the surprisingly long cooking time. By some estimates, Thai fried chicken stays in the fryer for 10-15 minutes longer than any other cooking method on this list. The result is a very crispy outside that delightfully shreds as you eat it. The most incredible part of this chicken is the succulent inner meat. Despite the extra cooking time the marinade keeps the chicken very moist, giving the lucky eater a great combination of crispy and soft chicken.
A great recipe is over on SheSimmers.com, or you can watch the video below for a slightly different take on the Thai favorite.
---
10) Chicken Yassa, Senegal
Image: Wikicommons: KVDP
Chicken Yass, or Yassa Poulet as it's called, is often called the national dish of Senegal. The nation's take on fried chicken features peanut oil prominently in the marinade. This gives the chicken a slightly different (some say lighter) taste than other approaches to fried chicken. Also, most recipes include a combination of broiler and standard frying to prepare the final product. The chicken is usually served over plain white rice along with a range of onions and other vegetables that make it almost like a chicken stew. There are a few relatively simple recipes out there (this is a good one on Epicurious), and it's a great introduction to African food that should impress your friends.
---
There you have it, a global food tour to satisfy all tastes (well, except vegetarians, who can go here for inspiration). Challenge yourself to make as many as you can. It's incredible how much diversity there is in this tasty, tasty food.