Food & Hunger
This Frankfurt Food Truck Is Fighting Food Waste, One Crooked Carrot at a Time
Ugly food is good food too.
It sounds hard to imagine, but every year 88 million tonnes of food is wasted every year in the EU — the equivalent in weight of 15,000 African elephants. Yes, and this is while 1 in 9 people worldwide go to bed hungry every night. 
ShoutOutLoud, a German non-profit organization committed to environmental protection, sustainability and cultural exchange, is determined to fight this. Their project "Resteküche - Beste Küche" (which roughly translates to "waste kitchen, best kitchen.") is simple and innovative: transform reclaimed organic produce into delicious street food. 
And their dream of a food truck is close at hand.
Read More: 11 Groups Fighting to End Food Waste and Feed the World
"We want to focus on the problem of food waste with the "Resteküche". We don't want to preach to people, or take a moral high ground but simply sell good food that would otherwise have been neglected," said Daniel Anthes, who runs the Resteküche project and is deputy chairman of ShoutOutLoud, in an interview with Global Citizen.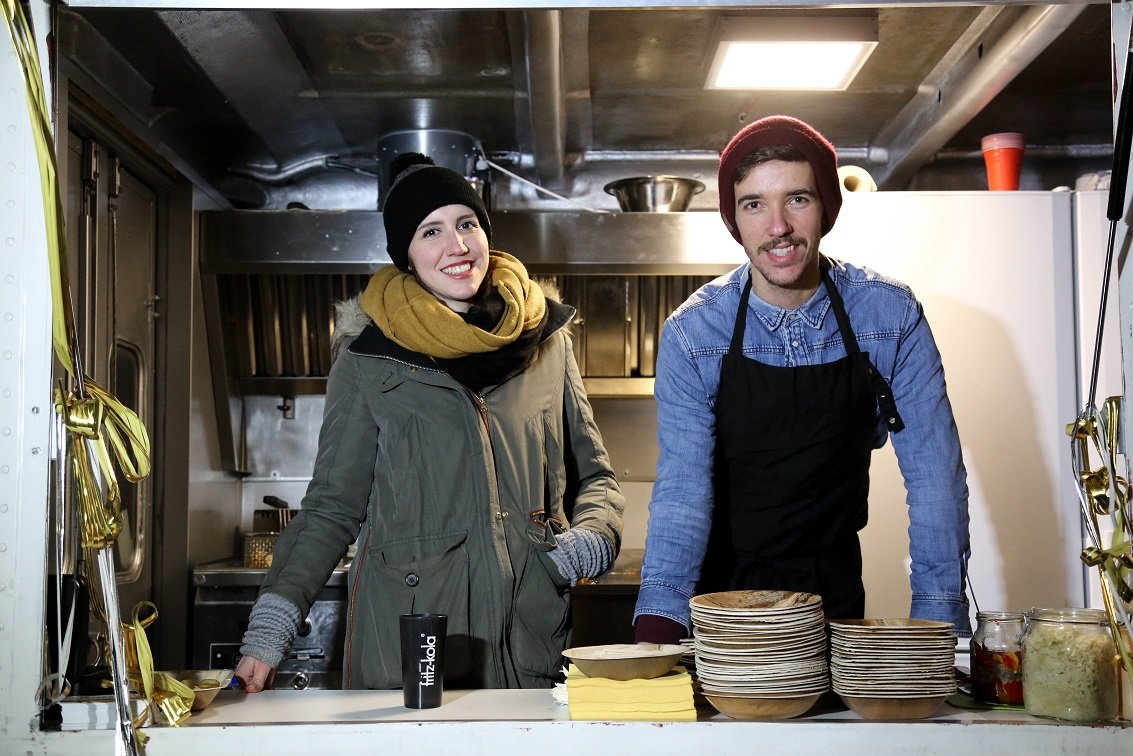 Image: Resteküche-Beste Küche
And he is right. According to a WWF study, Germans throw away more than 18 million tonnes of food. In 2015, food waste cost the UK £13 billion. Some of this waste is simply because people buy too much food, or because expiry dates nudge people to throw away food while it's still edible. But frequently, food never even reaches supermarket shelves, because it is simply too wonky, too crooked, or just too "ugly." 
This is not only an immense waste of precious food, but a threat to the environment. 20% of the UK's greenhouse gas emissions are associated with food production, distribution and storage. Excess food production in industrialised countries adds to global carbon emission levels, wasting energy producing food that will in turn be wasted, only to emit methane as it piles up as landfill — a vicious cycle that needs to be broken.   
Read More: Guess What? The UK Spends More on Food Waste than Foreign Aid
It's time for a rethink. And that is exactly where the food truck comes into play. Using foodstuffs that would otherwise be destined for the tip, they'll be selling vegetarian dishes like soups, sandwiches, pizza and quiche across markets in Frankfurt. Their mantra is: "No 'wonky' carrots, but good soup. No 'crooked' zucchini, but good sandwiches. No waste, but good food."
The food truck will also act as a pop-up think tank, providing fun, interactive workshops to people who want to learn about sustainable solutions to food waste. 
The dream of the foodtruck is already close at hand. ShoutOutLoud is hoping to raise 50,000 euros via a crowdfunding campaign to launch the food truck — they have until 20 January 2017 to reach their target.
"If we hit our funding threshold of 30,000 Euros, we will be able to buy a food truck, design and rebuild it according to our needs, brand it and cover the first running costs (such as insurance, taxes, MOT and parking costs," said Daniel. Reaching their ultimate funding goal of 50,000 euros will enable them to expand the project further.
"All our profits will be invested back into social or ecological initiatives within our partner network, including organisations that teach children about cooking and eating more sustainably." 
Although a food truck alone can not save all the food in Frankfurt (and certainly not in the whole of Germany, or even Europe), it's through local initiatives like this that we can begin to chip away at a problem that seems insurmountable — If food waste were a mountain, it would be two miles wide, and 8,000 feet high.
Read More: 32 Tips for Reducing Food Waste Each Day
"Once you understand how much everyone — from the producer to the end user — is part of of the problem," said Daniel, "you understand that you can be part of the solution." Too true. 
Daniel's Resteküche Food Waste Tip: 

Layered desserts are one of my all time favourites and they are very simple to make: 

First Layer: Use  left-over dairy like yoghurt, whipped cream or curd flavoured as you like, e.g. with cinnamon or vanilla. 

Second Layer: Add mashed or chopped overripe fruits like apples, sweetened to taste — we prefer it rather sour to balance the other layers.

Third Layer: Top it off with something sweet like leftover croissants, cake, brioche or biscuits (chopped).

Finish with some cinnamon powder and enjoy! 
---
Donate to Resteküche's crowdfunding campaign here