Demand Equity
5 Reasons Why Trump's Ban on Refugees Matters for Europe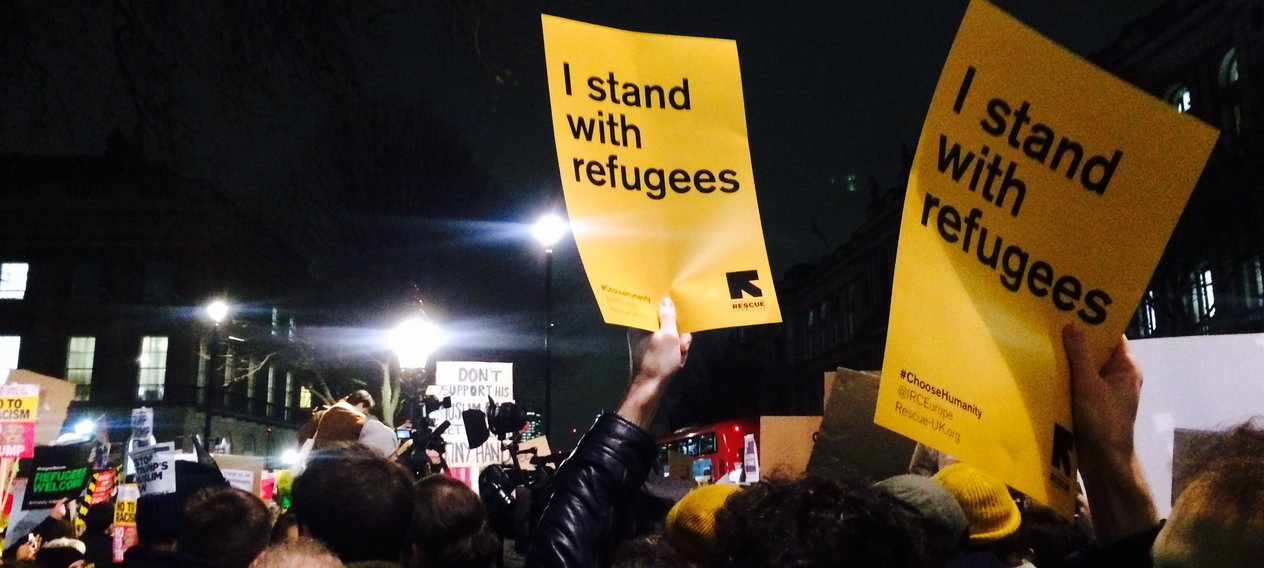 By Melanie Ward, Associate Director of Policy and Advocacy at the IRC
President Trump has slammed the door in the face of refugees due to be resettled to the US this year. As a battle to reverse his executive order commences, vulnerable refugees are at the center of a precarious legal process that will determine their fate. Europe must step up and offer safe haven or risk losing its credibility as a champion of humanity.
1.) For years the United States has led the way in welcoming refugees. Over half of all displaced people assisted through the UN's resettlement program are given a new home in the US. President Trump's executive order would slash refugee admissions by more than half, leaving 60,000 vulnerable people in a state of limbo. Already 86% of refugees are hosted in developing countries. European leaders must step up to provide safe and legal routes to protection.
Read More: This Is What Happens to You When You Become a Refugee
2.) The new administration has turned its back on refugees in the midst of the most dramatic migration crisis of our time, when 1.19 million people are in need of being resettled to a safe country. Deprived of safe routes to protection, refugees are abandoned to the mercy of unscrupulous people smugglers. Dangerous and irregular journeys to Europe will continue.
3.) The executive order blocked citizens of majority Muslim countries - Syria, Yemen, Somalia, Iraq, Iran and Sudan – from entering the United States for 90 days, with exceptions made for religious minorities. President Trump falsely asserted, "If you were a Muslim you could come in [to the US], but if you were a Christian, it was almost impossible." Tantamount to a Muslim ban, these actions will only intensify hostility against the US. By playing directly into the hands of extremist organizations hungry for new recruits, the order increases security concerns in Europe.
Read More: For Many Refugees, Trump's Travel Ban Is a Death Sentence
4.) 11 million Syrians have fled their homes since the outbreak of civil war, 13.5 million are in need of humanitarian assistance. As the devastating conflict approaches its seventh year, Syrians have been singled out by the executive order and banned from entering the US indefinitely, on the grounds of national security. The unjust stigmatization of refugees as potential terrorists and criminals inhibits integration, breeds discrimination and stokes fear instead of empathy. Societal cohesion in Europe will be put under increasing strain by these developments, at a time when solidarity in response to the refugee crisis is of the essence.
Read More: President Trump and World Leaders Must Help, Not Target, the World's Most Vulnerable People
5.) The executive order suspending refugee resettlement and indefinitely banning Syrian refugees from entering the United States was issued on Holocaust Memorial Day, 2017. 
The 1951 Refugee Convention was signed in Geneva to protect people fleeing persecution and conflict in the aftermath of the Second World War and the Holocaust. At a European Parliament debate following this order, Federica Mogherini emphasized that 'No one can be deprived of his/her rights because of their place of birth, religion or ethnicity. This is written in our constitutions, both in Europe and America.' If Europe stands by while threats to these safeguards are played out on the world stage it risks undermining longstanding values and a commitment to the rights of refugees.
Take Action: Donate now to the International Rescue Committee to support refugee families in crisis.