Education
First Hurdles Cleared in Legislative Fight for Education for All
Big News: Legislation ensuring quality basic education is making progress.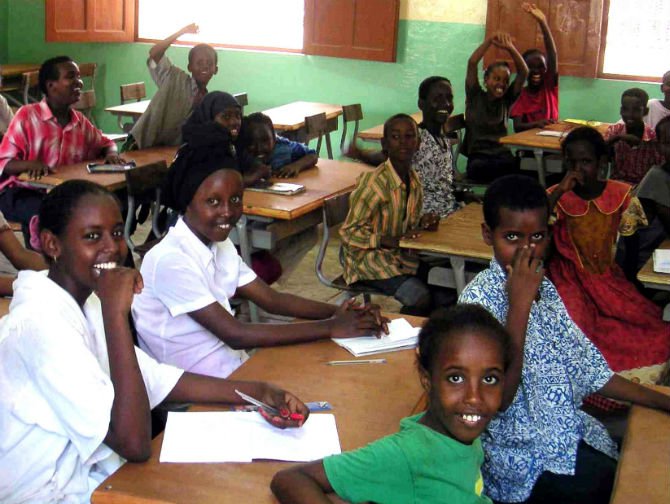 Good news! The US recently took two huge steps toward guaranteeing quality education across the globe. First, the House passed the Education for All Act (H.R. 4481) out of committee, and then the Senate introduced a companion bill, also titled the Education for All Act (S. 3256). Both pieces of legislation build on current US efforts to provide educational opportunities to children around the world, in part by coordinating government agencies and strategies to effectively and efficiently address the issue. Congresswoman Nita Lowey introduced the first version of the Education for All Act almost 12 years ago and this is the first time it has passed committee. Congratulations Congresswoman and thank you for all your hard work to provide universal basic education!
---
What's the issue?
The bipartisan Education for All Act is designed to help the 263 million children, adolescents, and young adults who are currently not enrolled in school. On top of that, the legislation helps to ensure a continuum of educational opportunities for students living in conflict zones and fragile areas. About 40% of primary school-aged children who are able to access education — a jaw dropping 250 million worldwide — do not receive quality education. The legislation is designed to address these glaring problems.
Unfortunately, when conflicts arise or nations are forced to cut their budgets, education is all too often the first to the chopping block. Currently, the funding gap to provide universal primary and secondary education by 2030 sits at an alarming $39 billion. In addition, there are many factors that prevent a student from attending school such as poverty, rural environments, cultural barriers, and conflict. Finally, the world needs more teachers. Many children are denied a quality education due to the lack of a well trained teacher, or sometimes any teach at all. To provide universal basic education by 2030 the world needs another 25 million schoolteachers.
The argument for providing assistance to education programs is fairly simple. Individuals who are able to access quality education have increased earning potential and health outcomes, and they are less likely to become victims of abuse and extremism. The benefits of education begin on the individual level but quickly fan out to improve all aspects of a country for all citizens.
Image: Wikipedia-Tanya Habjouqa
---
Where do the bills currently stand?
Progress occurred on July 14th, when the House Foreign Affairs Committee, led by Chairman Ed Royce (R-CA), passed the Education for All Act of 2016 en bloc by voice vote. On the same day the Senate, led by Senators Dick Durbin (D-IL), Marco Rubio (R-FL), Ed Markey (D-MA), and Susan Collins (R-ME), introduced a companion bill. Though the path for these bills to become law is still long and winding, these first and seemingly inconsequential steps are crucial in achieving our ultimate goal: a world where children are able to access quality education, regardless of where they call home.
At this point the House bill has 34 cosponsors, and the Senate, while still in the early stages of the process, only has the original 4 cosponsors; however, with the added support of Global Citizens, these bills should be well on their way to passing Congress!
Image: Wikipedia-Masae
---
What exactly do the bills do?
In order to ensure equal access to quality education for children throughout the world, the bipartisan bills build upon current US efforts to:
- Build strong and sustainable education systems in target countries to maximize the bang for our buck;
- Implement a US strategy addressing real barriers preventing students from accessing a school and/or continuing their education;
- Ensure US agencies talk with one another as well as with other key partners to strategically achieve the largest impact;
- Ensure quality education services for children who have been displaced;
- Improve transparency and accountability to ensure that our money is being spent wisely.
The bill asserts that universal education in developing world countries must be a pillar of US foreign policy. It notes that no country has achieved economic success without first providing nearly universal basic education to its people, and, therefore, if we want to help developing nations out of poverty, we must educate their children!
The legislation also states that: "Gender discrimination continues to be a barrier to girls' education in many parts of the world, and on average, girls in developing countries still receive significantly less schooling than boys". In other words, Congress is taking a serious step in the right direction by recognizing the importance of educating girls and women.
This legislation would be a major improvement for US foreign policy and it would be a big step towards achieving Sustainable Development Goal #4: Quality Education. Providing access to quality education is the first step toward lifting a nation out of poverty, and we're happy to hear that Congress is ready to prioritize it!
Image: Wikipedia-Marciliorezende
---
How can I help?
We need you to signal to congress that this is a bill that has wide public support. Sign the petition and call your elected representative urging them to support the Education for All Act today, and join your voice to the chorus supporting quality basic education for all!
Stay tuned for more updates on the Education for All Act as Global Citizen pushes its advocacy into high gear alongside sector partners in the lead up to the Global Citizen Festival.