Artist Daniel Webb was on a run down the southeast coast of England one evening when he came across heaps of plastic waste that had been swept in by waves during a storm the night before.
"Most of the debris had entangled itself in the washed-up seaweed. It got me thinking: how much plastic is in the sea? Is any of it mine? Do I recycle enough?" Webb told Global Citizen. "How much rubbish could one person living alone actually produce?"
It's the latter question Webb set out to address. Webb, who lives in Margate, a seaside town in England, decided to keep every piece of plastic he used over the course of a year, starting Jan. 1, of 2017. By New Year's Eve, Webb had collected 22, 80-litre (approximately 21 gallon) garbage bags worth of plastic waste, which he turned a massive mural called "Everyday Plastic."
Take Action: Pledge to simply take 3 pieces of rubbish with you when you leave the beach.
A life-size picture of the mural, taken by photographer Ollie Harrop, is now on display at Dreamland, an amusement park in Margate, the seaside town in England where Webb lives, Metro reported.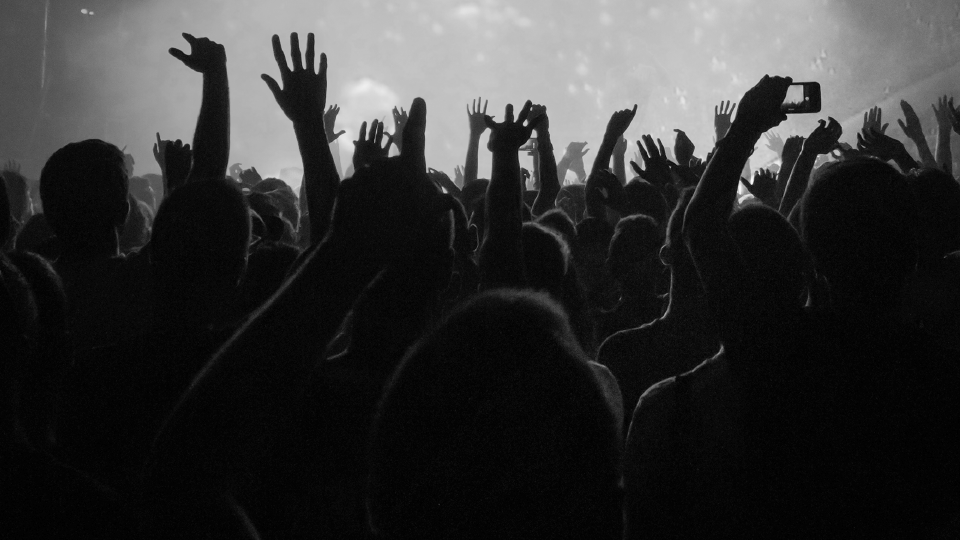 Artist Daniel Webb stands in front of his mural, "Everyday Plastic," on display at the Dreamland amusement park in Margate, England.
Image: Photo © Ollie Harrop 2018. Courtesy of Everyday Plastic.
"I didn't throw away any plastic waste I produced — not a single bottle top, piece of bubble wrap, straw, toothbrush, salad bag, coffee lid or clothing label," Webb told Global Citizen.
"I kept it all in my flat and at Christmas, my poor sister had to sleep in the room with all of it!" Webb said.
In a true case of life imitating art, Webb said that creating "Everyday Plastic" woke him up to just how much plastic waste people create.
"It didn't look like much in the bags, but when we were sorting, counting and categorizing it all, that was when I realized how much there was," Webb said. "Separated into 150-odd crisp packets, 69 milk bottles, over 200 salad and vegetable bags, it really was quite stark and shocking to see."
Read more: Turns Out There's Not Just 1 Great Oceanic Garbage Patch — There Are 5
Webb added that there is no curbside recycling in his neighborhood, making it even more challenging to recycle the plastic he uses — and he's not alone. In the six decades since the world has been producing plastic, 8.3 billion metric tons have been created, and 91% of that has not been recycled, according to one study. Around 8 million tons of plastic waste end up in the ocean every year at roughly the rate of one garbage truck-load per minute, the Ocean Conservancy estimated.
"Knowing what I know, I feel too guilty to throw away any plastic now," Webb said. Instead, he's made a conscious effort to change his habits and reduce his plastic usage by carrying reusable coffee cups with him and avoiding plastic water bottles.
"Supermarkets are where it becomes very difficult though. Walk in to a store anywhere in the world and you are bombarded by pointless packaging," Webb said. "I mean, why are individual fruits or vegetables shrink-wrapped? We've hit peak packaging!"
Earlier this year, British Prime Minister Theresa May vowed to eliminate the UK's plastic waste by 2042, and called on supermarkets to create plastic-free aisles. But one supermarket in Amsterdam, the Netherlands has already gotten a jump start on eliminating plastic from its stores, debuting the world's first plastic-free aisle in February, CNN reported.
Read more: Activists Are Demanding Plastic-Free Aisles at Major US Grocery Stores
Webb described his experience creating "Everyday Plastic" as both enlightening and frightening. "I've learned so much throughout the whole process and what I've realized is what a huge impact plastic has had on our society and culture," he said.
If current plastic-usage trends persist, it's estimated that humans will have generated 12 billion metric tons of plastic waste by 2050.
"We shouldn't feel guilty for wanting or buying a bag of crisps," Webb said. "But we should be aware of over-packaged products and pointless plastic and of habit of using plastic for its cheap convenience."
Though Webb is just one person, "Everyday Plastic" shows that even the choices and consumption habits of one individual can have a huge environmental impact.
Global Citizen campaigns in support of climate action and the preservation of the environment. You can take action here to help protect our oceans and reduce plastic waste in water.