News
Environment
Helicopter Rescues and Meteor Showers: The Best Environmental Photos of August
Floods in Kerala and wild fires in California displaced millions of people.
---
Why Global Citizens Should Care
The global enivronment is changing in extreme ways as temperatures rise and precipitation patterns shift. The United Nations' calls on countries to mitigate climate change to prevent even more severe changes and you can join us in taking action on this issue here.
---
The sky was busy in August. 
The Perseid meteor shower sent ribbons of light through the Northern Hemisphere, while the air seemed to explode during violent summer storms in Mexico's Sinaloa state. 
California continued to burn, extending the state's most destructive wildfire season in recorded history, and extreme flooding kept Kerala, India, underwater, displacing millions of people as a result. Rescue efforts yielded stunning images of men, women, and children suspended above lakes brown with contamination. 
Take Action: Ensure All Communities Can Withstand Climate Disaster
Hikers explored the lush summer landscape of Alaska, and Kanwaria pilgrims trekked dozens of miles outside of New Delhi to Hindu temples.
In the Swiss Alps, meanwhile, activists combined 2,500 postcards to spell a message only visible from a plane: "Stop Global Warming."
Here are the best environmental photos from the month of August. 
---
Image: Patrick Record/AP
1. California Wildfires: King Bass, 6, left, sits and watches the Holy Fire burn from on top of his parents' car as his sister Princess, 5, rests her head on his shoulder on Aug. 9, 2018, in Lake Elsinore, California. More than a thousand firefighters battled to keep a raging Southern California forest fire from reaching foothill neighborhoods Friday before the expected return of blustery winds that drove the flames to new ferocity a day earlier. This year the Mendocino Complex fire broke the record for California's largest wildfire ever, burning over an area the size of Los Angeles. With the fire surpassing a previous record set in 2017, the trend in California and elsewhere is clear: Climate change is making forest fires more intense and longer-lasting.
2. Daily Life in Kashmir: A Kashmiri fisherman casts his net from his boat during sunset on Dal Lake in Srinagar on Aug. 1, 2018. 
Image: Alvaro Barrientos/AP
3. Heat Wave in Europe: Children cool off in a fountain during a hot summer day, in Pamplona, northern Spain, Aug. 1, 2018. Much of Spain is on alert as the country's weather agency warns that temperatures could surpass 104 degrees Fahrenheit due to a hot air mass moving northward from the African continent. According to the Washington Post, record breaking temperature highs have been recorded this summer in "scores of locations on every continent north of the equator." Experts predict that these heat waves are going to become more frequent in the future because of climate change. 
4. Southern California Ocean Temperatures: People walk beneath Scripps Pier on the Pacific Ocean on Aug. 7, 2018, in San Diego, California. The sea surface temperature at Scripps Pier was measured at an all-time high of 78.8 degrees Fahrenheit on Aug. 3, the warmest since record keeping began at the pier 102 years ago. 
Image: Petros Karadjias/AP
5. Turtle Conservation: A tiny sea turtle that just hatched makes a trail on the wet sand as it tries to reach the warm waters of the Mediterranean along Cyprus' protected Lara beach on Aug. 10, 2018. Turtles have been around for around 200 million years, and though the Loggerhead and Green turtles were hunted to near extinction in the first half of the last century, they are now making a dramatic comeback thanks to pioneering conservation efforts on Cyprus.
Image: Ted S. Warren/AP
6. Perseid Meteor Shower: In this 20-second exposure, a meteor streaks across the night sky above trees near Moscow, Idaho, in the early hours of Tuesday, Aug. 14, 2018, during the Perseid Meteor Shower. The Perseids show up every year in August when Earth ventures through trails of debris left behind by an ancient comet. The annual event can produce dozens of meteors an hour.
7. Life In Tuvalu: Children play next to a house on the shores of the lagoon on Aug. 15, 2018, in Funafuti, Tuvalu. The small South Pacific island nation of Tuvalu is striving to mitigate the effects of climate change. Rising sea levels of 5 millimeters per year since 1993, well above the global average, are damaging vital crops and causing flooding in the low lying nation at high tides. Sea water rises through the coral atoll on the mainland of Funafuti and inundates taro plantations, floods either side of the airport runway and affects people's homes.
8. Indonesia Earthquake: Residents perform a prayer outside a temporary shelter at Pemenang in Lombok, Indonesia, on Aug. 8, 2018. The 7.0-magnitude quake in Lambok killed hundreds of people.
Image: Rajesh Kumar Singh/AP
9. Pilgrimage in India: Kanwarias, worshipper of Hindu God Shiva, walk past sugarcane fields in a religious pilgrimage near Meerut, 37.5 miles from New Delhi, India, on Aug. 8, 2018. Kanwarias are devotees performing a ritual pilgrimage in which they walk the roads of India, clad in saffron, and carrying ornately decorated canisters of the sacred water of the Ganges River over their shoulders, to take it back to Hindu temples in their hometowns, during the Hindu lunar month of Shravana.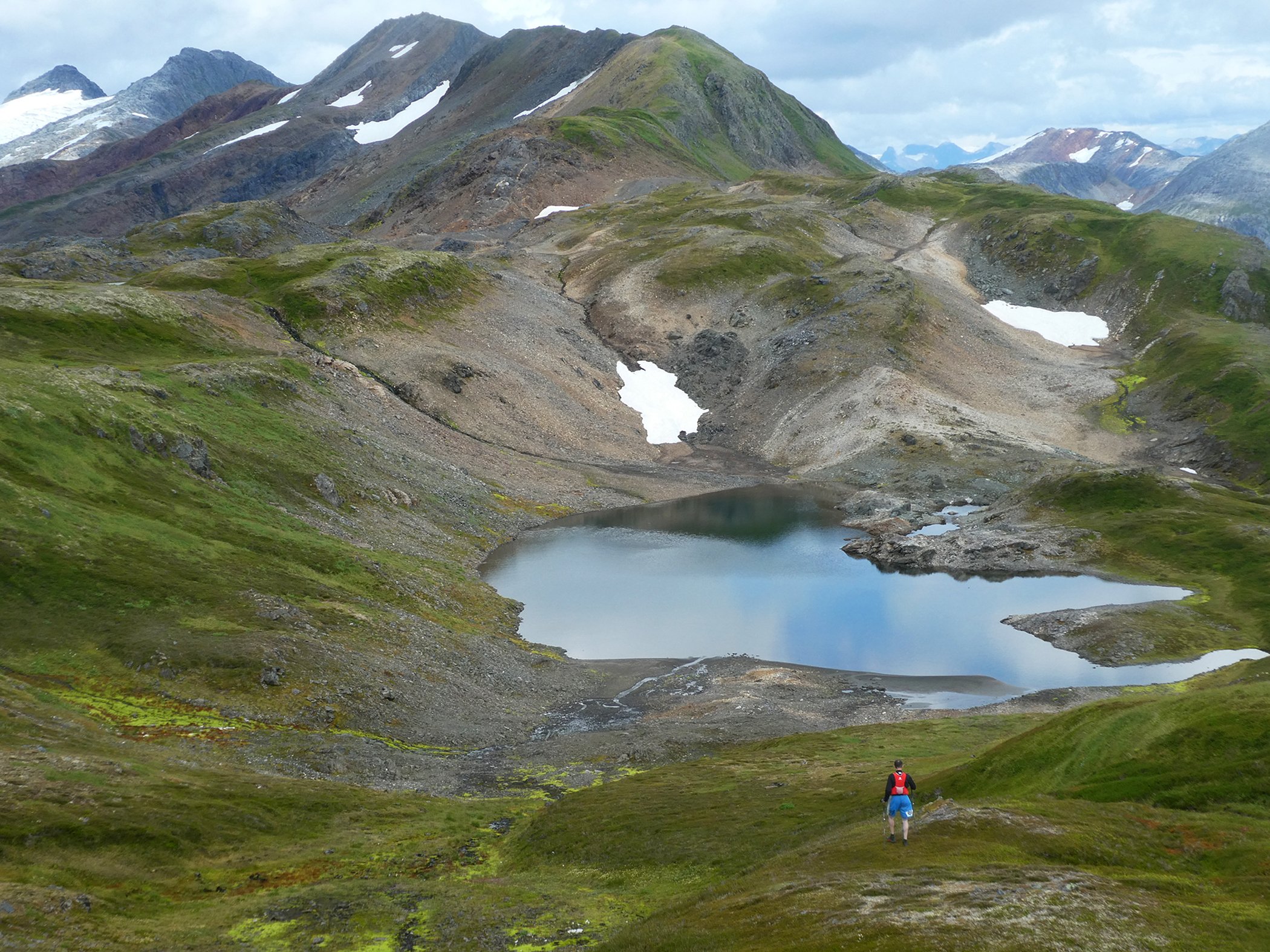 Image: Becky Bohrer/AP
10. Alaska Daily Life: A hiker nears an alpine pond on the Juneau ridge in Juneau, Alaska, on Aug. 18, 2018. Small ponds dot sections of the ridge, which is a popular destination for local hikers. Wildlife, such as mountain goats, ptarmigan, and marmots, can sometimes be seen along the hike. 
11. A Message for the World: This aerial picture shows a giant roll of more than 2,500 laminated postcards displayed for an exhibit test of an action against climate change, in the Aletsch Glacier near the Jungfraujoch in the Swiss Alps on Aug. 13, 2018. The test was organized to prepare a world record attempt of the largest postcard on the Alps' longest glacier, to kick off a global youth climate movement. Swiss Agency for Development and Cooperation along with the WAVE foundation expect to create the largest postcard made up of at least 100,000 standard sized postcards. 
Image: Heng Sinith/AP
12. Water Pollution in Cambodia: A boy swims near floating trash during flood season in the floating village on the Mekong river bank on the outskirts of Phnom Penh, Cambodia, on Aug. 11, 2018. According to Water.org, approximately 4 million people out of the total population in Cambodia lack access to safe water, and 6 million lack access to improved sanitation.
13) Flooding in India: Residents of Pandanad sit in a bus stand surrounded by flood waters from the overflowing Pampa river while raft is pictured near them transported people in Pandanad of Alappuzha District in the south Indian state of Kerala on Aug. 21, 2018. More than one million people have swarmed relief camps in India's Kerala state to escape devastating monsoon floods that have killed more than 410 people, officials said Tuesday as a huge international aid operation gathered pace. 
Image: Noah Berger/AP
14) California Wildfires: Firefighters monitor a backfire while battling the Ranch Fire, part of the Mendocino Complex Fire near Ladoga, Calif on Aug. 7, 2018. The years with the most acres burned by wildfires have some of the hottest temperatures, an Associated Press analysis of fire and weather data found. As human-caused climate change has warmed the world over the past 35 years, the land consumed in flames has more than doubled.
Image: John Locher/AP
15. Hurricane Lane in Hawaii: People watch the sunset on Waikiki Beach ahead of Hurricane Lane, Aug. 23, 2018, in Honolulu.
16. Flooding in Kerala: A resident is airlifted by Navy personnel during a rescue operation at a flooded area in Paravoor near Kochi, in the Indian state of Kerala on Aug. 18, 2018. Rescuers in helicopters and boats fought through renewed torrential rain on Aug. 18 to reach stranded villages in India's Kerala state as the death toll from the worst monsoon floods in a century continued to rise.
17. Summer Weather: This aerial photograph shows parasols on a beach of the Adriatic Sea on Aug. 8, 2018, in Durres, as a heatwave sweeps across Europe. Temperatures rose to about 100 degrees Fahrenheit in Albania.
18. Summer Storms: A lightning bolt strikes in Culiacan, Sinaloa State, Mexico, early on Aug. 18, 2018.
Image: Daniele Selby
19. Leopards in Africa: An African leopardess lounges in a tree in Tanzania's Serengeti National Park on Aug. 12, 2018. The park is home to approximately 1,000 African leopards, which may soon be considered endangered. In the past 25 years, the sub-Saharan leopard population has dropped by 30% largely as a result of trophy hunting and human-related loss of both prey and habitat.
Image: Daniele Selby
20. Elephant Conservation: Baby elephants play during visiting hours at the David Sheldrick Wildlife Trust in Nairobi, Kenya on Aug. 16, 2018. The majority of the elephants in the Trust's nursery and rehabilitation center were orphaned as a result of human-wildlife conflict. Many baby elephants — just a few months old — have been found trapped in wells, while others were rescued from snare traps set by poachers or found alone after their mothers became poaching or drought victims. Over the next few years, they will be nursed, cared for, and gradually re-introduced into the wild and a new herd.