Girls & Women
Meet 5 Girls in East Asia Empowered Through Sports
These girls could be going for gold in the next Olympics.
The Women in Sports Foundation, founded by tennis great Billie Jean King, reports that girls who play sports have higher levels of confidence and self-esteem, and experience higher states of psychological well-being than girls and who do not play sports.
Well, duh, sports are fun!
Unfortunately, many women and girls around the world still lack the same rights and opportunities of men, meet some inspiring young ladies in Asia who are playing their own way forward.
INDIA: ARSHDEEP, AGE 15, BADMINTON
The eldest of 4 siblings, Arshdeep is a passionate player of badminton.
"I first started playing sports at World Vision's children's club. It was there that I developed a keen interest for badminton. Earlier, I never had access to equipment or even knowledge on how to play the sport. I lacked the confidence to even speak to a single person let alone compete with so many players. But thanks to World Vision's intervention in my life, I now have the confidence to say no dream is too big."
Arshdeep started playing barely a year ago and already she's won a silver medal at the district level tournament. This year she hopes to compete in both the district and state levels and bring home a gold medal!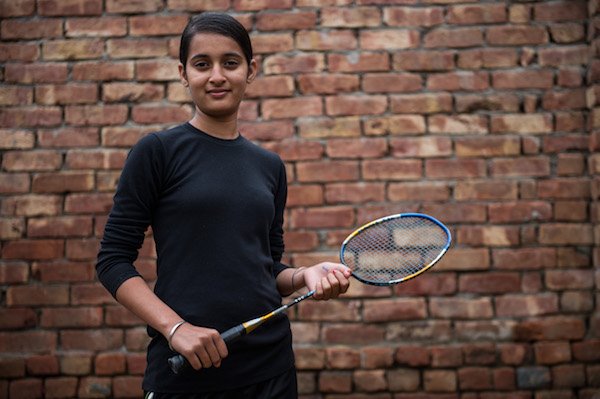 Image: ©Tiatemjen Jamir/World Vision
---
SRI LANKA: SADEESHA, AGE 14, GYMNASTICS
"I started aerobic gymnastics when I was in 3rd Grade. We all have to play at least one sport in school. I like athletics too, but this sport seemed really fun so I chose it. It's really good exercise too and we need to be strong, flexible and quick to perform the moves. We are the team that won the All Island Aerobic Gym for Life Challenge Championship in 2014. There were many schools but we won! We were so happy that we all shouted and cheered when the winners were announced. I like participating in competitions. It builds my confidence and brings the team closer too."
Image: ©Niroshini Fernando/World Vision
---
BANGLADESH: KOLPONA, AGE 14, FOOTBALL
Kolpona dreams of becoming a world-class footballer. "When I saw some girls magnificently playing football and scoring goals, I became so fascinated and wanted to play."
She plays on an award winning team that travelled to Nepal to represent the national team in the Asia Cup under-16.
"Though I play defence I just love to see my team scoring goals. And I feel so proud when I resist my opponent team from scoring."
Image: ©Shabir Hussain/World Vision
---
LAOS: ANNY, AGE 9, FOOTBALL
Who needs shoes to play? Nothing stops Anny from playing football. She lives in southern Laos in Savannakhet province. In her community, World Vision has implemented education programs that focus on school quality and provided sports equipment and uniforms.
"I like to play football because I get to exercise, which helps me stay healthy. I also like wearing a football uniform because it makes me look very smart!"
Image: ©Ammala Thomisith/World Vision
---
VIETNAM: HANG, AGE 13, AND LI, AGE 10, BADMINTON
Hang and Li live in central Vietnam near Da Nang city. Hang, age 13, and Li, age 10, shine in badminton. For five consecutive years, Hang has won an annual badminton competition for students in her district.
"I like this sport because it's a simple way to stay healthy and make more friends. The sport is easy to play and doesn't cost much for us as we're poor students in a rural area. My dad even used his own money to buy some plastic balls for kids in my village to play for free."
"I will play badminton until the day I can't run or jump. I want to be a good badminton coach for girls in my community."
Image: ©Le Thiem Xuan/World Vision
Sports require nutritional fuel. Let's invest in future olympians by making sure everyone has access to the right foods, enough nutritional food, and sustainable food resources for the future.