On Saturday Nepal was devastated by a 7.8 earthquake- the worst it has seen in 80 years. Thousands died, even more were injured, and much of the infrastructure was wiped out in affected areas.
Here's what we know:
At this time, we know that at least 3,617 people have been confirmed dead. The National Emergency Operation Centre reports more than 6,500 have been injured, while dozens of people have been killed in neighboring India and China. Casualties will likely rise as rescuers continue to search more remote areas of Nepal for survivors.
Adding to this immeasurable loss is the fact that so many have lost their homes. In Gorkha district, a senior official told AP that 70% of homes had been destroyed. In Pokhara, a man who was rescued by helicopter said that nearly every home in his village of more than 1,000 houses had been destroyed by the earthquake. In addition to homes and infrastructure, many of Nepal's "architectural jewels" have been destroyed as well.
The global response:
According to the United Nations, there are 14 international medical teams already on the way to Nepal, in addition to 15 international search-and-rescue teams.
These teams, alongside Nepalese workers, will be faced with several pressing issues.
- Nepal is running out of food and water, and struggling with frequent power cuts.
- In districts like Dhading, hospitals are overflowing.
- Thousands have been displaced, and spent Sunday night, their second night, outside.
- Heavy rain has worsened conditions outside, and potential thunderstorms could further exacerbate an already dangerous situation. UN officials are concerned that this could lead to a shortage of vaccines to combat diarrhoea and measles.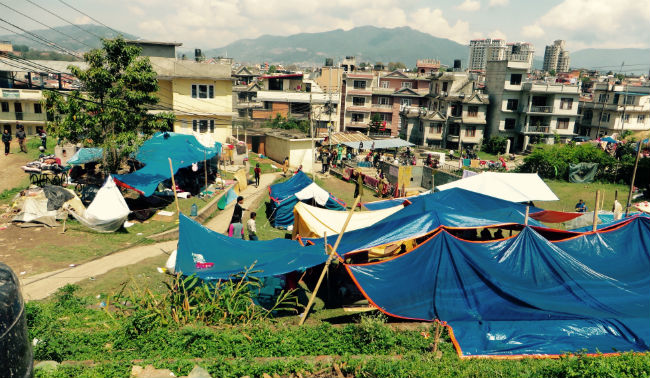 Tents for the displaced. | Flickr: SIM Central and South East Asia
Many of our partners are already getting involved in the response.
CARE: At present, "CARE's humanitarian workers on the ground in Nepal are currently assessing the situation and determining immediate needs." CARE will work to see that those in need are provided with food, water and shelter.
World Vision: After assessing the damage, "World Vision is planning to respond in its initial phase to 50,000 people, meeting their immediate needs including providing first aid kits, sleeping mats, blankets and jerry cans; temporary shelter; and protection for children. World Vision is setting up three Child Friendly Spaces so children have a safe space to play following the trauma of the quake."
Oxfam: Addressing one of the Nepal's most urgent needs, "Oxfam aid workers are on the ground, preparing to launch a rapid response to ensure food and water reaches those in need."
Save the Children: The UN reports that almost 1 million children need humanitarian assistance. To that end, Roger Hodgson, Deputy Country Director for Save the Children in Nepal, says, "Despite the difficulties in reaching some of the hardest-hit regions, Save the Children is mobilising much-needed items to help these children and their families. Helping those most affected by this disaster will continue to be our top priority in the coming days, weeks and months."
UNICEF: According to their press release, "UNICEF is mobilizing staff and emergency supplies to meet the urgent humanitarian needs of children affected by the earthquake, focusing on water and sanitation, nutrition, education and child protection. UNICEF is already supporting tankering of water and provision of oral rehydration salts and zinc supplements to people gathered in informal settlements, and providing tents for field medical facilities, using supplies already prepositioned in the country.  
UNICEF is also readying two cargo flights with a combined 120 tonnes of humanitarian supplies including medical and hospital supplies, tents and blankets, for urgent airlift to Kathmandu."
BRAC: BRAC is sending a team of doctors and emergency response veterans to Nepal to provide meidcal support, food supplies, and blankets to victims. BRAC will be working with the Nepalese government and local partners to assist in emergency response and long-term relief efforts. 
UN Global Compact: The United Nations and its humanitarian partners are ramping up relief efforts in Nepal by mobilizing local resources and relief in affected areas. "The United Nations Global Compact  has a launched a special appeal calling on its business participants to support Nepal earthquake relief in the UN Global Compact spirit of shared responsibility for a better world.
UN Global Compact participants wishing to support immediate relief efforts can make a financial contribution to the UN Central Emergencies Response Fund. As relief efforts intensify in the days ahead, specific operational and in-kind support requests will be shared with companies in a business engagement guide and advertised at business.un.org, the UN-Business partnership platform designed to connect UN needs with private sector resources and capacities, including in emergencies."
Heifer International: A 7.8-magnitude earthquake that struck Nepal on April 25 has affected Heifer project areas. Initial reports of damage are devastating, and we are saddened to report the deaths of at least 61 project participants due to the earthquake. So far, the worst damage seems to be in the central districts of Dhading and Nuwakot where we work alongside farmers to develop goat and dairy enterprises. Early assessment of damage includes thousands of homes that are destroyed as well as loss of livestock and livelihoods.  Heifer's efforts are focused on providing temporary shelter, food and water for communities in need. Longer-term work will include rebuilding the communities and providing livestock and related training. If you want to support Heifer's work you can find out more about it and make a donation here
USA for UNHCR: UNHCR is on the ground providing assistance in Katmandu and working to deliver more supplies in the next days. So far they have emptied their warehouse in Damak (eastern Nepal) full of plastic sheets and solar lamps for the 40,000 survivors and handed out 11,000 plastic sheets and 4,000 solar-powered lanterns. They will be delivering more very soon. UNHCR are asking people to make an emergency donation to help UNHCR during times of crisis. Donations will go towards $7 thermal blankets, $15 plastic tarps and $40 solar lanterns and any donation is incredibly needed. 
Concern Worldwide: Concern Worldwide, in partnership with two local organizations, is preparing to distribute an initial package of shelter and relief supplies to 10,000 families in four of the districts hardest-hit by the earthquake – Sindulpalchowk, Dolakha, Ramecchap, and Gorkha.  Additional distributions are in the planning stages, as is a wider response and recovery effort, likely to include, shelter, water and sanitation, and nutrition activities.  
Going forward, we'll try to keep you updated about the activities of all of our great partners as we learn more.
Lining up for water after the earthquake. | Flickr: SIM Central and South East Asia
Okay, so how can you help?
When disaster strikes, well-meaning individuals come up with all sorts of ways to contribute to the global response. Unfortunately, some of these ways are misguided, and can actually do more harm than good. If you want to get involved- as you should- here are some tips to help ensure your impact is as great as possible.
DO: Donate money to organizations that have a history working in Nepal. This will require a bit of research- you want to make sure the organization you choose is established and has experience in the area. Donating to any of the partners listed in this article is a good place to start.
DON'T: Hop on a plane to volunteer in Nepal. It's best to let the people with experience do their jobs and handle the situation, rather than add to the chaos. Instead, support the people on the ground by donating to an organization of your choice.
DON'T: Donate items. Using the earthquake in Haiti as an example, donated items took up much needed space on the tarmac, preventing needed supplies from getting through. By donating money, aid workers can assess what's needed and buy things in bulk.
DO: Support local organizations on the ground in Nepal. Who better to support than the Nepalese, who speak the language, understand the culture, and are familiar with the region? Supporting local organizations is also a great way to ensure sustainability.
DO: Utilize Facebook's "Safety Check" if you have friends in the area. The new feature allows people in Nepal to connect with their friends and family to let them know they are okay. Buzzfeed explains how it works here.
DO: Get your friends involved. Imagine the kind of impact you could have if you got 10 other people to donate as well?
---
We'll do our best to keep you updated as we learn more from our partners and reporters on the ground. In the meantime, I encourage you to donate to an organization of your choice to ensure that those who have survived the earthquake have access to basic necessities like food, water, and shelter. Recovering from a disaster of this magnitude will require a collaborative effort from local organizations, international NGOs, governing bodies, and global citizens just like you and me. Let's come together for the people of Nepal.