Education
Why You Shouldn't Throw Away Your Solar Eclipse Glasses
Your glasses can make a difference for children in developing countries.
Now that the much-anticipated solar eclipse has come and gone, what do you do with those eclipse glasses you waited hours in line to buy?
The next solar eclipse won't reach North America until April 8, 2024; so instead of holding onto (and probably misplacing) the flimsy cardboard and polymer glasses, you can donate them to school children in developing countries.
Take Action:Ask World Leaders to fund Year 2 of Education Cannot Wait
Astronomers Without Borders (AWB), a nonprofit that brings together aspiring astronomers through community-based programs, is collecting solar eclipse glasses to be reused by children in the future. The organization announced a redistribution plan to send used solar eclipse glasses schools in South America and Asia, where the next two solar eclipses will occur in 2019.
Image: Bob n Renee/Flickr.
Sending glasses to children not only reduces waste from glasses tossed in the garbage, but also could protect children's eyesight. Experts have warned that staring directly into an eclipse can permanently damage a person's retina.
Read More:What Scientists Hope to Learn From Today's Solar Eclipse
"Many schools in developing countries don't have resources for science education and this is a rare opportunity that inspires students and teachers and shows them that science is something they can do. It can be a ray of hope for young people who don't otherwise see a path to a career like this," AWB President Mike Simmons told Gizmodo.
Image: Universal Awareness/Flickr.
AWB knows that we are all one people sharing one sky. Through observation projects and telescope donations AWB believes that the boundaries between people and countries will start to dissolve as people learn about each other and space.
Read More:Baltimore Plans to Give 20,000 Eyeglasses to Low-Income Students
In advance of Monday's solar eclipse, AWB provided free shipping of glasses for all US-based orders, and 100% of the sale proceeds went toward AWB's science education programs worldwide. The organization also started an eclipse-inspired program to continue science, technology, engineering, and mathematics (STEM) education across the US.
Global Citizen campaigns on education for children in developing countries; you can take action here.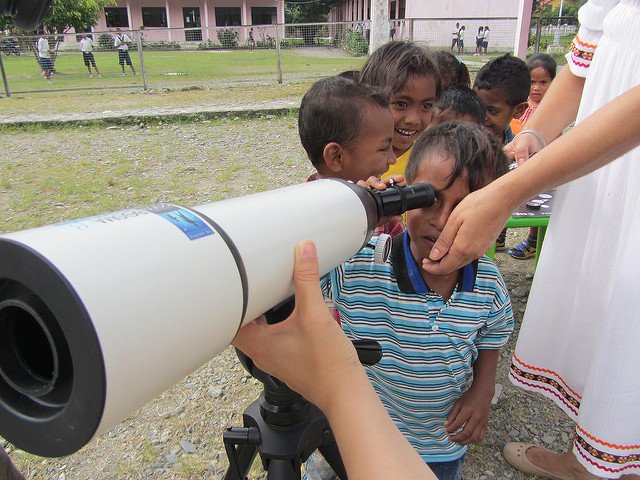 Image: Universal Awareness/Flickr.
For those who would prefer to recycle the glasses, that too is an option, but not a particularly easy one. 
Dark film lenses cannot be recycled in a typical household recycling bin, according to Earth 911. Instead, to recycle the glasses, the lenses must first be removed and taken to a camera store where photographers can recycle the film. 
So, unless you're planning to make a fashion statement with those flashy eclipse glasses, AWB asks that people donate them to their corporate sponsor: Explore Scientific at 621 Madison Street, Springdale, Arkansas.