Partner
Defeat Poverty
This Organization Crowdfunds to Bring Clean Water to Children in Colombia
Every drop in the bucket makes a difference.
Mercedes Fernandez is about to have her first baby. Although she's experiencing some of the usual anxieties of being a first-time mother, she knows that her chances of giving birth to a healthy baby who will grow into a robust toddler are very high.
But Fernandez, who is director of Primero Lo Primero in the US is also keenly aware that the reality is different for too many expectant mothers in her family's country of origin: Colombia. Primero Lo Primero is part of a network of seven organizations that aims to bring early childhood development to Latin America's most neglected children.
Now Fernandez and Primero Lo Primero are taking a novel approach to raising funds to ensure a better future for babies born to mothers who are less fortunate than she. Fernandez is harnessing the power of crowdfunding through CaringCrowd®, a crowdfunding platform proudly sponsored by Johnson & Johnson for community health projects.
In Colombia's poorest province of Choco, ravaged by decades of violence from the guerilla and drug wars, an astounding 42 percent of children die before they turn one. Diarrhea is the leading cause of death among children under five there.
Although water is abundant in Choco's lush jungles, illegal mining has contaminated the rivers with mercury, making it unsafe to drink. The river that borders the capital, Quibdo, is also toxic. Without sewage and water infrastructure, the communities use it as a dumping ground for waste.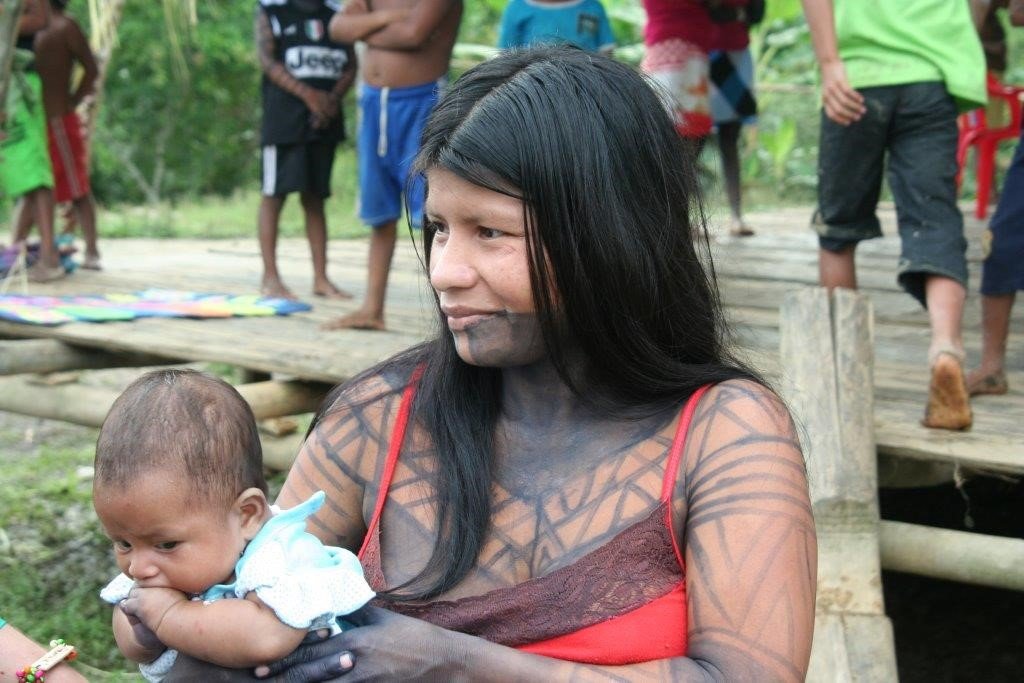 But Primero Lo Primero, meaning "first thing's first" in Spanish, is stepping in. Working in partnership with Genesis Foundation and aeioTU, the network hopes that bringing clean water, safe food and basic health care to the children of Choco and other regions will prevent needless deaths and give them a better start.
Singer Shakira, founder of two of Primero Lo Primero's organizations, Pies Descalzos and Fundación ALAS, plays a key role in publicizing and generating support for the alliance. "There are too many kids missing their only window of opportunity and we can't press pause and ask them to wait to grow up until we have it all figured out." She recently said at the Global Citizen Festival in Hamburg. Change is achieved, "person by person", she continued, until "one voice becomes many and many become masses."
The change that Shakira was talking about was achieved in a very concrete way — person by person, donation by donation — when Primero Lo Primero raised money for a safe food and water system through CaringCrowd®. The project raised $12,650 for 12,673 children to get clean water, with the installation of a simple water filtering system, and for 24 of the organization's early childhood centers to get proper handling and storing facilities for their food.
Making high quality early childhood education accessible is also core to Primero Lo Primero's mission. "As well as ensuring the children's health is maintained we are focusing on their academic and cognitive development," says Fernandez.
Primero Lo Primero uses Reggio Emilia, an educational philosophy developed to bring color and creativity to the lives of poor children in post-war Italy, in its projects. Now popular across all school types, it has been repurposed by Primero Lo Primero to suit the Latin American context.  "It is not about copying and pasting," adds Fernandez, "because we are dealing with a very different society."
Fernandez said she first made contact with Johnson & Johnson 18 months ago in Colombia, where the company gave a grant to one of the alliance's projects in the country's second largest city of Cali.  When a staffer told her about CaringCrowd® some months later, she immediately contacted co-founder John Brennick. "I thought the platform was a fantastic idea, because getting these one-off donations of $50, $100, is really difficult, unless you're having event after event," says Fernandez. These small donations are just as important as the bigger donations, she explains, because "it's all about growing your community".
Helped by a matching fund provided by Johnson & Johnson at the time, Primero Lo Primero's project took just 28 days to reach its target. Their food and water project is one of 63 global health projects that have successfully raised funds on CaringCrowd® since it launched in September 2015. In a short span of time CaringCrowd® has developed into a sizeable and growing crowdfunding platform for a range of diverse projects around the world.
After a panel of independent experts gives potential projects the green light, CaringCrowd® posts them on the platform for free. When a project gets enough pledges to be fully financed, payments are processed by the online payment system, Stripe.
"The credibility that the platform brings to the project, as well as the fact that they were matching our donations, was a winning combination for us," said Fernandez, who adds, however, that being on the platform is not enough.
Staffers still have to work hard "to make the personal connection — on the phone, to friends. You still have to do all that," she says.
Fernandez said she found CaringCrowd® easy to use and liked its clean, modern look. "It allows your organization to showcase what it's all about with videos and photographs." Primero Lo Primero is now planning to run four projects on CaringCrowd® every year. "We plan to continue engaging with it. We absolutely loved it. It's a 'no brainer'," she says.
As Fernandez prepares for her baby's birth, she can rest a little easier knowing that there's a very effective way for her organization to harness the support of all the people out there who care as much as she does.
To learn more, visit www.CaringCrowd.org or contact help@caringcrowd.org .