Impact
Citizenship
6 Champions of the Global Citizen Festival
Private sector partnerships ensure a $300 million victory for gender equality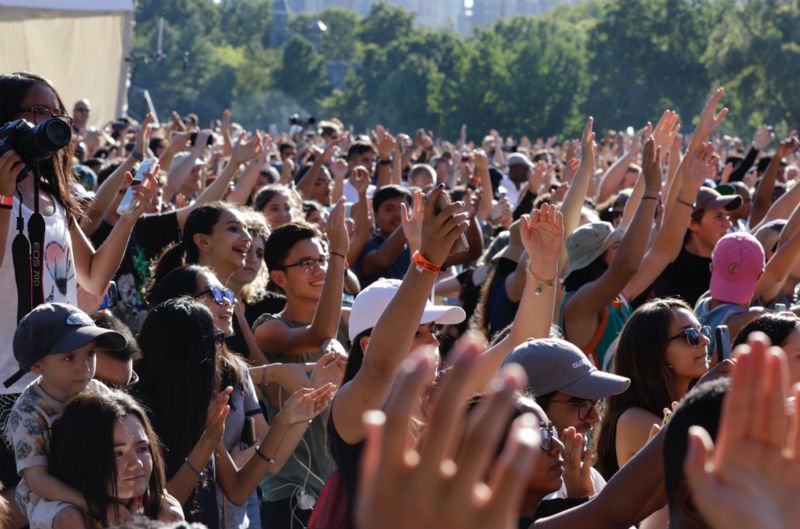 Fighting poverty and multi-billion dollar corporations are two things you might not assume go together. Yet they can and must, if we are to achieve the 17 Sustainable Development Goals (SDGs) laid out by the UN in 2015 to see the end of extreme poverty by 2030. As the Secretary General Ban Ki-moon told more than 350 leaders of business, government and civil society in September,, "I am counting on the private sector to drive success… now is the time to mobilize the global business community as never before."
Secretary-General Ban Ki-moon. UN Photo/Rick Bajornas

During the week that Ban Ki-moon made this statement, Global Citizen announced over $300 million worth of commitments from corporations. Global Citizen, like the UN, has long recognized the critical role that the private sector has to play in meeting the most ambitious targets the world has ever seen on ending poverty. Which is why we have been targeting a number of companies to get on the 2030 agenda. It is also why our 6 of our champions of the Global Citizen Festival 2016, alongside Rihanna and Trudeau among others, were most definitely the following corporations.
Walmart, Johnson & Johnson and UPS drive gender equality
Women in business received a major boost after UPS, Walmart and Johnson & Johnson committed to purchase $100 million each from women-owned businesses over the next three years, for a total of $300 million.  
In large part due to the challenges women face in developing countries when they seek to enter supply chains, currently only 1% of the trillions of dollars spent by large corporations and governments every year goes to women suppliers. Yet overturning this situation would not only mean women prosper, their communities would, too — the evidence overwhelmingly suggests that empowering women leads to healthier, better-educated, and more sustainable communities.
In order for women to enter global supply chains and fully participate in the economy, we need the support of influential global companies to set a precedent. This means encouraging them to support women-owned businesses and the companies that source from them. Which is why Global Citizens called on private corporations, with a specific focus on Walmart, UPS and Johnson & Johnson, to source more products and services from women suppliers, especially in developing countries.
5,300 Global Citizens tweeted corporations to source more products and services from women-owned suppliers in developing countries. While another 24,435 Global Citizens signed petitions calling on these companies and corporations around the world to purchase more women owned products. The petition was then handed over by Global Citizen, in partnership with WeConnect International, to Johnson & Johnson's Chief Procurement Office Len DeCandia.
Proud to partner w/ @GlblCtzn@WEConnection on commitment to businesses #OwnedByWomen & urge others to do the same! pic.twitter.com/9Sg2rTmrvz

— Johnson & Johnson (@JNJCares) August 19, 2016
Photo: Elizabeth Vasquez, CEO of WeConnect and Madge Thomas, Deputy Director of Global Policy and Advocacy presenting the petition to Johnson and Johnson's Chief of Procurement Len De Candia.
The following month, the $300 million commitment was announced on stage at an intimate action summit event as part of Global Citizen Festival week. This commitment is set to affect 240,000 lives by 2019 and will be delivered through our partners at WeConnect International. This is a major investment that will ensure a brighter future for women, for their businesses and the global economy.  
HP, Microsoft, and Western Union ensure education in emergencies
Yet it's not just women-owned businesses that corporations are making a difference for. With the help of 23,738 emails from Global Citizens, three companies committed to individual commitments at the Global Citizen Festival toward education in emergencies, that totalled more than $4.5 million. A sum that is collectively set to affect the lives of 150,000 refugees in the coming year, by bringing them the education they need to help pave the way for a better future.  
In the context of the worst refugee crisis the world has ever seen since World War II, this private sector contribution is crucial. Currently only 1% of humanitarian aid is going towards education in emergencies, as other needs such as food and shelter are prioritized. Yet education is the only one sure way to enable people to lift themselves out of poverty after the trauma and displacement they have endured.
HP equips refugees with tools and training to better 100,000 lives
Seeking financial resources makes most obvious sense from a sector that turns over trillions of dollars in profit every year. Yet, perhaps even more importantly, they possess the tools and expertise that could play a vital role in tackling the issues around poverty. Microsoft and HP's recent commitments in support of refugees are a perfect example of this in action.
photo courtesy of HP

At the Global Citizen Festival 2016, HP committed more than $1 million in technology and training support to help refugees, alleviate poverty, and improve the lives of over 100,000 people in the coming year.
Microsoft's five-step plan to connect, create, and educate
Microsoft's technology, Skype, connecting students in NY with students in refugee camps across the world on World Humanitarian Day
A five-step holistic plan announced at the Global Citizen Festival revealed how the global software company is helping out in the way they know best, in order to provide access to technology, employment and even mental health service for the world's 65 million refugees. In the plan, Microsoft committed to:
— Deliver counseling and psychosocial support for 10,000 refugees and migrants in partnership with Mercy Corps.
— Provide free Skype translator support for partner relief organizations.
— Provide digital literacy and computer science for 60,000 young refugees via Youthspark
— Fund 20,000 refugees to complete Imagine Academy Training, a globally recognized technology certification, in partnership with Pearson.
— Create an innovation hub in a crisis affected area to provide local refugees with networking, technology and entrepreneurial skills training to access and pursue jobs in technology.
The Western Union helps 10,000 people get job ready
Elizabeth Roscoe speaking on behalf of Western Union on their commitment to expanding access to education for refugees.
The Western Union Foundation also pledged to do their part to ease the plight of refugees under the age of 18 in this unprecedented crisis. The organization committed to a $750,000 grant over three years to the Whitaker Peace and Development Initiative, to take their model of education and peacebuilding to Bweyale-Kiryandongo camp in Northern Uganda. The education model provides vocational and entrepreneurship training, among other things and will impact around 10,000 youth.  
This commitment is set to expand, since Global Citizen met with Maureen Sigliano, the Vice President of international programs at Western Union in France and at Global Citizen offices in New York to discuss a full scale partnership.   
Maureen Sigliano, VP of International Programs at Western Union and Madge Thomas, Deputy Director of Global Policy and Advocacy at Global Citizen, meet at Global Citizen offices NY to discuss fullscale partnership

These commitments are just a few examples of Global Citizens working with corporations to tackle poverty.  We work with many more, across many issues and will ensure to work with many others in the future.  
See the CEO of Johnson & Johnson, Alex Gorsky at Global Citizen Festival speaking on the organization's work to tackle HIV.
A co-operative private sector is critical to keep us on the road towards an equitable world for all by 2030.  
TAKE ACTION on our latest campaign to prompt profit making companies to do their part.