Health
Chimamanda's latest short story explores vaccines
Chimamanda Ngozi Adichie's new short story highlights the importance of vaccines in African nations.
"It took mere moments. A baby's small open mouth and a drop of liquid. A baby's warm arm and a small injection. It took that to save the lives of the babies born that year in my village, and in the villages around us and those far from us, in Calabar and Enugu and Kaduna. It took that to save my life."
---
Despite the progress made to ensure that children are given the opportunity to live healthy and productive lives, one in five children today do not receive proper vaccination services. The importance of these services cannot be overstated. Vaccines help ensure that more children do not die from preventable diseases and can have the opportunity to live better lives.
Nigerian Author Chimamanda Ngozi Adichie's most recent short story, Olikoye, explores this important subject. The story's title has a dual meaning: it comes from the narrator's newborn son and, also, the former Nigerian Minister of Health Dr. Olikoye Ransome-Kuti. The story emphasizes the key role that vaccinations play for individuals and their families and reminds readers of the brave work of volunteers and professionals around the world who administer these life-saving medicines.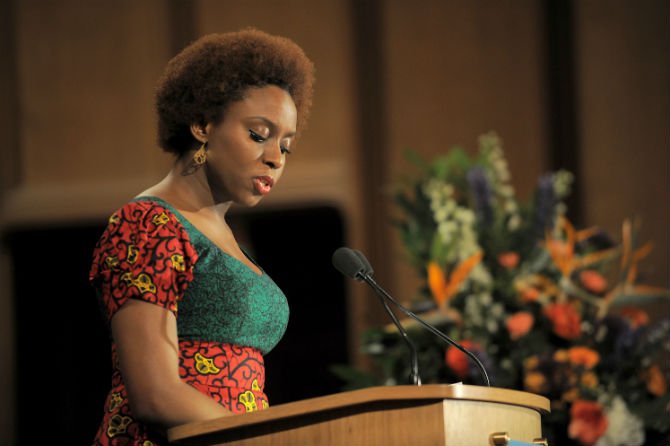 Image: Flickr - Colin Patterson, Commonwealth Foundation
The narrator is the third child born to her parents, but because of Minister Ransome-Kuti's child health initiatives in Nigeria, she is the first to survive through infancy. As she recounts the Minister's importance and influence in her own family, the narrator is preparing to give birth to her first child, hopeful of what his future holds for him.
Commissioned by the Bill & Melinda Gates Foundation as part of a project called The Art of Saving a Life, Olikoye is one of the many works that focus on the past, present, and future importance of immunization globally. By bringing a human element to this issue, the project offers varying perspectives about the impact of vaccinations.
Adichie's story is not just about the vaccines themselves. Olikoye celebrates what Dr. Ransome-Kuti did for the family in the story and for Nigerians at large, especially those in small or remote communities. By bringing affordable vaccines to these areas, Dr. Ransome-Kuti helped to ensure that thousands of children did not die from preventable diseases and were able to grow up healthy.
Image: Flickr - Julien Harneis
There needs to be continued urgency to ensure that all children are vaccinated against preventable diseases like rotavirus and malaria. We have eradicated smallpox and are close to eradicating polio. Vaccinations have the ability to save the 1.5 million children that die each year from vaccine-preventable diseases and the thousands of others who remain disabled because of these illnesses.
This World Immunization Week, support Africans' call on their governments to make immunization a national priority and to ensure no more children die from vaccine preventable causes by 2030. We can help millions of children see their fifth birthdays and live healthy, productive lives.
---
Chimamanda Ngozi Adichie is an acclaimed Nigerian novelist and a recipient of a MacArthur Genius Grant. She has written such novels as Half of a Yellow Sun and Americanah and in 2013 delivered her famous "We should all be feminists" talk at TEDxEuston.
Read Olikoyehere, and listen to Chimamanda Ngozi Adichie's reading of the storyhere.