Defeat Poverty
4 Places to Double Your Donation to Help End AIDS
Just in time for #GivingTuesday, CaringCrowd® makes donating to help people with HIV easy.
This article is provided in partnership with Johnson & Johnson.
---
Each year on World AIDS Day, we are reminded of the tremendous progress that has been made but also the challenges that remain. Eighteen million people are now on antiretroviral treatment, a feat once thought unimaginable. And yet, for many of the world's most vulnerable, access to HIV medications is not enough.  
But, as a Global Citizen, you have the power to drive real change this World AIDS Day, and Johnson & Johnson can help you to make an even greater impact when it comes to giving.
Join us in honoring World Aids Day by visiting CaringCrowd.org, learning about the inspiring HIV/AIDS-related projects, and sharing them with your friends and family. For those interested in donating, Johnson & Johnson is matching all pledges dollar for dollar up to $250 per person per project until the $100,000 cap is reached. 
In honor of creating change, and working toward to achieve the first ever AIDS free generation in more than 30 years — here are four examples of the type of impactful organizations Johnson & Johnson and CaringCrowd® help support.
1. Nyumbani Village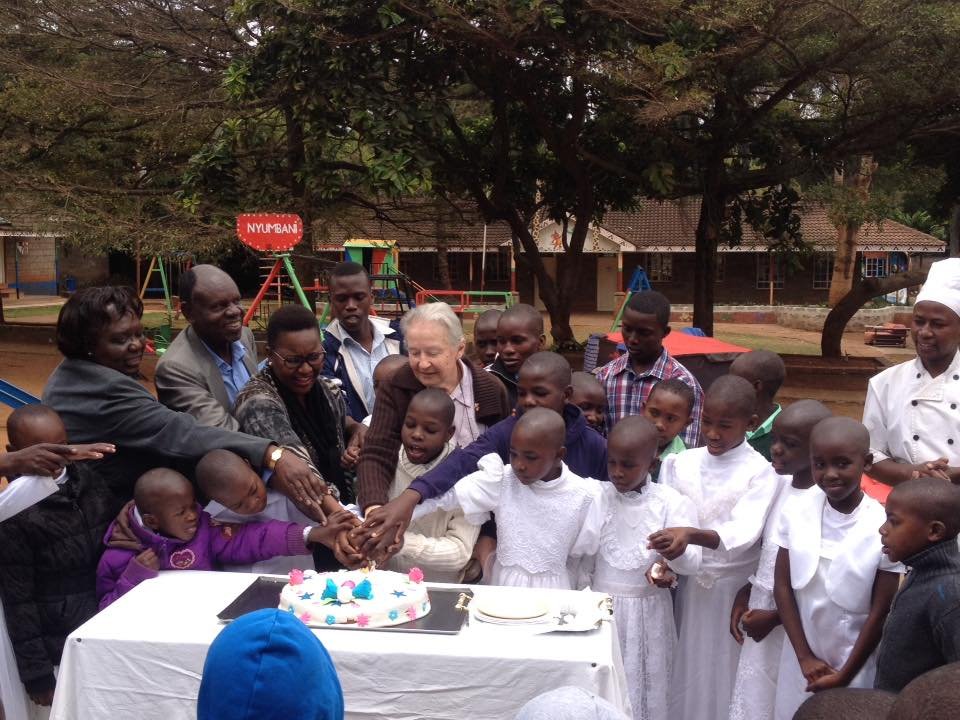 Image: Nyumbani via Facebook
Nyumbani Village in Kenya is a powerful testament of how far the HIV/AIDS community has come. Started as a hospice for children dying of HIV, it has now grown into a sustainable community providing HIV medicine, clean water, food and education to children in need. Despite having access to HIV treatments, the immune systems of some children are so weakened by the disease it leaves them susceptible to what are known as opportunistic infections. With your support, Nyumbani can provide medicines for these infections to these brave young children.   
Click here to support Nyumbani's Project On CaringCrowd®
2. Tiny Tim & Friends
Image: Caring Crowd
In Zambia, Tiny Tim & Friends is also dealing with the challenges young HIV+ children face. There too, children may have access to HIV medicines, but lack of proper nutrition can limit its effectiveness. Emmely was one such girl, who at six-years-old weighed only 31 pounds and was too weak to stand.  Through Tiny Tim & Friends' support, Emmely gained nearly five pounds in six weeks and is now able to attend school.  With your support Tiny Tim & Friends project will provide more children like Emmely with a brighter future.  
Click here to support Tiny Tim & Friends' Project On CaringCrowd®
3. WISER International
Image: Caring Crowd
WISER International empowers girls and young women in the community of Muhuru Bay, Kenya to help prevent the transmission of HIV. There, as many as 1 in 3 people are HIV+ and yet more than 50% of sexually active girls participate in transactional sex. Through their boarding school, WISER offers these young girls at risk a new path by addressing a number of gender-specific challenges that prevent them from finding safety, health, and educational success.  
Click here to support WISER's Project On CaringCrowd®
4. mothers2mothers
Image: Caring Crowd
In South Africa, young women too often deal with the heartache of learning once they become pregnant that they are also HIV+ and could pass the infection along to their baby. mothers2mothers has a proven model to train and employ local HIV+ Mentor Mothers to empower other mothers to prevent this transmission. Denise's story offers a powerful narrative of how mothers2mothers helped her give birth to an HIV-negative baby girl.  
Click here to support mothers2mothers' Project On CaringCrowd®
---
Organizations like these are well positioned to bring about change where change is needed most. They possess unique knowledge of the communities they work with and understand which interventions will make an impact. However, they face a critical challenge: funding. CaringCrowd® gives non-profits a voice and potential donors a way to understand how their pledge will be used.
Each of the projects listed on CaringCrowd® has been reviewed by an advisory panel of distinguished experts.  What's more, CaringCrowd® does not charge a fee to the non-profit organizations, meaning more of every donor's dollars go to on-the-ground programs.  
As a Global Citizen, you know the power each of us has to make the world a better place. This World AIDS Day you can use that power to make a difference for those most in need, in the most effective way.
---
This article is presented in partnership with Johnson & Johnson.
Take Action now! This World AIDS Day you can help keep a baby HIV free with Born Free Africa or help provide medicine to a child with HIV with Nyumbani through the simple act of sharing a photo using the free Donate a Photo app. For every photo you share, Johnson & Johnson will donate *$1 to a great cause you care about - and you will earn (1) Global Citizen Rewards point.
Download the free app for iOS or Android to take action now.
*Johnson & Johnson has curated a list of trusted causes, and you can donate a photo to one cause, once a day. Each cause will appear in the app until it reaches its goal, or the donation period ends. If the goal isn't reached, the cause will still get a minimum donation.