Citizenship
This Canadian Teen Is Taking a Stand Against Racism with a Ribbon Skirt and A Hashtag
Kisis-Isquao Cappo wants to show she's proud of her heritage.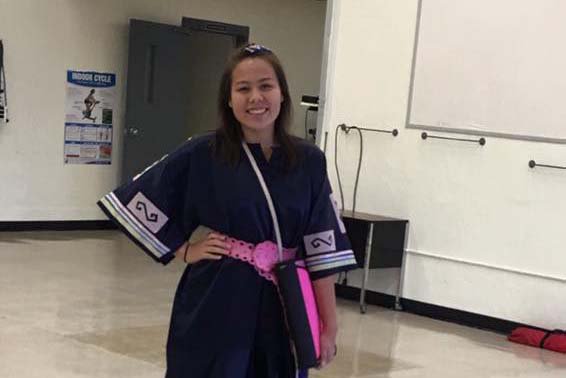 After her brother came home upset that classmates were making fun of Indigenous legends, 16-year-old Kisis-Isquao Cappo, from Muscowpetung First Nation, decided to take a stand.
For the month of October, the Saskatchewan teen is wearing traditional clothing to her high school in Balgonie, Sask., to raise awareness about racism towards Indigenous people.
To get things rolling, Cappo posted the photo of her first outfit to Facebook, started the #WearingMyCulture hashtag, and created a Facebook group.
Take Action: Call on World Leaders to Fund Another Year of Education Cannot Wait to Keep Girls in School
Her post has now been shared over 2,000 times and has received over 5,000 reactions.
"After what I heard about my brother, I thought, well OK this is my chance to do something and I can stand against racial injustices and it doesn't have to hurt anyone anymore. I can at least help someone," Cappo told CBC.
On the first day of her campaign, Cappo wore a full regalia and has been mostly wearing ribbon skirts since then.
Read More: This 13-Year-Old Indigenous Girl Has Been Nominated for a Global Peace Prize
She has received pictures from other Indigenous teens, and she hopes that people will be inspired to wear their own traditional clothing and post about it using #WearingMyCulture.
"Racism is everywhere, we would be naive to say it isn't in our schools," Jason Weitzel, principal of Cappo's school, Greenall High School, told CBC. "In our schools it's our job to teach kids about inclusion and diversity, we also need our families, community members to do the same."
Not everyone reacted with positivity to Cappo's #WearingMyCulture movement.
Read More: Justin Trudeau Criticized During First Official Missing and Murdered Indigenous Women and Girls Day
"From students I got stares and I was told I was too white to be wearing my traditional clothing," Cappo told CBC.
But she hopes the movement will catch on across Canada.
"I wore [my regalia] to raise awareness of racism in all schools… so it can be known that our culture is important, and it has to be shown," she said.
Global Citizen campaigns on issues as they relate to citizenship. You can take action here.