Water & Sanitation
Better Access to Water Changed This Couples Life
Meet Dora and Moses, the empowered entrepreneurs from Peru.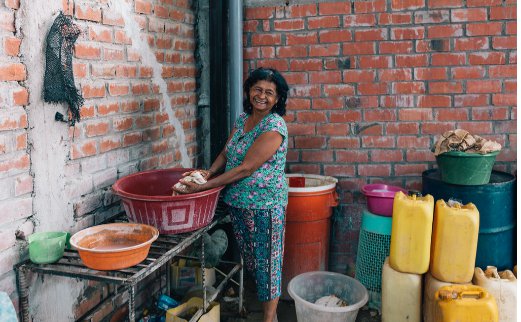 This article was written by Moree Scofield, photos contributed by Benjamin Heath, under copyright in support of Water.org.
---
On the border of Peru and Ecuador, Moses and Dora proudly call a series of small garage-like buildings home. It's also where this entrepreneurial couple proudly sells tires, oil, and a selection of grocery items like rice and ground corn. Moses and the couple's son even service vehicles. The only thing missing from the home they loved was easy access to safe water and sanitation.
They lived too far from the city to get water from the Chica River, and therefore had to purchase it from water vendors, often using more than 10% of their daily income just to purchase enough water for that day. In addition to paying a high price for water, the couple and their children had no toilet or bathroom. Instead they used a hole in the ground surrounded by tarps for privacy.
The lack of these basic resources can take a toll on a family's time, finances, and health. Fortunately, the success of WaterCredit has enabled Water.org to reach people in regions of the world otherwise overlooked, and help provide access to water for more and more people — like Moses and Dora.
While the couple was unable to pay for a water connection and construct a bathroom all at once, they made enough money to finance their solutions monthly. Their loan will be fully repaid in less than two years, and the water will keep flowing long after that.
Water has the power to do so much. For this family, turning low monthly payments into years of productivity allows them to thrive and become true entrepreneurs.
"Any society with the guarantee of water has a chance to realize its full potential," said Gary White, Co-founder of Water.org.
Today, two less people in a country where four million lack access to clean safe water just gained access to water and their entrepreneurial dreams.
---
*The documentation for this story from Water.org was made possible by a generous grant from the Caterpillar Foundation.