Why Global Citizens Should Care
The Australian bushfires may herald a new normal in the country as climate change intensifies around the world. The United Nations urges countries to transition away from fossil fuels and invest in ecologically sustainable technologies to protect the environment in the future. You can join us in taking action on related issues here.  
---
The already unprecedented bushfires in Australia are expected to get worse, according to the Washington Post.  
As temperatures remain in the triple digits throughout the country, powerful winds and dry conditions are threatening to combine multiple fires into much larger ones. The Australian government is evacuating tens of thousands of people in high-risk areas, the BBC reported Friday.
"If you don't need to be in the area, you need to leave," New South Wales Premier Gladys Berejiklian, told the BBC.
The Australian bushfires have already burned an estimated 14.5 million acres, which is triple the amount of land burned in California's 2018 fires, and nine times as much land burned throughout the Amazon Rainforest fires in 2019, according to the New York Times. 
Bushfires are not uncommon in Australia, but these fires in particular have been burning for many months and have intensified in recent years, featuring fire tornadoes and flames climbing 200 feet into the air. 
At least 18 people have died and dozens more are missing. More than half a billion animals have been killed by the fires. Thousands of homes have been incinerated and cities and towns in surrounding areas have experienced record levels of air pollution.
Thousands of firefighters have been deployed to contain and suppress the fire, including scores of volunteers and people coming from abroad to help. 
Australia faces bushfires every year. They're a natural part of the country's terrain, which covers large stretches of dry, sparse areas. In recent years, climate change has increased both the likelihood and severity of bushfires because of rising global temperatures and disrupted precipitation patterns that dry out landscapes. The country is currently in the grip of a three-year drought, which has caused some towns to run out of water. 
Against this grim background, the Australian government has been criticized for its ongoing refusal to take meaningful climate action. 
In recent months, the government has touted the construction of a massive new coal mine and permitted a Norweigian oil company to drill for oil in the ecologically sensitive Great Australian Bight.
Meanwhile, dozens of jurisdictions have declared climate emergencies.
Here are 14 images that show the scale of the current crisis. 
---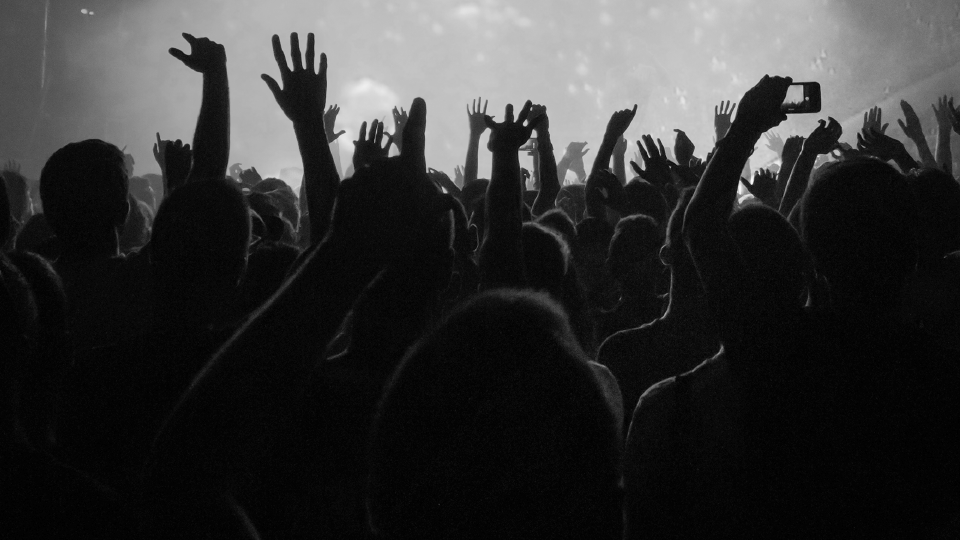 A firefighter manages a controlled burn near Tomerong, Australia, Jan. 8, 2020, in an effort to contain a larger fire nearby.
Image: Rick Rycroft/AP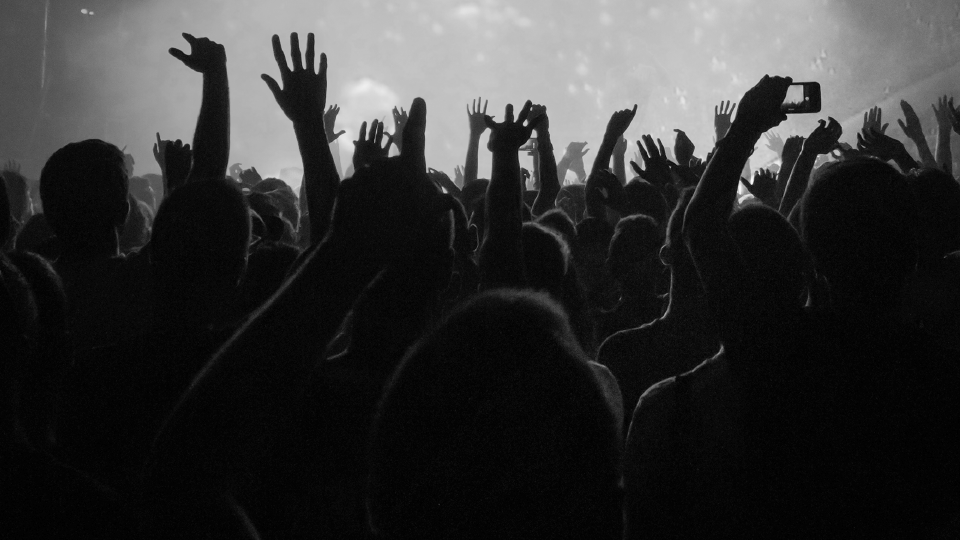 Justin Kam, right, and Helena Wong survey their destroyed home at Balmoral, Australia, Jan. 7, 2020.
Image: Rick Rycroft/AP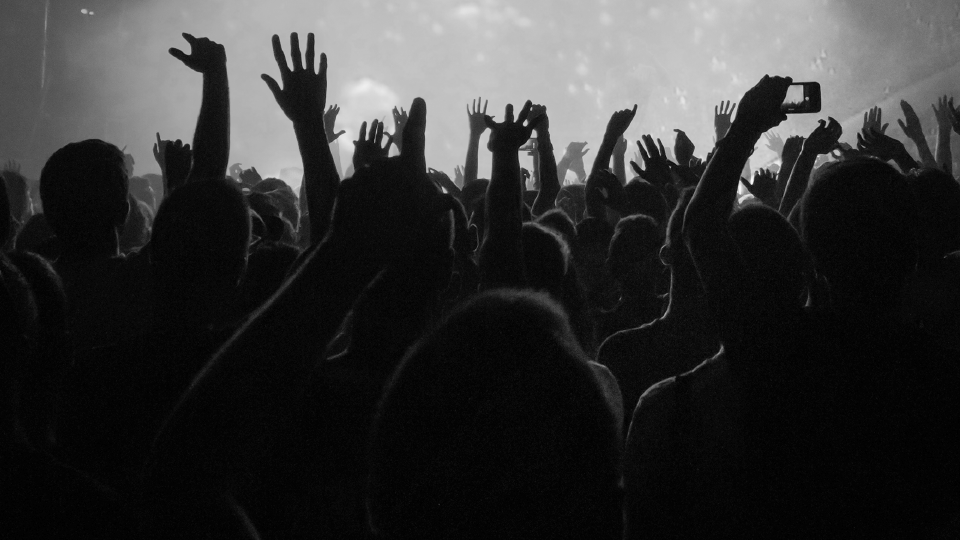 A firefighter covers his face from block smoke as he battles a fire near Bendalong, Australia, Jan. 3, 2020.
Image: Rick Rycroft/AP
A view of fire damage on Jan. 3, 2020 in Sarsfield, Australia. Thousands of people were in need of evacuation as they were stranded in the remote coastal town following fires across East Gippsland, which have killed one person and destroyed dozens of properties.
Australia's Prime Minister Scott Morrison visits a wildflower farm in an area devastated by bushfires in Sarsfield, Victoria state on Jan. 3, 2020. Australia ordered residents and tourists out of the path of raging bushfires on Jan. 3 as the country braced for a weekend heatwave expected to fan the deadly inferno. 
 Graffiti is seen on a bridge on Jan. 3, 2020 in Bairnsdale, Australia.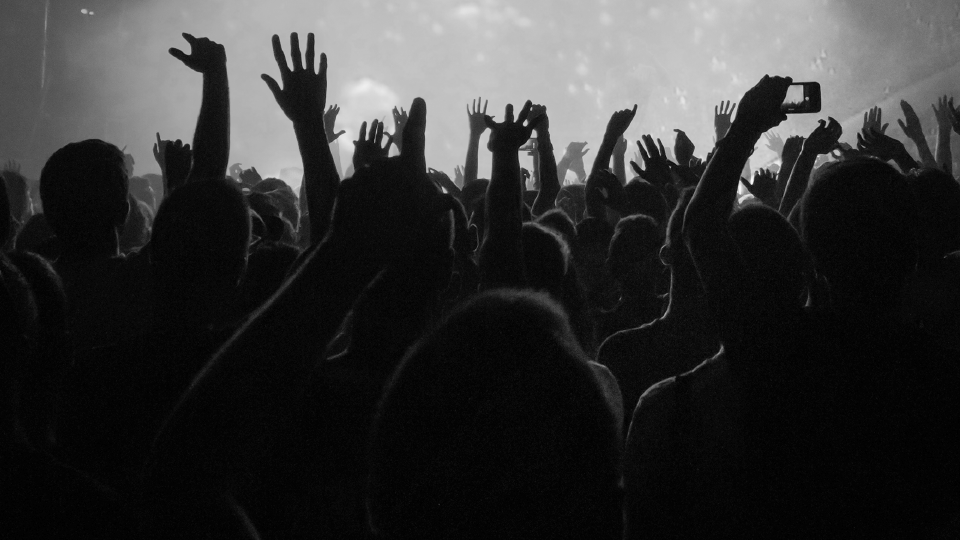 The Department of Environment, Land, Water and Planning (DELWP) and the Country Fire Authority (CFA) crews monitor fires and begin back burns between the towns of Orbost and Lakes Entrance in east Gipplsland on Jan. 2, 2020 in Australia.
Image: Darrian Traynor/Getty Images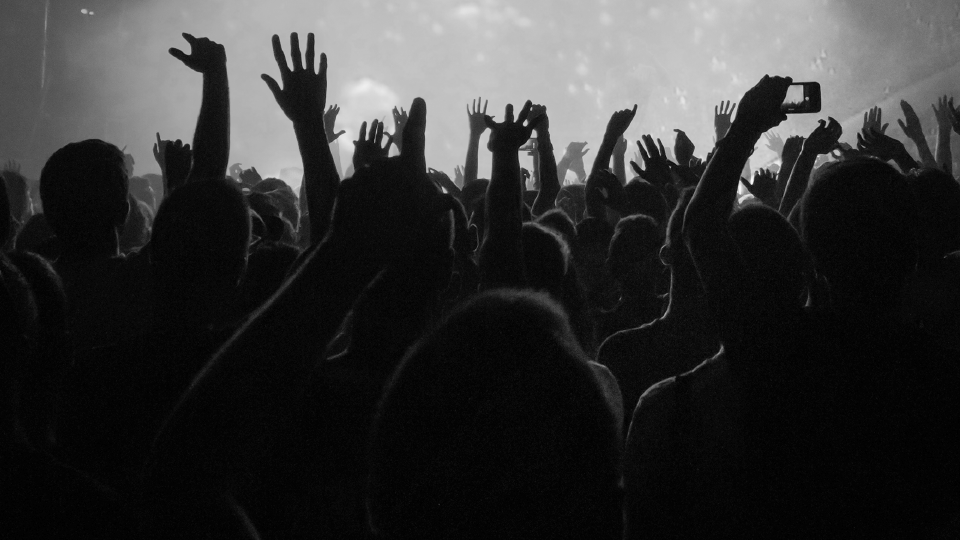 A view of fire damaged trees on Jan. 3, 2020 in Sarsfield, Australia.
Image: Darrian Traynor/Getty Images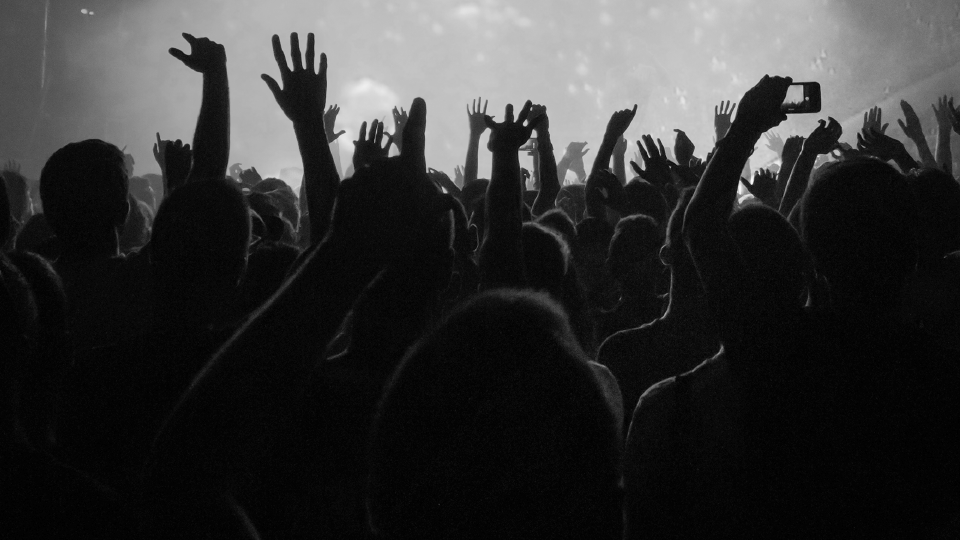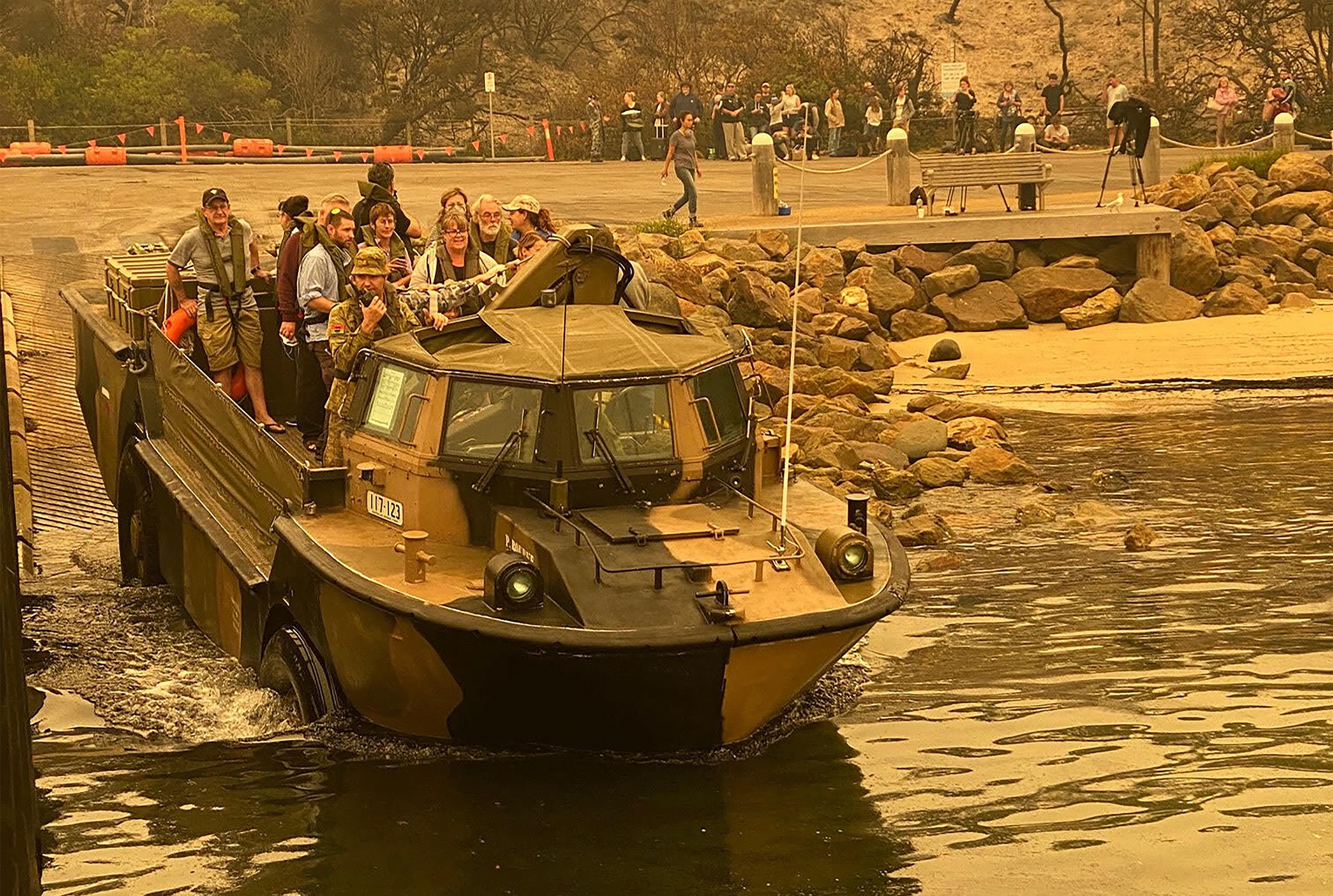 In this photo released by the Australian Department of Defense, evacuees are transported in a lighter, amphibious, resupply, cargo transport amphibious vehicle, from Mallacoota, Victoria, Australia on Jan. 2 2020.
Image: Australia Department of Defense/AP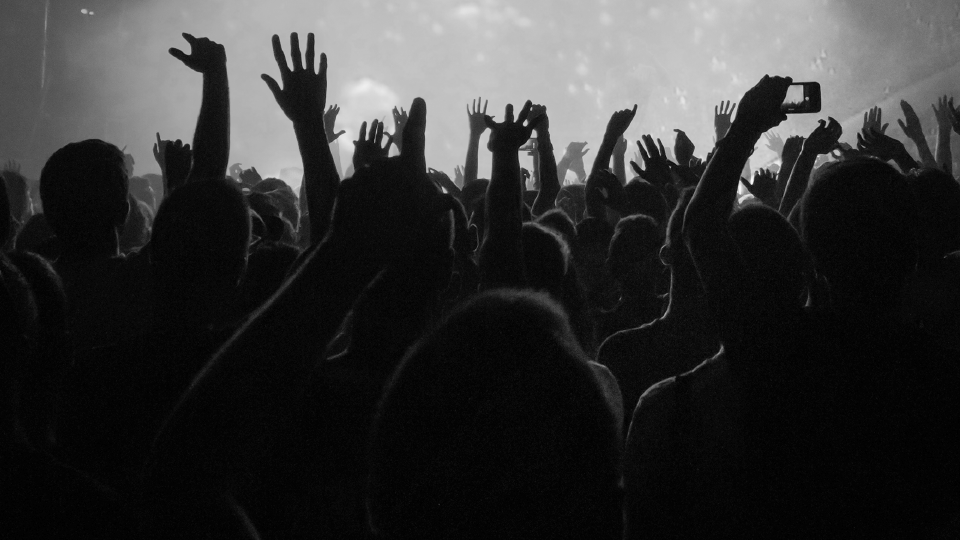 Kangaroos graze in a field as smoke shrouds the Australian capital of Canberra, Australia, Jan. 1, 2020.
Image: Mark Baker/AP
 Children wear masks as they play at the showgrounds in the southern New South Wales town of Bega where people are camping after being evacuated from nearby sites affected by bushfires on Dec. 31, 2019.
The afternoon sky glows red from bushfires in the area around the town of Nowra in the Australian state of New South Wales on Dec. 31, 2019.
Firefighters struggle against the strong wind in an effort to secure nearby houses from bushfires near the town of Nowra in the Australian state of New South Wales on Dec. 31, 2019.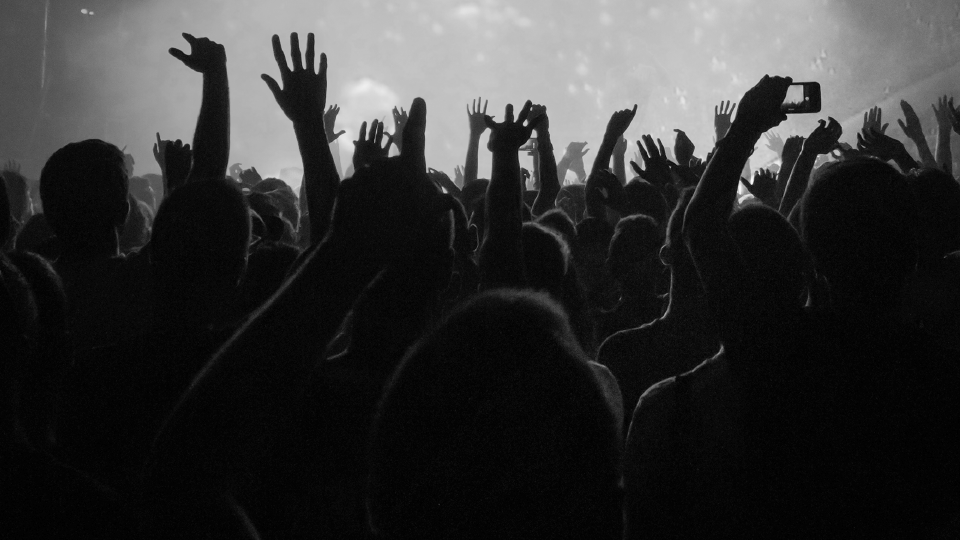 In this Monday, Dec. 30, 2019, aerial photo, wildfires rage under plumes of smoke in Bairnsdale, Australia.
Image: Glen Morey/AP