Opinion
Health
Australia's Domestic Vaccine Push Is Important, But Short-Sighted
To truly protect Australia's children, the government must extend their vaccine focus
Australian Prime Minister Malcolm Turnbull's new campaign to increase child vaccination rates in Australia seems ideal. 
The campaign aims to inform parents and carers about the benefits of immunisation through child care services and social media. But one important element is missing. While the government should be congratulated for taking a strong stance on vaccination, as also evidenced by the "No Jab, No Pay" policy implemented earlier this year, Australia must consider its role within the global health landscape, if it wants to reap the full benefits of this hardline approach.
Image: Flickr/Dan Hatton
There is no denying that keeping domestic vaccination rates as high as possible is essential for protecting the health and wellbeing of our children, but to have a truly effective approach to health security, the government must also commit to ongoing investment in international vaccination as well.
Last month, the World Health Organisation and UNICEF reported that in 2016 almost 1 in 10 infants worldwide received no vaccinations at all, leaving 12.9 million infants seriously vulnerable to a range of potentially fatal diseases. In an age of cheap and fast international travel, a risk to children anywhere, is a risk to children everywhere.
Over 100 years ago, Winston Churchill wrote about the destruction and chaos that a simple flu virus could cause and his words are just as true today; "...the rich, the poor, the high, the low, alike the various symptoms know."
Churchill's words serve as a reminder that although Australia is a wealthy, healthy country, it's surrounded by poor nations with broken, or completely non-existent, health systems and, as a result, the government has to continue to take the threat of outbreaks, and the importance of global access to vaccines in preventing these outbreaks, seriously.
On this note, it's hardly surprising, but deeply concerning, to learn that in 2015 our neighbours in Indonesia reported over 300,000 cases of tuberculosis, given that the BCG vaccine coverage was estimated to be as little as 77%. Similarly, Timor Leste have achieved a worryingly low level of immunisation coverage against measles at 70%, making outbreaks and subsequent measles-related deaths a real threat.
With over 30% of Australians traveling to Southeast Asia each year, committing to make vaccines accessible to people in low-income and developing nations not only makes sense from a humanitarian perspective, but also to protect national interests. Just this year, we've seen how quickly disease can spread with the first major outbreak of measles to occur in Australia since 2012, sparked by an unvaccinated traveler who contracted the disease while in Bali.
As a result, there were 23 confirmed cases of measles in New South Wales, 16 of which were concentrated within Western Sydney. In 2012, the consequences of globalisation were even more alarming, with a traveler from Thailand setting in motion a measles outbreak that lasted for months and affected 168 Australians.
Accordingly, the World Bank recently reported that a pandemic is imminent, noting that without investments in vaccines and commitment to universal health security, the world is vulnerable to an outbreak of illness on a cataclysmic scale. In light of this ominous forecast it's worth noting that the Coalition for Epidemic Preparedness Innovations (CEPI), who work to protect against outbreaks of deadly infectious diseases through the development of new vaccines, has only half the funding it needs to carry out its mission.
Australia has a strong legacy of innovation in the field of global health and immunisation, thanks in large part to Professor Ian Frazer, who is regarded internationally for his work in creating the HPV vaccine. Given that Professor Frazer is lending his support to this new government campaign, it seems fitting to call upon Australia to honor his legacy by contributing to innovation on an international scale. By committing to increase contributions to CEPI, thus helping to plug the funding gap, Minister for Health, Greg Hunt and the Turnbull government could have a potentially monumental and lasting impact in protecting people around the world from a global health emergency.
Image: Pippa Ranger / UK Department for International Development
Australia has already shown it's willingness to lead in this area, having made significant contributions to the Global Fund to Fight AIDS, Tuberculosis and Malaria as well as Gavi, the Vaccine Alliance, who supply lifesaving vaccines to the millions of children around the world that are currently at risk. However, to reach the global immunisation coverage target of 90%, an additional 10 million children need to be vaccinated. Four million of these unvaccinated children are living in just three countries: Afghanistan, Nigeria and Pakistan; the same three countries where lack of access to routine immunisation services has rendered polio endemic.
In May of this year, Minister Hunt emphasised the need for governments around the world to work towards ending polio for good, and just last month, Minister for Foreign Affairs, Julie Bishop pledged an additional $18 million to the Global Polio Eradication Initiative (GPEI) over two years.
This takes Australia's total funding of the GPEI, which works to immunise children against the crippling disease, to $104 million. Clearly, Hunt and Bishop have demonstrated their commitment to the fight against infectious disease and vaccine-preventable deaths. But considering only 86% of children are fully vaccinated around the world, there is still much more to be done. As such, Hunt and Bishop should convince their colleagues that, to meet their international health obligations, increasing investment in vaccinations overseas, especially in low-income nations with dysfunctional health systems, is essential.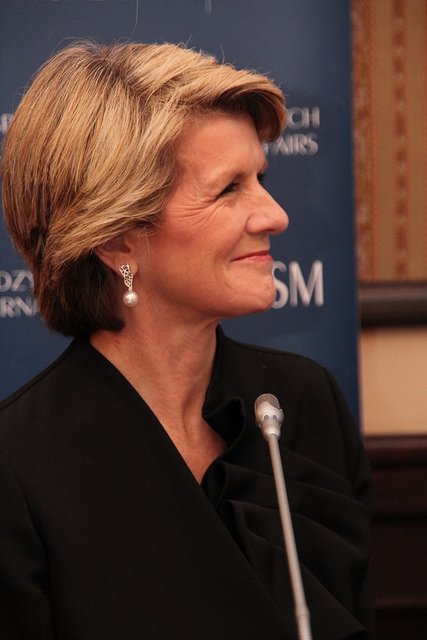 Australia's Minister for Foreign Affairs, The Hon Julie Bishop MP
Image: Flickr/Jadwiga Winiarska
So while this $5.5 million campaign to help Australian families "Get the Facts about Immunisation" represents a positive step for vaccination on a national scale, the global context has to be considered. Because for Australia to stay safe in the future, everyone, everywhere has to have access to vaccinations.