Education
How school helped a 9-year-old refugee discover her dreams again
Ghozlan's paintings illustrate hopeful dreams in bright colors.
This article was contributed by Mahmoud Shabeeb of CARE International. 
---
Ghozlan, 9, was displaced with her family in Syria for one year before coming to Jordan in October 2012. The family spent two months in Zaa'tari refugee camp but was able to receive an official "bailout" after several family members encountered health problems including Ghozlan, who suffered from hepatitis. They moved to Amman, where Ghozlan spent another year out of school, working to provide for her family.  Last year, she was able to return to her studies, when she participated in CARE's cash for education pilot program.
"I worked for a year at a women's salon from 1 until 7 pm, six days a week, making about $US 56 per month," says Ghozlan. "When it was time for students to return home from school in the afternoon I used to stand at the door of the salon and watch girls in their school uniforms carrying their backpacks and going home together. It made me very sad."
Image: Mahmoud Shabeeb/CARE
"At the salon, I used to hand equipment to the hairdresser. And before going home I would sweep hair clippings on the floor. It was not a very difficult job and the customers sometimes gave me a tip for buying them things from the supermarket nearby, but I missed school nonetheless and wanted to go back."
Ghozlan is one of eight family members living in a small apartment in Ein al Basha, a community on the outskirts of Amman.  She helps her mother care for three other siblings, Khaled, 8, Jihan, 7, and Mousa, 4 months, her father who cannot provide for the family as he suffers from polio, an aunt with Down Syndrome, and her elderly grandmother.
CARE's cash-for-education initiave helped provide enough each month to supplement the family's income, meaning Ghozlan no longer had to work all day and watch her peers walk home in their uniforms from the doorway of the salon. Now, she's one of the girls wearing a backpack every day.
"I was very happy to return to school last year...Grade four was a bit difficult for me especially at the beginning, but towards the end of the year, school became much easier I was able to understand all of the subjects better. My favorite subjects are Arabic and mathematics, but my highest marks are in science and Arabic." 
Image: Mahmoud Shabeeb/CARE
Ghozlan's younger brother and sister, Khaled and Jihan, both will go to the second grade now. They both love school, playing, and drawing and painting. "Like Ghozlan missed two years of school, Khaled missed one year," says Samar, Ghozlan's mother. "But thanks to the $US 100 that CARE and Al Yarmouk help us with every month; Ghozlan and her two siblings now go to school. Although this assistance was meant for Ghozlan to return to school, it had a lot of impact on the entire family."
Ghozlan also loves painting and drawing. She keeps a lot of her paintings that illustrate hopeful dreams in bright colors, mainly related to her home in Dar'a, Syria.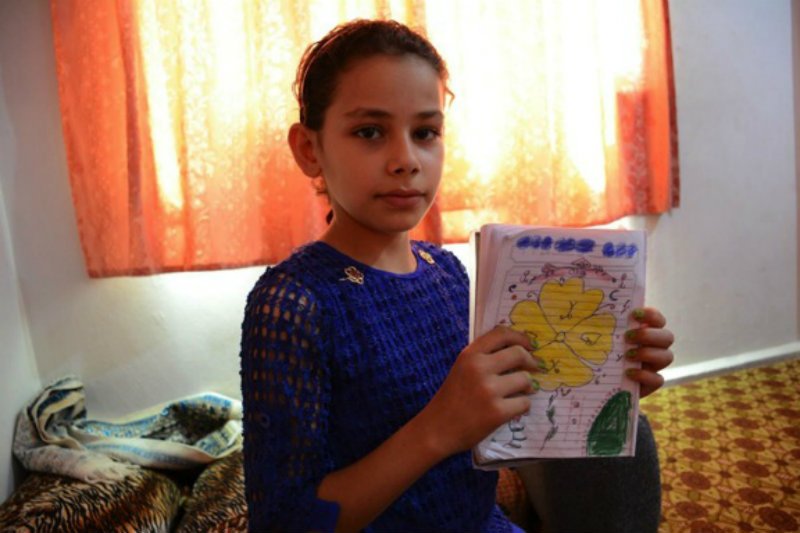 Image: Mahmoud Shabeeb/CARE
"When I grow up, I want to finish my studies and work as a school teacher," says Ghozlan. "I want to teach arts and drawing." 
---
The views expressed here are not necessarily those of each of the partners of Global Citizen.