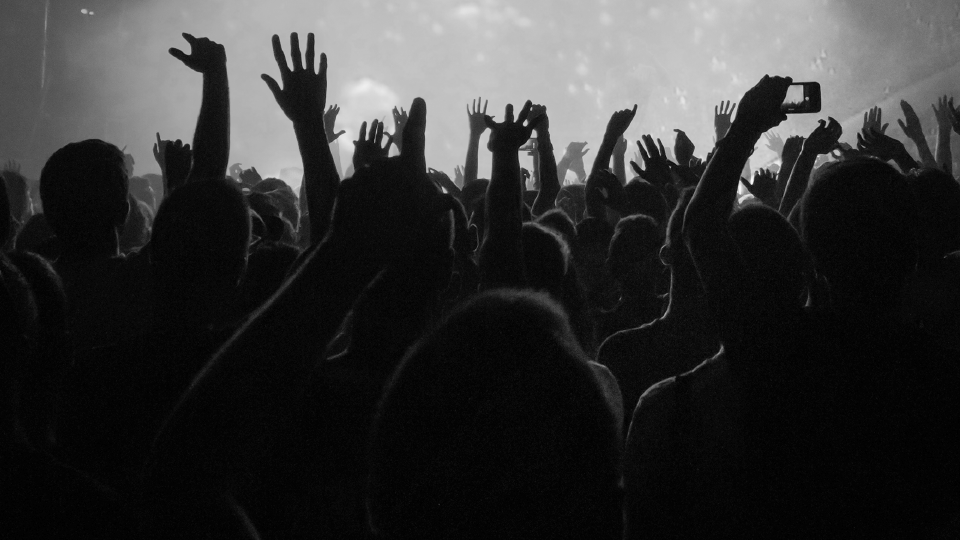 Image: Anton Corbijn for The Killers
"Coming out of my cage
And I've been doing just fine
Gotta gotta be down
Because I want it all.."
If you've listened to music at all since the early 2000s, you probably know the rest of the lyrics to The Killers' hit "Mr. Brightside," and they'll probably be stuck in your head all day. You're welcome.
The Killers are internationally recognized not only for their music but for their dedication to global citizenship. And fortunately for Global Citizens in New York City, they'll be taking the stage on Sept. 23 at the Global Citizen Festival alongside Stevie Wonder, Green Day, and The Lumineers, among others.
Want to Go to the Festival? You Can Start Taking Action Here
Formed in 2001, the group is comprised of singer-keyboardist Brandon Flowers, guitarist Dave Keuning, bassist Mark Stoermer, and drummer Ronnie Vannucci Jr. The Killers have been consistent hitmakers ever since and have headlined some of the rock world's biggest festivals.
But fame and fortune aside, The Killers continue to show their dedication to the environment, global health, hunger, and human rights through their off-stage activism.
Drummer Ronnie Vannucci told Global Citizen that The Killers are grateful they "have the opportunity to make even small contributions to humanitarian organizations and causes."
"We are winning against hunger and human rights, but we have so much more to do," he said. "Education is paramount -- we can do so much more with informed minds."
Here are some of their most influential campaigns in which The Killers have participated.
Global Health
Since 2006, The Killers have released original Christmas songs. But unlike most music groups, The Killers utilize these recording to help improve global health. Each year on World AIDS Day (Dec. 1), the group premieres its Christmas song, with proceeds from all sales benefiting the Bono-founded AIDS charity One's RED campaign.
"It started with a silly idea to put our images on a shirt for a large chain store and then sell the shirts to contribute to the RED Campaign," Vannucci told Global Citizen. "We didn't love that idea, and thought writing a song and releasing it at Christmas time would be more in our wheelhouse. We've been at it 11 years now and it's made a dent! We're very happy to have been involved with that endeavor." Indeed, Global Fund grants provided by RED have impacted 90 million people by providing HIV testing, counseling, and health services.
In 2016, the band bundled all prior Christmas singles into the album "Don't Waste Your Wishes," which featured guest appearances from Elton John, Dawes, and Jimmy Kimmel. Proceeds were also donated to RED.
Hunger
In 2011, the Killers joined artists such as Nine Inch Nails, Snow Patrol and the Fray to contribute music for the benefit album "Ǎhk-to͝ong Bāy-Bi." Proceeds benefitted the humanitarian organization Concern Worldwide, who have been working to end extreme poverty for over 50 years. The Killers honored U2 by covering their song "Ultraviolet (Light My Way)" on the album.
Human Rights
Once again using their music for social change, The Killers partnered with MTV Exit: End Exploitation and Trafficking, UNICEF, and UNAID to combat sex trafficking. Their song "Goodnight, Travel Well" was featured in the second video in the MTV series created to provide insight into the horrors of human trafficking.
The Killers say they were "deeply shocked and appalled" about the exploitive situations into which women and children are forced. Through their partnership with the UN and MTV, the band hopes their song and music video will help "millions of people across the world learn about this tragic form of modern-day slavery."
The Environment
When The Red Rock Canyon National Conservation Area in Nevada was under threat of construction in February, the band was not afraid to speak out. Their manager, Robert Reynolds, read a letter on the band's behalf advocating for the protection of Red Rock at a local commission meeting.
The Killers' manager Robert Reynolds brings a letter on behalf of the band to support conservation of Red Rock.#RJnowpic.twitter.com/Id9SPPmim6

— Elizabeth P. Brumley (@EliPagePhoto) February 22, 2017
With multiple members of the band born and raised in Nevada, The Killers felt they had a responsibility to protect the beautiful conservation of Red Rock from destructive housing developers, even though they "don't usually get involved with local politics," as the letter read.
The Killers also covered Eagles' "Hotel California" for a charity event at which all proceeds benefitted Artists Project Earth, an organization that provides natural disaster relief and makes efforts to combat climate change.