Citizenship
Shepard Fairey Releases Stunning New Posters in Time for Trump's Inauguration
The 'Hope' artist has found a new way to sustain optimism in the face of a new administration
No one image encapsulated the optimism of Barack Obama's 2008 Presidential election better than Shepard Fairey's iconic "Hope" poster. Now, with President-elect Donald Trump set to be sworn in Friday, the artist is revisiting the same concept, but, in a twist, is shifting the focus from political leaders to the American people.
As part of a campaign entitled "We the People," in honor of the first three words of the Constitution, Fairey has devised three different posters just in time for the Women's March, one of many protests against Trump's inauguration planned for this weekend. On his website, Fairey wrote, "If you plan on marching this Saturday in Downtown, Los Angeles, carry these signs high with pride!"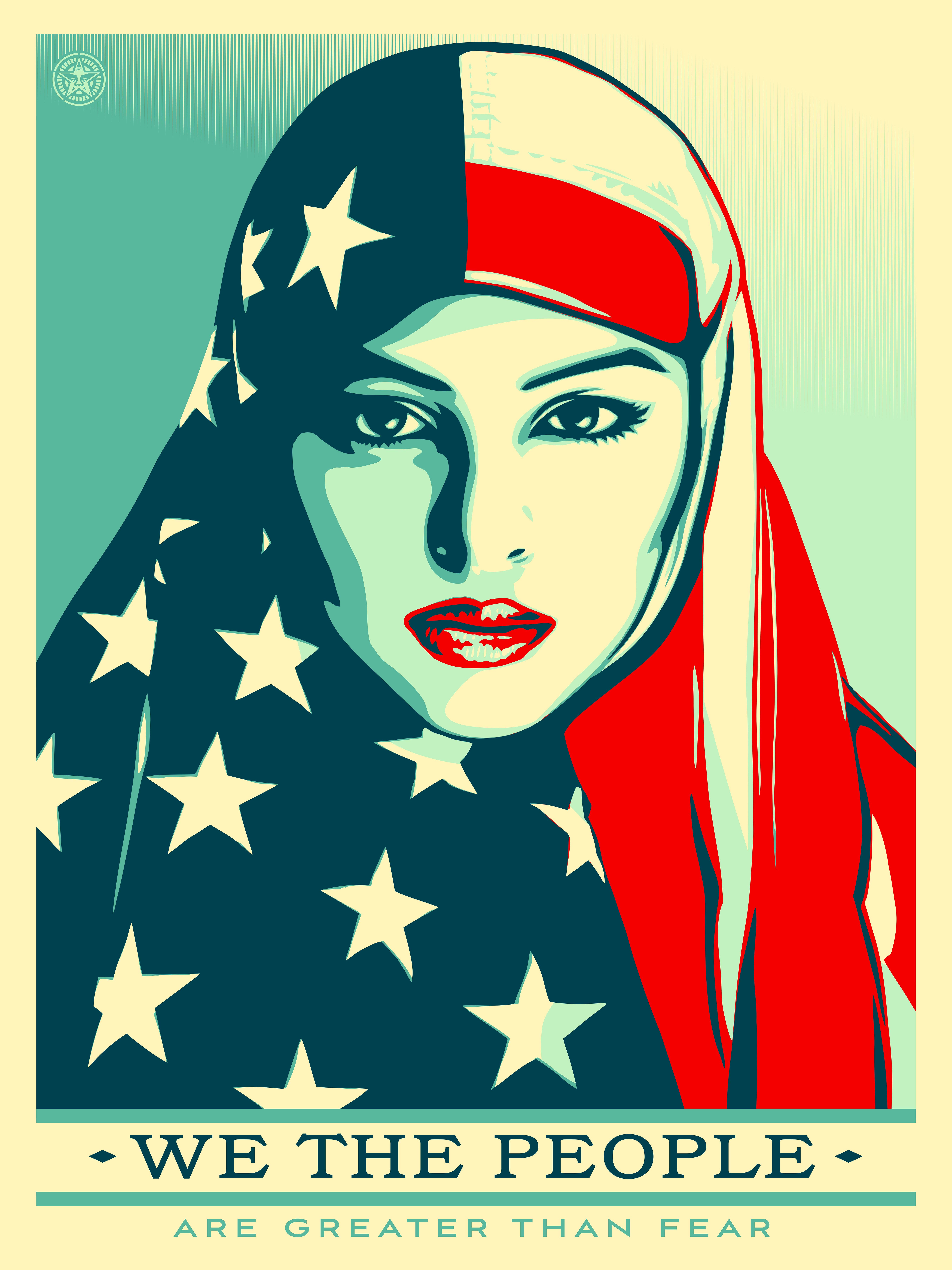 Shepard Fairey, The Amplifier Foundation

On Saturday, Trump's first day in office, as many as 200,000 people are expected to march in Washington, D.C. in a peaceful demonstration to remind the new administration that, "Women's rights are human rights," though Washington law enforcement officials are preparing for a crowd twice that size. "Sister Marches" will take place in other cities (like Shepard's home city of Los Angeles) as well as in five other continents.      
Read More: Global Citizen's Guide to the Women's March on January 21
Done in a style similar to Obama's 'Hope' poster, Fairey's images promote messages to combat fears stoked by the Trump campaign against Muslims and immigrants (particularly Mexican immigrants) and to empower women of color.
Shepard Fairey, The Amplifier Foundation

The project is funded by The Amplifier Foundation, a visual media non-profit with the goal of, "amplifying the voices of grassroots movements through art and community engagement." A Kickstarter account created by the organization has raised over $1.3 million. Fellow artists Jessica Sabogal and Ernesto Yerena also contributed pieces to the campaign.
According to the Kickstarter page, by taking out full page ads in the Washington Post the images can be carried and posted around Washington, D.C. without violating restrictions on signs and banners. Amplifier also plans on distributing placards throughout the nation's capital and, with every donation over $5, sending postcards (with the artwork of the donor's choosing) directly to Trump after he takes office. Fairey will also be handing out 17 x 30" prints on Friday at his gallery Subliminal Projects in Echo Park.
Read More: 7 of the Most Important Protests of 2016
Shepard Fairey, The Amplifier Foundation

The images are free to download at theamplifierfoundation.org and through Fairey's website obeygiant.com. Along with the link he includes a plea to would-be downloaders: "Download it, print it, paste it, pin it to your wall, share it, and use it to come together as one."
Shepard already created one poster taking on Trump directly. Now he's recruiting millions of friends and allies.