Citizenship
Ai Weiwei Says 'The Only Solution to the Refugee Crisis Will Be a Human Solution'
Global Citizen caught up with Ai Weiwei at the UK premiere of his documentary "Human Flow".
Ai Weiwei's new film,  "Human Flow" is striking, beautiful, bleak, and hopeful — capturing the scale of the global refugee crisis in a way that the world has never seen before. 
And with the number of people in the world identified as refugees on the move now at 65 million — up from 8 million in 2015 — it's also more urgent than ever. 
Global Citizen was at the UK premiere of the documentary, which offsets the individual human tragedies against the devastating scale of the crisis, to talk to the man behind the project. 
Artist and director of "Human Flow", Ai Weiwei.
Image: Global Citizen
Take action: Migrant? Refugee? Human Being. Show Your Support for All People — No Matter Where They Were Born
"I think it's a crisis, globally, the refugee situation, and it's getting worse. So for me, the film is a study to understand what is happening," he told us. 
"I see the human condition getting darker to that kind of degree, and to see how Europe responded to it is quite surprising. So every step when we were making the film made me understand more," he said.
In the course of the film, Ai Weiwei and his team visited 40 refugee camps and informal settlements across 23 different countries — with a finished product that is truly draining to watch. 
"The film is trying to give a larger scope on the global condition," he continued. "Maybe there's a possibility to change and to make people less selfish, and to have a more acceptable future." 
Read more: Ai Weiwei Captured Insane Aerial Footage Showing the Scope of the Refugee Crisis
"I think the only solution will be a human solution," he continued. "This crisis really is there only because of humans made it happen. None of those refugees, the 65 million people, none of them are willing to leave their home, nobody wants to give up their home, it was only because of the tragedy of war, or famine."
The scale of the mass movement of people right now is one of the most memorable features of the film — a feature largely created by Ai's stunning use of aerial imagery.
"I think global citizenship could be global homelessness," said Ai, "because too many people simply don't have a nation to belong to, or something they feel in their heart can be called their home."
Image: Participant Media
Ai Weiwei himself has a difficult relationship with his home country, which he said in a panel discussion chaired by journalist Jon Snow after the film, "had a profound impact on my making art, or making this film." 
He was just 1-year-old when his whole family were sent to a labour camp in his home country of China, after the father, a poet, was denounced. They were exiled to Xinjiang in 1961, and were only able to return to Beijing after 17 years, following the end of the Cultural Revolution. 
His own experiences made Ai want to undertake "a personal journey" to understand the refugee crisis. 
"We have to understand that refugees have a very different meaning, in terms of in different locations," he continued. "Some can be war casualties, and some can be environmental problems or famine, and more and more will be due to climate change in the future."
Read more: Ai Weiwei Poses as Drowned Syrian Toddler Following Trump Visit
"This has to be in the global consciousness, and not only for ordinary people but mainly for politicians and decision-makers," he said, "to come up with some policy dealing with the situation."
"We have to do it," he said, "to see ourselves as a society which can benefit everybody." 
Joining Ai on the panel were former MP Lord Alfred Dubs — born in Prague, Dubs was one of the hundreds of children rescued from the Nazis on the Kindertransport; 18-year-old Syrian refugee and activist Maya Ghazal; and co-founder and CEO of Help Refugees, Josephine Naughton. 
Image: Participant Media
Questions put to the panel, both by Jon Snow and by Twitter users, were preoccupied by what members of the public can do to actually make a difference to the lives of refugees. 
Read more: German Paper Lists 33,293 Refugees Who Have Died While Seeking Asylum in Europe
Lord Dubs, who has worked extensively on behalf of child refugees, said: "I think as a country we could be doing much better, we could take more refugees, we could be more welcoming. What we need to do is lobby our MPs, lobby local authorities, in order that they do the right thing." 
"We can all do something and we can all do it locally," he said, "and then at a very local level we can be welcoming to refugees in our midst. We can help them to learn English, we can help them to socialise, and so on." 
Naughton also joined Lord Dubs' call to action to help child refugees find a safe home in the UK. 
Although the government committed to rehome 480 children in Britain, she said, with families and homes ready to take those children, we have still only brought around 250 children into the UK. 
"It's winter, and it's cold outside," she said. "What the government is doing is not what I feel is right, or what I see on a community level. We have hard immigration policies but at the same time the country has been incredible over the last couple of years, since 2015."
"There's been amazing people doing bake sales and knitting clubs making blankets to send to refugees. So…I think actually, most people are good, and most people care, and most people really want to help, but it's how to navigate that into politics," she said. 
Image: Participant Media
Read more: Ai Weiwei Reflects Journey of Refugees With 14,000 Lifejackets in Berlin
Meanwhile Ghazal, who came to the UK when she was 15, added: "It's a true disaster what's happening, but people just want to have a safe place and carry on their lives normally. We can't forget about the innocent people, the innocent children, who face many dangerous places and go through a lot of dangerous journeys, and it's just not their fault." 
Ghazal, despite speaking only a little English when she first arrived in Britain, is now studying aviation technology at university in London, and hopes to become a pilot. 
"That's the message that I try to show to other people, to other refugees, to let them see that their situation is not going to stay bad forever," she said. "Whenever this discussion happens, it just brings me to tears because Syria is my country, it's where I have the best memories, and it's where I grew up."
But, despite the devastating scale of the crisis that is really brought home in the documentary, the UK premiere ended on an invigorating note and a drive towards action. 
Read more: For 4th Straight Year, 3,000 Migrants Have Drowned in Mediterranean Sea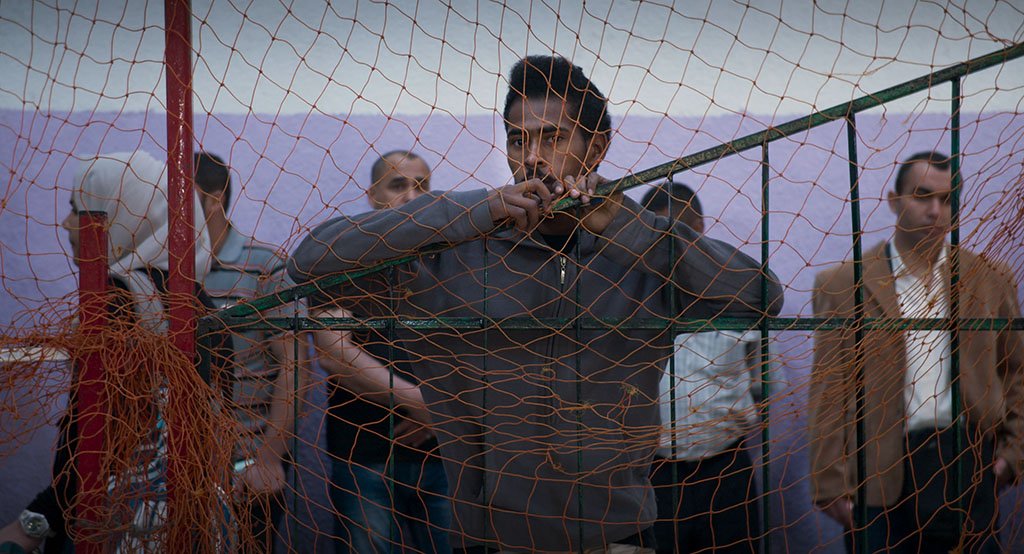 Image: Participant Media
"I've been humbled by the fantastic volunteers and young people who are working in Calais, in the camps in Greece," finished Lord Dubs. "It is very humbling that our young people are willing to work for pretty well nothing for the most vulnerable of their fellow human beings, and there are so many of these young people doing it.
"I think that is a good sign for this country," he added. "It isn't just bankers going for an extra million quid here and there, it is young people devoting themselves to their fellow human beings, and I think that's a terrific sign."
Global Citizen campaigns to support all those living in crisis and conflict around the world. You can join us by taking action here to stand with refugees, and to raise your voice for a world that is open, equal, and fair.