Girls & Women
These 7 Heroic Women Leaders Are Breaking Gender Barriers in Government Around the World
These women beat the odds.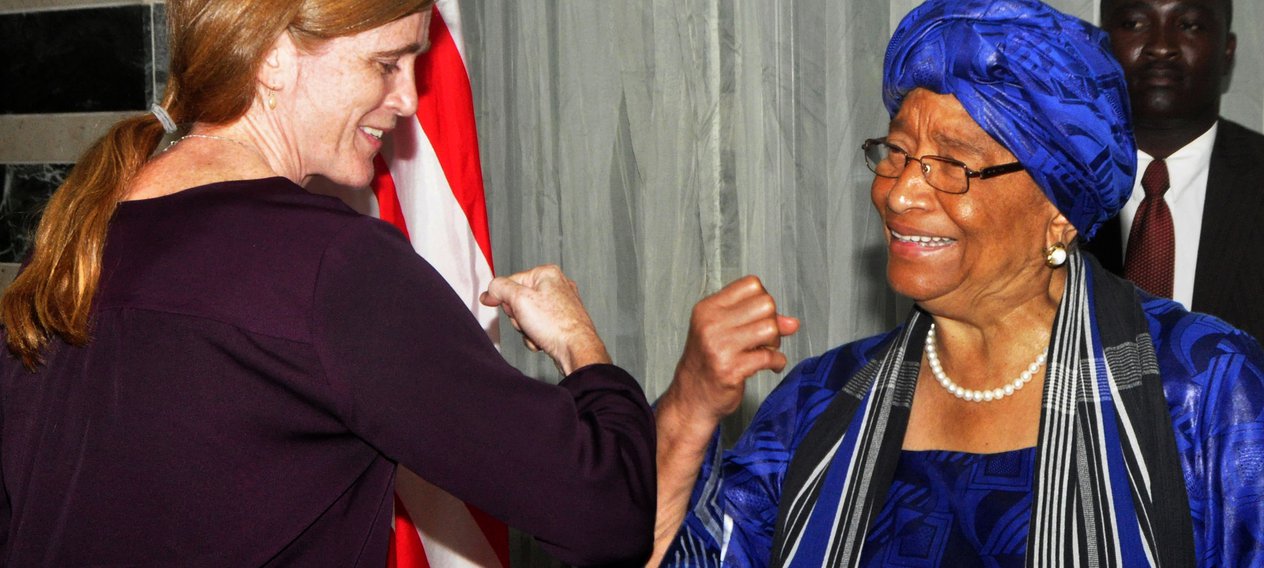 Liberia's President Ellen Johnson Sirleaf, right, gives U.S. Ambassador to the United Nations Samantha Power what is know as the 'Ebola hand shake' during a news conference in the city of Monrovia, Liberia, Tuesday, Oct. 28, 2014. (AP Photo/Abbas Dulleh)
Around the world, fewer than one-quarter of lawmakers are women — an imbalance in representation that affects how laws are crafted and passed and how equality is created in societies. Global Citizen's series, "Who Run The Gov? Girls!"  chronicles the massive uptick in women running for office, regardless of political party, in the US and around the world, highlighting the candidates and the groups helping them to run, the challenges they face, advice & tips for running, and the results.
---
The world needs women in government. 
Educating girls and bringing women into the workforce is essential for fighting poverty, and there is no better champion of this than women themselves.
But despite minute improvements, women are alarmingly underrepresented in politics. In the US alone, where women have had the right to vote for nearly 100 years, only one in five members of Congress are women.
There are, however, a handful of bad-ass women working in and leading governments around the world today, trailblazing the way for the next generation of women leaders to come.
Here's a look at some of the well-known and the not-so-well-known women leaders we admire around the world:
1. ANGELA MERKEL, Chancellor of Germany
DOB: July 17, 1954 (age 63)
Political Party: Christian Democratic Union
Education: Leipzig University
Fun Fact: Merkel studied physics from 1973 to 1978 at Leipzig University and earned her doctorate in quantum chemistry in 1986.
Quote: "There is one red line we should not cross. It is a commitment to human rights, the respect of the dignity of the human being. There should be no compromises." - Merkel at the 2011 annual Munich Security Conference.
Probably the only politician with a PhD in quantum chemistry and arguably the most influential woman in the world today, Angela Merkel steadily rose up the political ranks in Germany before becoming Chancellor back in 2005.
Merkel has topped Forbes' list of the World's 100 Most Powerful Women for the past six years — and for good reason. In the wake of Brexit, she represents the last Western Liberal Power and has convincingly led the way in maintaining a united European front.
If all that was not enough, Merkel is not ready to put her feet up. She recently announced she will be seeking a fourth term as Chancellor this coming September.
2. ELLEN JOHNSON SIRLEAF, President of Liberia
DOB: October 29, 1938 (age 78)
Political Party: Unity Party
Education: College of West Africa; Madison Business College; University of Colorado, Boulder; Harvard University
Fun Fact: Sirleaf is the first female to be elected head of state in Africa.
Quote: "With more women heads of state, we will have a more peaceful and prosperous world based upon integrity, justice and equity." - Sirleaf told Glamour Magazine.
Ellen Johnson Sirleaf survived imprisonment by her political foes to be elected the 24th President of Liberia in 2005, two years after the end of a long and bloody civil war; she was re-elected in 2011 and remains in office.
In 2011, Sirleaf was jointly awarded the Nobel Peace Prize for her efforts to promote peace, reconciliation and, most importantly, the safety of women and women's rights after years of war dismantled the country.
3. RUTH BADER GINSBURG, US Supreme Court Justice
DOB: March 15, 1933 (age 84)
Political Party: Democratic
Education: Cornell University (BA); Harvard University; Columbia University (LLB)
Fun Fact: Ginsberg's fans have taken to calling her Notorious R.B.G., a spin on the rapper Notorious B.I.G.
Quote: "The state a controlling woman would mean denying her full autonomy and full equality." - Ginsberg told the Senate Judiciary Committee on the second day of her confirmation hearing.
In the fall of 1956, Ginsburg, already a wife and a mother, enrolled in Harvard Law School, where she was just one of nine women in her class of 500.
After school, Ginsburg was a trailblazer rising the ranks at the ACLU, serving as General Counsel and on their National Board of Directors. Ginsburg was an instant feminist hero and was instrumental in launching the Women's Rights Project at the ACLU.
She became the second ever female justice to be confirmed to the Supreme Court when she was appointed by President Bill Clinton in 1993.
Currently serving her 24th year as an Associate Supreme Court Justice, Ginsburg has been blunt and outspoken against a number of the Trump administration's policy proposals, like the travel ban.
4. HELLE THORNING-SCHMIDT, Former Prime Minister of Denmark
DOB: December 14, 1966 (age 50)
Political Party: Social Democrats
Education: University of Copenhagen (BA); College of Europe (MS)
Fun Fact: Thorning-Schmidt became known as the "selfie queen" after taking a selfie with US President Barack Obama and UK Primse Minister David Cameron at Nelson Mandela's funeral that then went viral.
Quote: "My parents always encouraged me to have opinions. They told me that if you want to change things, you need to fight," she said.
After serving as the Prime Minister of Denmark from 2011 to 2015, Thorning-Schmidt went onto become the CEO of Save the Children and has been an advocate for equality, peace, and anti-poverty efforts ever since.  
"We strongly believe that the first five years is perhaps the most important time in a child's life, because it's when they learn things, when they should be getting good nutritious food, and have access to proper health services," she told the Sydney Morning Herald earlier this year. 
5. HILLARY CLINTON, former US Senator & Democratic Candidate for President
DOB: October 26,1947 (age 69)
Political Party: Democratic
Education: Wellesley College (BA); Yale University (JD)
Fun Fact: When elected to the US Senate in 2000, Clinton became the first First Lady elected to public office and the woman to be elected senator in New York.
Quote: "Women's right are human rights." - Clinton said at the 1995 UN Fourth World Conference on Women, Beijing
Hillary Clinton's nomination as the Democratic candidate for President, the first woman to be elected to a major party, was the culminating point of the country's slow progress toward gender equality, nearly a century after women in the US gained voting rights.
Clinton has held many admirable titles - wife, mother, advocate, First Lady, Senator, Secretary of State, Democratic Presidential Nominee - and, though, she may not be the first female President of the United States, her legacy will nonetheless be highlighted by the barriers she overcame and the example she set for the women who will follow.
6. TSAI ING-WEN, President of Taiwan
DOB:  August 31, 1956 (age 60)
Political Party: Democratic Progressive Party
Education: National Taiwan University (LLB); London School of Economics (PhD); Cornell University (LLM)
Fun Fact: Tsai loves cats. In 2016, her campaign frequently shared photos of herself with her two cuddly friends.
Quote: "Every person should be able to look for love freely, and freely seek their own happiness." - Tsai on marriage equality.
Tsai Ing-Wen became Taiwan's first female President in May 2016, winning the general election by a landslide.
Tsai is generally viewed as socially progressive on domestic issues and is credited with fostering a more inclusive political climate. She ran on a platform that promised to cut back on Taiwan's heavy dependence on China — no small feat.
Throughout her campaign, Tsai supported same-sex marriage and women's rights initiatives. After appointing liberal judges to the court, the constitutional court of Taiwan became Asia's first to rule in favor of allowing same-sex marriage.
7. DALIA GRYBAUSKAITE, President of Lithuania 
DOB: March 1, 1956 (age 61)
Political Party: Independent
Education: Saint Petersburg State University; Georgetown University
Fun Fact: Grybauskaite has a black belt in karate, which is just one reason she earned the nickname the Baltic "Iron Lady."
Quote: "The examples of female success stories are even more important on a global scale, as they help to disseminate the idea of gender equality and to spread the roots for actual implementation of equal rights." - Grybauskaite told Glamour Magazine
In 2009, Grybauskaite became the first female President of Lithuania as well as the country's first President to be re-elected to a second term.
She was one of very few European leaders to speak out against Russia and openly criticized Russia's presence in eastern Ukraine in 2015.