Health
3 healthy meals to make in under 30 minutes
In this work-a-day world few things beat a home cooked meal, but who has time for that? You!
Cooking can be tough. Cooking healthy can be tougher. It can be time consuming, confusing and can make a huge mess. 
But that's not always the case. 
My dad was a single father who commuted every day. He'd get up at the crack of dawn, go to work, come back in the evening and make dinner for my sister and I. He pioneered what I like to call 'dad-meals.' Dad-meals are quick, balanced, and tasty. They contain a simple protein, a simple starch and a simple vegetable. Steak, french fries and broccoli. Chicken, orzo and green beans. Burgers, baked potatoes and salad. Simple, straightforward and to the point. 
Then I went to college and had to start fending for myself. 
After a year of frozen pizza, bagels and grilled cheese, I realized something had to change. Gone was the time when I could eat an entire family sized pepperoni pizza and still feel good the next day. I had to do something. That's when I decided to try to learn to cook healthily.
I started with what I knew: Dad-meals. Once I figured that out, I started to experiment. And I learned that cooking doesn't need to be tough. It doesn't need to be time consuming, or confusing, or messy. 
It can be fun. It can be quick, and it can be easy.
There are plenty of recipes out there that provide balanced nutrition and are fast and simple to make. So I found some. Because in this 9 to 5 world, who has time to cook extensively anyway? 
Basil and quinoa cakes with honey mustard balsamic vinaigrette 
I love meals that sound more impressive than they are. Case in point, quinoa cakes. First off, Quinoa is great because it's incredibly good for you. Its protein content is about 15 percent, and it has all nine essential amino acids, making it a complete protein. These delicious, healthy, easy cakes make a tasty lunch or dinner, and a great vegetarian substitute for burgers. The best part is the recipe can be modified to your heart's desire. Maybe try some bell peppers in there, or jalapenos for some heat. It's up to you. This recipe serves between 2-4 people.
Quinoa Patty
1 ¼ cups uncooked quinoa (it'll roughly double when cooked to about 2 ½ cups)

4 eggs, beaten 

⅓ cup chopped basil

½ cup grated parmesan 

3 cloves of garlic, chopped fine

1 cup breadcrumbs (with more on hand just in case)

1-3 tablespoons olive oil

¼-½ cup finely chopped yellow or white onion

a pinch of kosher salt
Honey Mustard Vinaigrette 
¼ cup of balsamic vinegar 

¾ cup olive oil

salt & pepper to taste

1 clove garlic, chopped fine

honey mustard to taste (this is up to you, I probably put about a teaspoon in)
Image: Gus Stahl
Directions:
1) Boil water for quinoa. I've found that roughly ½ cup more water than quinoa is the perfect amount that negates the need to drain it. Once the water is boiling, toss in quinoa, lower the heat to medium low (a hearty simmer) and let cook for about 15 minutes, or until soft, while stirring occasionally. Once you remove from heat, fluff (stir and aerate) and leave covered for about 5 minutes.
2) While your quinoa is cooking, prepare everything. Chop the basil, onion and garlic, grate the cheese and whisk the eggs. By the time you're done, your quinoa should be too.
3) Put everything in a big bowl and mix thoroughly. It should have roughly the consistency of ground beef. If it's too wet, add more breadcrumbs.
4) Form it into patties, and cook over medium heat, between 4-8 minutes a side.
5) While the patties are cooking, throw all vinaigrette ingredients in a small pitcher and whisk.
6) Serve.
Image: Gus Stahl
Pan-seared rosemary garlic lamb chops over spinach and almond couscous
This recipe sounds difficult, but I think it's the easiest on this list. I was always intimidated by pan-searing; it sounded so advanced, so difficult. Then I actually tried it and now it's my favorite way to cook red meat. This meal is great because it covers most of the nutritional bases but with a twist, and it can also be scaled up or down depending on how many people you're cooking for. Also, in moderation, lamb can be good for you for a few reasons. It's traditionally a leaner meat than beef, and the iron and zinc provided is absorbed more easily by your body than other sources. It also provides trace minerals needed by the body such as copper and manganese. 
    Ingredients
Lamb chops (roughly 3 per person, depending on how hungry everyone is)

3 cloves of garlic, chopped fine

3-5 sprigs of fresh rosemary, strip leaves and chop fine

¼ teaspoon kosher salt

Couscous (figure about ¼ a cup uncooked per person, it'll double or triple when cooked)

Small bowl of washed spinach

4-6 washed basil leaves chopped fine

⅛-¼ cup of slivered almonds

Olive oil
Image: Gus Stahl
Directions:
1) Preheat oven to 400° fahrenheit.
2) In a plastic bag combine the lamb, rosemary, basil, salt and most of the garlic (save the rest for sautéeing later.) Feel free to add in any other spices you see fit. Pour in enough olive oil to cover the lamb. Seal completely. Every few minutes flip the bag over to make the most of the marinade. The longer you keep it in the bag, the more flavor the lamb with absorb. If you have the time you can leave it in for hours, but for now let's leave it in for about 15 minutes. That should give you enough time to do everything else.
3) Cook the couscous. There are multiple ways to cook the different kind of couscous that are out there, so just follow the instructions that it came with. It should come out perfectly. This time I made it with Israeli couscous. It also gives you enough time to cook the lamb.
4) Heat a skillet over medium heat with olive oil. Use a skillet that can go straight into the oven. When hot, add the lamb, cooking about 4 minutes a side. Transition the lamb skillet into the preheated oven, leaving in for 4-6 minutes, depending on thickness of the cuts you're working with. Always check to be sure your meat is cooked to your liking.
5) While cooking the lamb, sautée the rest of the garlic and almonds briefly. Fold into the finished couscous with the fresh spinach.
6) Serve.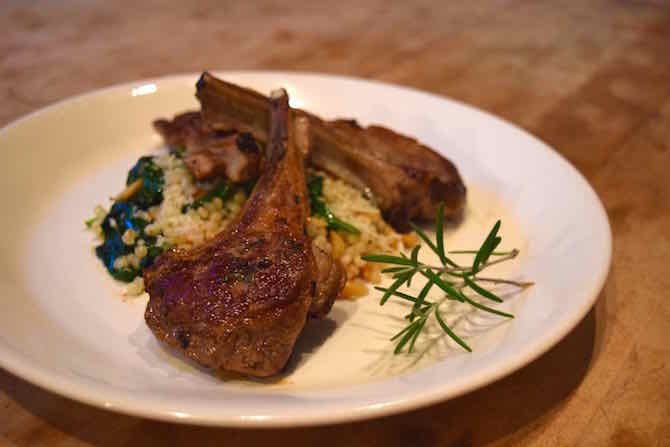 Image: Gus Stahl
    Sautéed tilapia with garlic asparagus and a caper beurre blanc sauce
Just to start, sustainably caught tilapia is excellent for you. It's a complete protein like quinoa, and is a great source of fatty omega-3 acids. It was the first fish I ever tried to make, and I haven't been disappointed yet. I've cooked this meal a lot, but full disclosure, the beurre blanc is tougher to make than I remembered, so deciding to make it is up to you. This meal works well with or without it. Otherwise, it's incredibly easy. Fish cooks faster than most other things, so just a few minutes in the pan is all it'll need. However, overcooked fish will completely fall apart, so it's something to be aware of. 
    Ingredients
Tilapia filets (you can use other white fish, but I've found this works best)

Flour (this will be used for the simple breading, just put about a cup onto a plate)

2 cloves of garlic, chopped fine 

Asparagus

¼ cup white wine

¼ cup white wine vinegar 

⅓ cup heavy cream

⅛-¼ cup of slivered almonds

⅛-¼ cup of capers 

1 cup of unsalted butter (2 sticks) chopped into 1 tablespoon chunks

salt and pepper to taste

Butter for cooking fish
Image: Gus Stahl
Directions:
1) Rinse tilapia thoroughly and pat dry with paper towels. Once completely dry, press filets gently into flour, coating the fish evenly. I did this step twice to make sure it was completely covered. Shake off excess flour.
2) In a large skillet heat olive oil over a medium heat. Add garlic, asparagus and almonds, making sure that the oil covers the asparagus. Leave covered and stir occasionally. That's all you'll need to do with this pan.
3) In a small skillet bring the white wine and the white wine vinegar to a boil until reduced, for 5-10 minutes.
4) Add cream, salt and pepper and bring to boil for 1 minute. Reduce heat to low and add butter one or two pieces at a time, while whisking. Lift off heat if it starts to boil to allow mixture to cool off. Once completely mixed, transfer to a small pitcher and add the capers.
5) Coat a new skillet with butter at a medium heat. Place the prepared fish in the pan and let cook for about 4 minutes per side. Add more butter when the pan gets too dry, as this is what lets the fish get golden brown. Fish will flake easily with a fork when done.
6) Serve.
Image: Gus Stahl
And there you have it! My favorite thing about these meals is how easy they are to make by yourself. If you decide you want some more flavor with your couscous, try adding feta or sundried tomatoes. If you thought the fish needed something else, make your own coating by adding some paprika, onion powder and pepper into the flour. 
There are plenty of ways to cook something healthy, you just need to look for them. Cooking should be fun and therapeutic, not a tedious, frustrating task. You can remake these recipes a dozen different ways, each unique, healthy and delicious. Just pick a healthy food you enjoy, and experiment. Happy cooking!
You can go to TAKE ACTION NOW to support the Global Food Security Act to help ensure that more people have access to nutritious food.