Citizenship
24 eye-catching photos of everyday life in India's capital
The camera loves you, Delhi.
Global Citizen is featuring the photography of Jamie Manley, a clean energy advocate and avid photographer who recently finished a yearlong fellowship developing solar energy projects in India with the International Innovation Corps.
The third and final installment in this series features 24 of Jamie's most eye-catching and impressive photos of everyday life in Delhi, India's vibrant and sprawling capital territory. Scroll down to experience the flavor of this one-of-a-kind metropolis. And don't forget to check out parts one and two of Jamie's India-themed photo essay series.
---
One of the busiest streets in Old Delhi, near the gate of Jama Masjid.

Men making naan in Old Delhi.

A man boards a bus in Delhi.

Connaught Place is the only area in Delhi that resembles a downtown, but the skyline is underwhelming for a city of 20 million people.

A busy street across from Jama Masjid in Old Delhi.

Chickens with wheels in Old Delhi.

People ask me why I became a vegetarian in India...

Women in the back of a bicycle rickshaw in Old Delhi.

A wall filled with political posters in Old Delhi.

A man in Old Delhi takes a photo of me as I take a photo of him.

A man peeks out over the alleyways below in Old Delhi.

A rickshaw driver waits outside a law office in Old Delhi.

A man looks out over the alleyway in Old Delhi.

A cycle rickshaw driver rests on the side of the road in Old Delhi.

A bird sits atop an apartment building in Green Park, Delhi.

One of the many crowded alleyways in Old Delhi.

An engraved arch at the Qutub Minar in Delhi.

A man talking outside a phone store in Green Park Market, New Delhi. India recently passed one billion mobile phone users.

Purchasing camera equipment in Green Park Market, Delhi.

Men watching something on a smartphone.

A small convenience shop in a shantytown in Gurgoan.

A boy warily eyes a stray dog in the road before dashing by.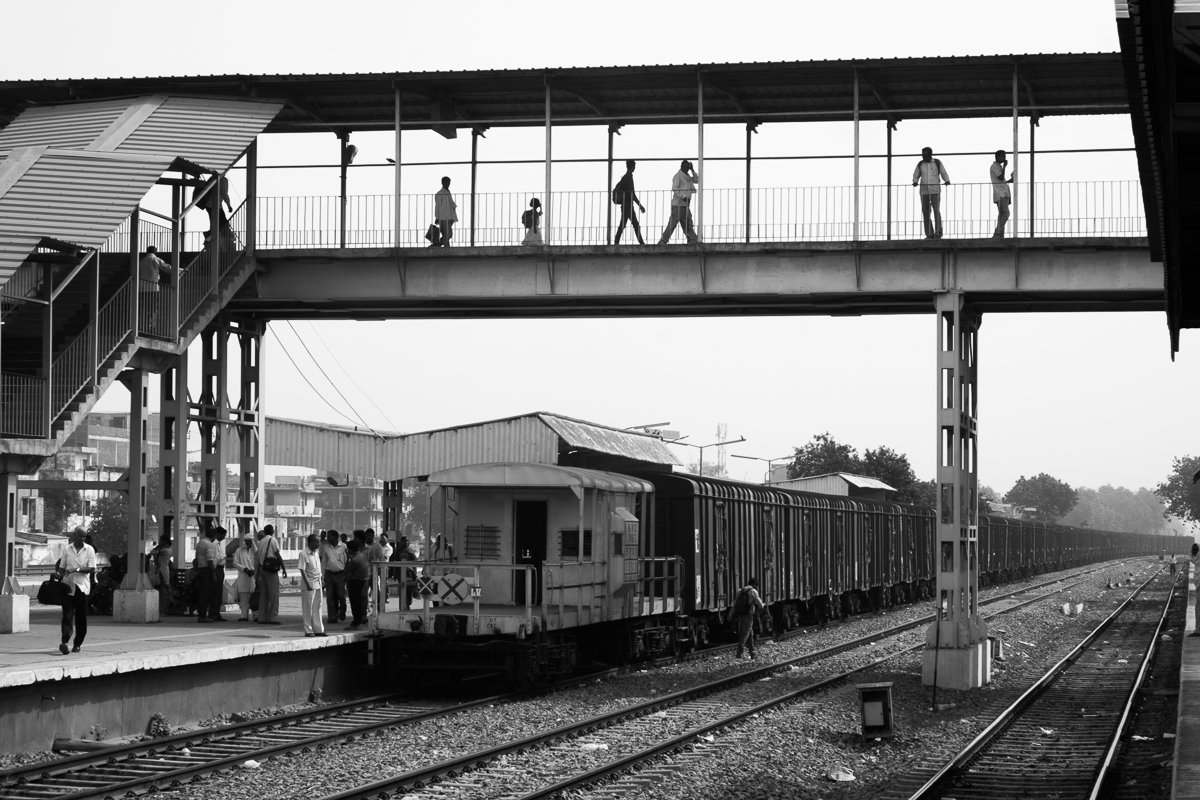 Passengers at the Delhi Cantt Railway Station.

An auto rickshaw driver in Alwar, Rajasthan.

---
Visit Jamie's website or Flickr page to view more of his work.